This Netflix Family Sitcom Is For Every '90s Kid Who Still Misses TGIF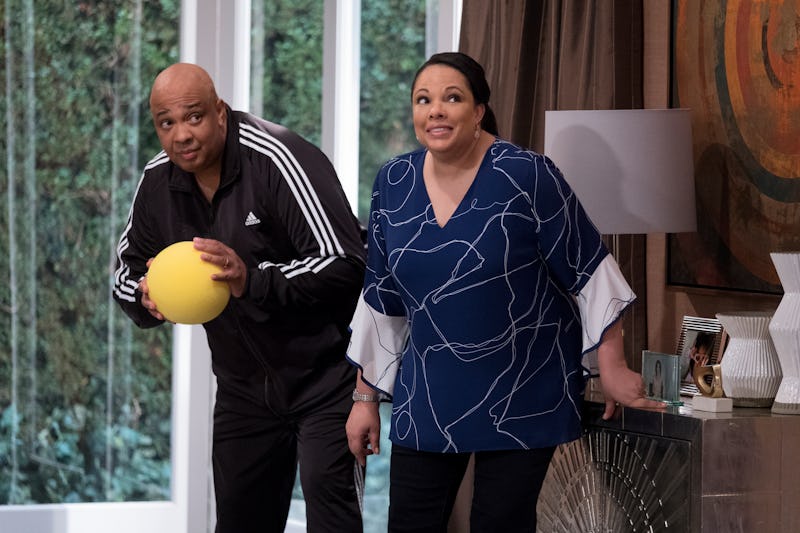 Adam Rose/Netflix
Fuller House and One Day at a Time brought the multi-cam sitcom to Netflix, and All About the Washingtons is the latest addition to that lineup. All About The Washingtons feels like a '90s throwback in all the right ways, even though it's set in the present. The new sitcom from founding/titular Run DMC member Rev Run/Joseph Simmons hits you right in the TGIF nostalgia feels while delivering totally new, original content.
So the show is not set in the '90s, nor is it a reboot of an '80s or '90s sitcom like Fuller House, Will & Grace, Roseanne, Murphy Brown, or even One Day at a Time. It's just the tone and style of this show that will remind you of Must See TV, TGIF, and the earlier days of Nick At Nite programming — even though there are episodes about accidental Instagram creeping, to use one modern day example.
Here's the official Netflix description of the new series:
All About The Washingtons is an autobiographical scripted family sitcom that follows Joey Washington (Rev Run aka Joseph Simmons) and his wife Justine Washington (Justine Simmons), playing fictionalized versions of themselves raising a family of kids. After Joey decides to retire from a long career as legendary hip-hop royalty, his wife Justine, takes advantage of the opportunity to pursue a career of her own now that Joey is available to focus on raising the kids and keeping the house in order.
There's just something distinctly '90s about the way the music transitions between scenes, and how there are shenanigans for multiple age groups in every episode. Even the bright yellow logo has kind of a throwback font. It's comforting, watching the comedic adventures of kids and their parents, chortling along with a studio audience and/or laugh track, whether or not the family on screen is anything like your own.
Rev Run fans will remember that he and his IRL wife, Justine, had a reality show in the mid-2000s called Run's House, which documented their family life — and later had an empty nester followup series between 2014 and 2016 called Rev Run's Sunday Suppers an anther spin-off called Rev Run's Renovations. So the two of them are used to showing audiences at home what domestic life is like for retired rappers and their families.
The difference is, this time they're taking a broader, fictional and decidedly sillier approach to their real life. In an interview with ABC, Simmons described a time when he "caught" his wife pitching ideas to a Shark Tank personality at a charity event — and it's anecdotes like those that inspired the show. That said, while Joseph and Justine are a real married couple with several children, the kids in All About The Washingtons are all actors playing fictional roles.
The pilot episode, in which Joey (Rev Run) announces his retirement and attempts to give his son advice on his own musical aspirations, actually makes fun of Joey for being a little too old school. So definitely don't come to this show expecting to be transported back to 1992 — you might end up at the butt of a joke.
That said, it's clear that this brand of sitcom is unexpectedly coming back into style in the era of Peak TV, and '90s kids can appreciate the new take on an old format.