All I Have To Do In Life Is Wait For Death & Rihanna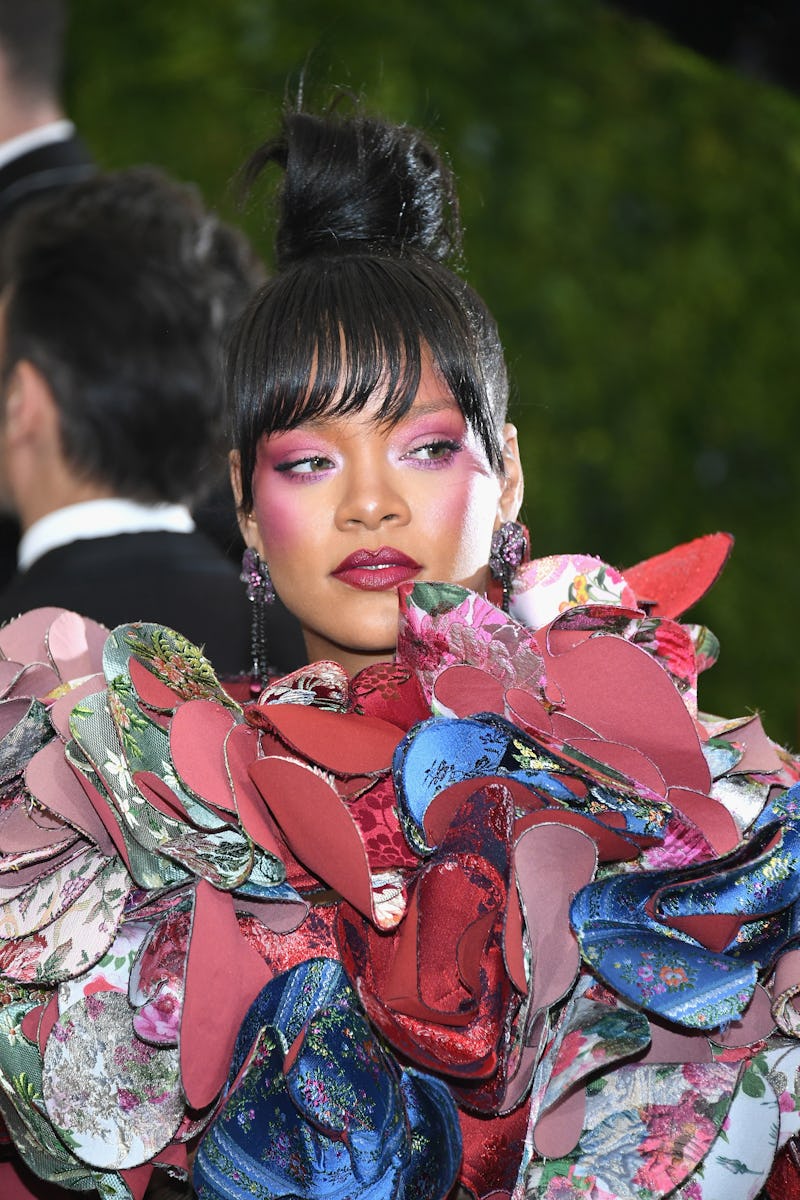 Dia Dipasupil/Getty Images Entertainment/Getty Images
It's hard to know exactly how many hours of my 31-year-old life I've spent waiting for Rihanna. No, I don't mean that I'm waiting for her to conjure me up in a dream and find a way to contact me, or to return the letters that I totally didn't write her, or even to fave one of my Rihanna-centric tweets — I mean waiting for Rihanna to arrive at award shows.
Recently, I tried to calculate a rough estimation of how much time I've spent waiting for her since 2009. By my observations, that was the year Rihanna really opened herself up to fashion. She's always looked cool, yes, but in May 2009, RiRi wore an exaggerated Dolce & Gabbana suit to the Met Gala, and it feels like her sense of style and point of view has gotten more intentional ever since. She's worn everything from Jean Paul Gaultier dominatrix couture, to a bejeweled and totally see-through Adam Gelman, to that iconic puffy pink ball gown she scored from Giambattista Valli (and on the internet, no less).
And because she consistently overwhelms and surprises me with her fashion choices, I wait. I've waited for her to arrive at the Grammys and the American Music Awards. I've refreshed Twitter incessantly during the MTV Video Music Awards, the Billboard Music Awards, and once or twice at the Oscars. At one point, I even spent an hour or so awaiting her arrival at Dick Clark's New Year's Rockin' Eve — she never showed, but I had a happy new year anyways.
Sometimes, I know that she'll show up based on pre-existing information. Other times, her presence comes as a complete surprise. To be honest, whether she shows up or not isn't the most important thing — it's the waiting that really thrills me. Sitting with bated breath on my couch, my eyes dart back and forth between my phone and the television, trying to guess which designer she'll choose and how she'll choose to wear them, wondering if she could possibly outdo herself again. In that moment, I'm not just another lady with relationship problems and bills to pay and a weird foot pain I assume is cancer — I'm a Person Waiting For Rihanna.
Though it sounds like extreme (ok, maybe slightly obsessive) fandom, I promise you it's not — it's about waiting for a woman I view as an icon to make a pointed decision to express herself, and the joy of getting to observe someone who isn't ashamed to relish the feeling of being seen. Nothing that Rihanna wears feels like an afterthought. In fact, nothing she wears feels like a thought at all: It feels like a goddamn command.
Of course, the Met Gala is where she's really shined over the years. From that incredible Tom Ford gown at the 2013 Met Gala, to the Stella McCartney two-piece she wore in 2014, to the staggering yellow Guo Pei gown she ascended the Met stairs in on the 2015 red carpet — all of it inspired me: Not to become a diehard fashion lover, but to realize that clothing can represent choice and subversion and power, instead of just some shit you use to cover your body. For me, waiting for Rihanna for all of these years is synonymous with waiting for that realization.
At 2017 Met Gala, I waited for her, just like I always do. She arrived later than most, just like she often does. When she made her way down the carpet, she was wearing a 2016 Comme des Garçons gown inspired by designer Rei Kawakubo's spring 1997 runway show. It was something that not all celebrities may have had the courage to wear. And yet, there she was, a legend once again, wearing the ever-loving shit out of something. As usual, her decision left me speechless, and I'm not sure how she'll outdo herself next time.
Guess I'll just have to keep waiting.