Here Are All Of Beyonce's Fabulous Grammys Looks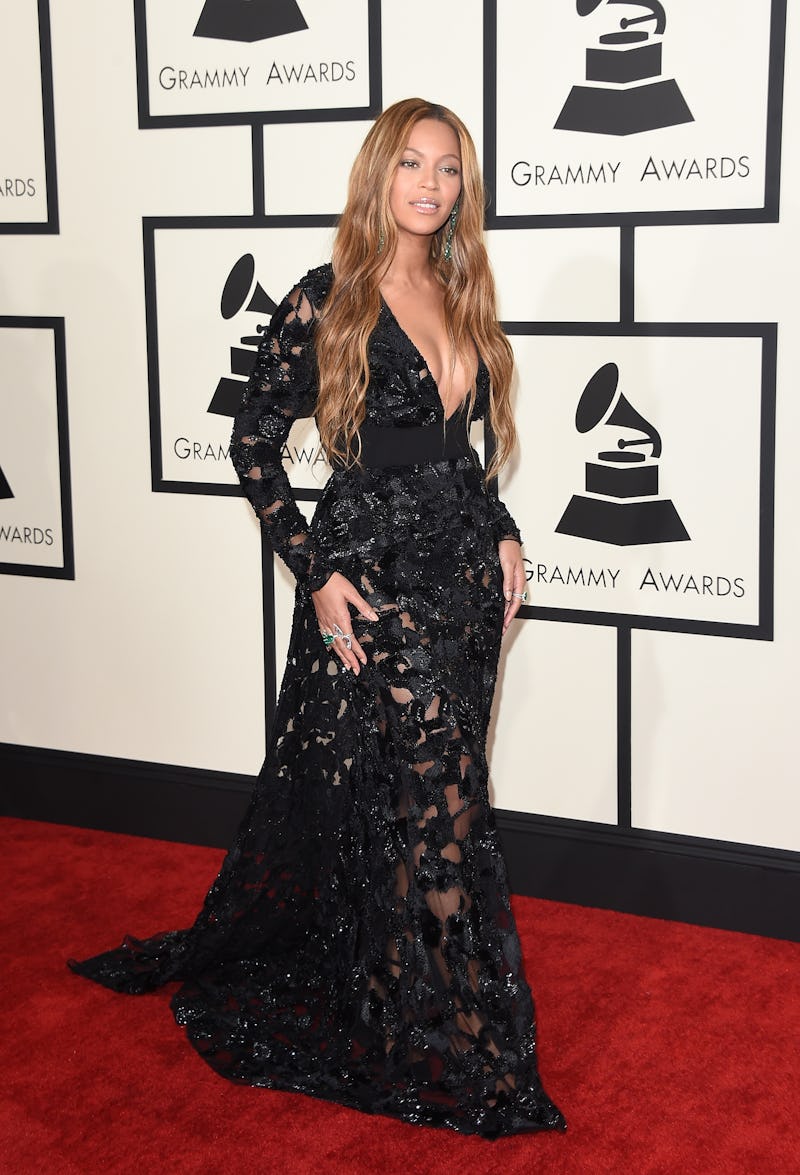 Jason Merritt/Getty Images Entertainment/Getty Images
You know those mugs/posters/t-shirts that say "You have as many hours in a day as Beyoncé?" Well, being Beyoncé has officially never been more impressive. Despite the fact that she is very casually growing two human beings inside her, Queen Bey is performing at the Grammys on Sunday night. As Bey herself would put it, "Bow down, bitches."
This isn't Beyoncé's first time as a Grammy's superstar. Since she first walked the red carpet back in 2000 as a member of Destiny's Child (@KellyRowland @MichelleWilliams, miss you guys!), she's been nominated 62 times, won 20 awards, and performed at six different ceremonies. During all of this, I was at home sitting on my couch eating popcorn, but whatever.
In addition to performing at this year's show, Bey is nominated for nine awards for her visual album (or should I say "masterpiece") Lemonade, including "Album of the Year," "Song of the Year" and "Record of the Year." NBD, right? After all, this is Beyoncé we're talking about here — the woman who released an entire album in secret while the rest of us were basically sleeping, and then did it again a year later. At this point, the Grammy's should basically be re-titled "The Beyoncé Awards."
To get us all pumped for Bey's big night, here are all of her best looks from the last 17 years. All I have to say is: Slay, Bey.
2000
Baby Bey on her first ever Grammys red carpet! She may be the only person in history who's early-2000's outfits would still be chic today, but of course she is.
2001
#TBT to when Bey's mama, Tina Knowles, designed everything the Destiny's Child ladies wore.
2002
I am ~Crazy in Love~ with this sheer purple getup.
2004
2004 was the year that Bey went out on her own, and naturally she killed it in head-to-toe gold to match the five (!!!!!) Grammys she took home later that night.
2005
Bey didn't need a date on the red carpet this year because 1) She's Beyoncé and 2) she had the hottest Roberto Cavalli on her all night (her dress!).
2006
I can't decide which I love more — the sequin, strapless dress or the insane earrings that go with it!
2007
This Armani Prive dress is what we all wish the bridesmaids dresses our friends make us wear could look like.
When you're Beyoncé, you definitely don't need to stick with one outfit for an entire night. Where's the fun in that? After her performance of "Listen" (which was straight-up chills inducing, FYI) she changed into this sequin metallic gown. And can we talk about that hair?!
2008
In 2008, Beyoncé was Cinderella IRL in this Elie Saab gown.
But then, to introduce Tina Turner, she donned a Disney-villain inspired sparkly short suit.
And finally, for the most epic performance of all time with none other than TINA TURNER HERSELF, she wore a silver mini-dress to match Tina's silver leather bustier and pants. Twinning has never, ever (ever ever ever) looked so good.
2010
Bey walked the red carpet in this nude, form-fitting gown by Stephane Rolland. Please note the hand of a professional dress fluffer (yes, that is absolutely a thing) in the bottom left corner of the photo. How do I get that job?
After her killer performance of "If I Were A Boy," Bey changed into this sparkly Giorgio Armani Privé number to accept her award for Best Female Pop Vocal Performance
2011
Bey skipped the red carpet in 2011, then showed up in the front row in this sequin short suit, which is way, way cooler than any of the suits in my closet.
2013
In a complete 180 from her usual glitzy glam, Bey rocked this unexpected two-toned jumpsuit from British fashion house Osman. Sleek, understated, and, as always, perfect.
2014
Who could forget the La Perla bodysuit Bey wore when she slayed this performance of Drunk in Love?!? I think I watched it 200 times the Monday after it aired. Actually, BRB — I need to go watch it a few (dozen) more times.
Post-performance, Bey was clearly feeling herself (for damn good reason) in this sheer, long-sleeve Michael Costello gown.
2015
Between the mermaid hair and the Proenza Schouler gown, Beyoncé outdid herself in 2015 (and how was that even possible?!)
2016
Last year, just when we all thought Queen Bey had skipped out on the Beyoncé Awards — erm, I mean the Grammys — she showed up in this white gown to present the final award of the night. Wedding dress goals, anyone?