All Of Mary-Kate & Ashley Olsen's CFDA Looks Over The Years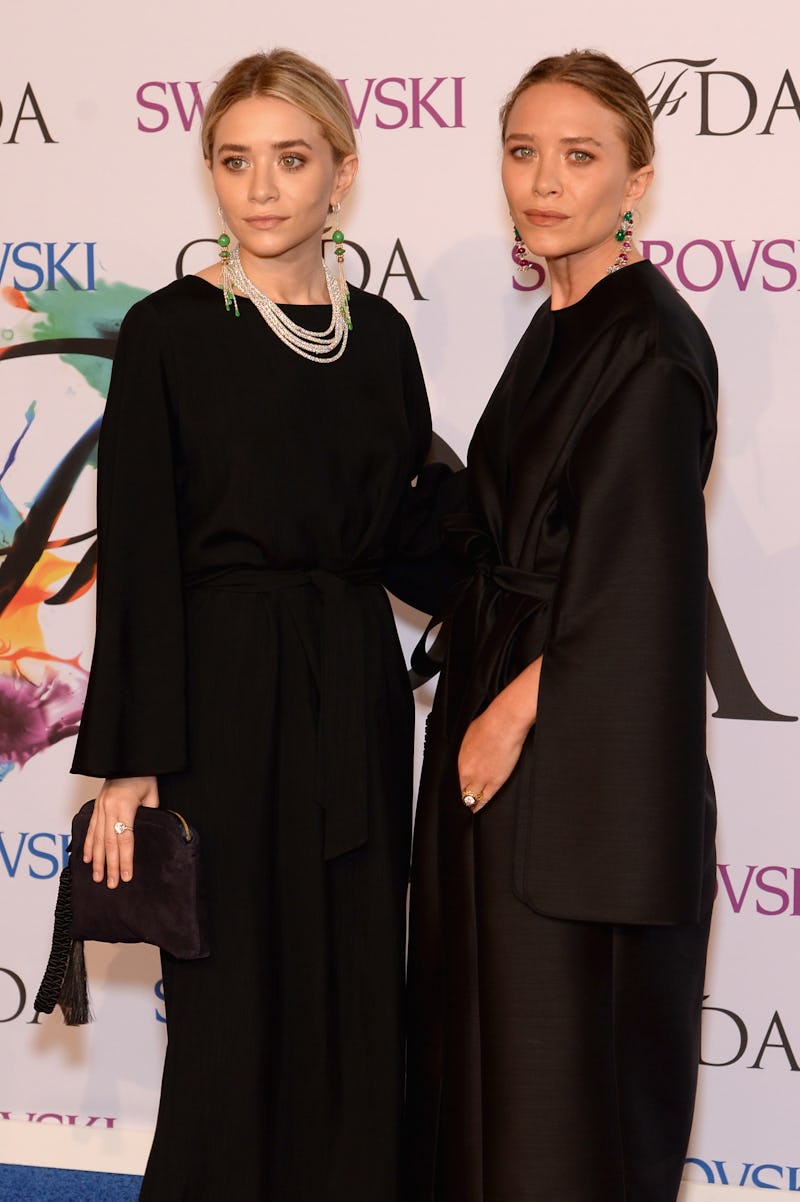 Dimitrios Kambouris/Getty Images Entertainment/Getty Images
Mary Kate and Ashley Olsen may just be the forever queens of the CFDA Awards. Not only are the twins always stand outs on the carpet, but their clothing line, The Row, won them Womenswear Designer of the Year in 2012 and 2015. Mary Kate & Ashley Olsen's CFDA looks deserve to be celebrated, too, though, and especially before the awards roll around again on Monday, June 5. From their all black, chic ensembles in 2015 to their more colorful looks back in 2011, the twins' styles have evolved and so have their CFDA looks.
The Olsen twins have always been red carpet staples whether it's at the CFDA Awards or not. Their Met Gala looks are just as memorable as their CFDA ensembles, and that includes the pair's 2017 ultra boho ensembles that may not have necessarily fit with the Commęs de Garcon and Rei Kawakubo theme but were as Olsen twins as ever.
While their appearances on red carpets have resulted in more than a few comments about their boho leanings, their styles have always been incredibly chic, and that may be more true than ever when it comes to Mary Kate & Ashley's CFDA Awards red carpet ensembles. Whether you're seeing them with their sister Elizabeth all dressed in black or loving seeings just the two of them in complimentary looks, the Olsens' CFDA red carpet fashions deserve a look back before they dominate the carpet yet again in 2017.
CFDA 2016
How chic and effortless can three women look? The Olsens are your answer: very.
CFDA 2015
Apparently, winners wear black, and who said red carpets require heels to look chic?
CFDA 2014
The pop of color via Mary Kate & Ashley's jewelry is too perfect considering they won Best Accessory Designers for The Row in 2014.
CFDA 2013
Ashley Olsen may have skipped the 2013 CFDA Awards red carpet, but Mary Kate looks stunning with sister Elizabeth.
CFDA 2012
The Olsens won their first Womenswear Designer of the Year award in 2012, and in totally distinct but stunning ensembles, its clear to see their designing talents translate to their personal styles.
CFDA 2011
While all black may be the go-to for the twins in their modern day CFDA red carpet looks, it hasn't always been the case. Personally, I love the boldness of these looks.
CFDA 2010
When the twins walked to carpet with model Sasha Pivovarova, they embraced oversized ensembles that they're still known for today.
CFDA 2009
Ashley Olsen walked the carpet solo in 2009, but her stunning red frock was a show stopper.
CFDA 2008
Ashley Olsen rocked a killer suit in 2008, looking stunning while balancing the line between menswear and womenswear.
CFDA 2007
The year may have been 2007, but somehow, the Olsens' CFDA ensembles would still be fresh in 2017.
Clearly, Mary Kate and Ashley Olsen's CFDA Awards red carpet looks are true indicators of their personal styles. With black as a staple color, loosely fitted yet tailored silhouettes, and minimalist designs, the women certainly know how to make a statement without making a scene.