Mary Tyler Moore's Hairstyles Were Effortless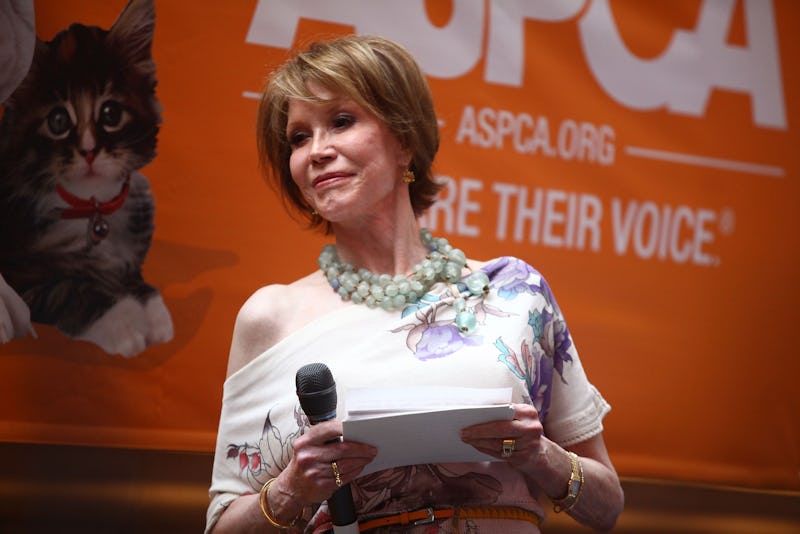 Astrid Stawiarz/Getty Images Entertainment/Getty Images
The world lost a great Hollywood TV sensation this week. Mary Tyler Moore died at the age of 80 on Jan. 25. She will be remembered for her iconic roles as well as her classic style. Mary Tyler Moore's hairstyles prove that she knew how to keep current with the latest beauty trends, all while maintaining her own personal fashion sensibilities.
A rep for Moore told Bustle, "Today, beloved icon, Mary Tyler Moore, passed away at the age of 80 in the company of friends and her loving husband of over 33 years, Dr. S. Robert Levine. A groundbreaking actress, producer, and passionate advocate for the Juvenile Diabetes Research Foundation, Mary will be remembered as a fearless visionary who turned the world on with her smile." Moore's been in the spotlight since she first started starring in TV roles back in the 1960s.
According to People, her two major roles were on The Dick Van Dyke Show and TheMary Tyler Moore Show, but more recently you may have seen her in That '70s Show and Hot in Cleveland. Throughout her time on the big screen, she never ceased to amaze with her effortless beauty. Her hairstyles through the years will only prove that to be true.
1. Retro Bob
This bob was so in with the times.
2. Up 'Do
She really pulled the full locks thing off well.
3. Side Bangs
Who knew side bangs could look so good?
4. Super Short
Even when she chopped off most of her stands, she still looked extremely elegant.
5. Asymmetrical Bob
OK, I'm calling it. She was the queen of a short 'do.
6. Short & Sleek
Volumized or straight, there's no wrong way to wear this style.
7. '70s Style
Having a full mane was the way to go in the 1970s.
8. Chin Length
She definitely wasn't afraid to experiment with length.
9. '80s Hairdo
When the '80s were in full swing, she kept up with the trends, too.
10. Pixie Cut
Her shorter 'dos never got old, though.
11. Volumonous
I mean, seriously. She wore this look well.
12. Highlights
Moore didn't vary in color too much, but when she did, she did it right!
13. Straight-Across Bangs
Side bangs, no bangs, full-bangs, she did it all.
14. Red Carpet Style
She is owning this neckline and that short cut, at the most elegant of affairs. Effortless hairstyle with an effortless dress. What a great combo!
15. Swept Back
She was just gorgeous with her hair combed back from her face.
16. Put Together
No matter what type of 'do she was sporting, she always had a way of looking entirely put-together.
17. Power Suit
Power suit and a straight hair — what a duo.
18. Curled
For a more whimsical look, add a bit of curl to your hair and wear a silk jacket. Moore just got it.
19. Pulled Back
Long or short, bangs or no, Moore always made sure every hair was in place and couldn't have looked more amazing if she tried.