All Of The Lies Trump Told During His Presser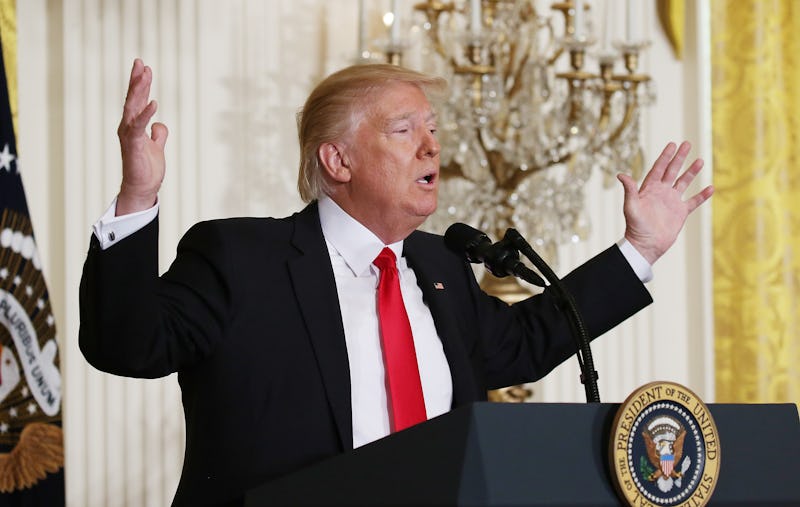 Mario Tama/Getty Images News/Getty Images
I miss the days when presidential press conferences were stodgy and boring and nobody watched them except policy wonks. Instead, Trump administration press conferences have become fascinating, thrilling, and often shocking, none of which are words that should be ascribed to the highest level of government's exchanges with the free press. The crown jewel of these headline-making press conferences was Donald Trump's press conference on Thursday, a performance so astonishing that CNN called it "a stunning moment in modern political history."
The press conference was ostensibly held so that the president could announce his new nomination for Secretary of Labor after his first selection, Andrew Puzder, withdrew from consideration. Trump's new pick is Alexander Acosta, a Florida International University's law school dean who previously served on the National Labor Relations Board. Acosta did not attend the announcement.
However, during the conference, Trump was primarily focused on attacking and insulting the media for its coverage of his campaign and his presidency. Everyone likes him, he claim. The polls — not those lying media polls, but the ones he cherry-picked himself — everybody loves him! His presidency is a roaring success, and everybody but the media agrees.
"The level of dishonesty is out of control," he said. Trump is right about that, but it isn't media dishonesty that's the issue — it's his own.
The president's insecurity, in this conference and elsewhere, is as shining and obvious as the gold gilding on his Trump Tower penthouse. He appear unable to believe negative things about himself, so he simply refuses to.
Below are some examples of the most egregiously untrue things he said during the press conference, from making up statistics about electoral victories to rejecting a news story while agreeing with all the facts it contains. It may wound Trump's thin skin to read critical coverage, but if that's really the case, he shouldn't have run for president.