One Of Trump's Most Dedicated Fans Found A Way To Commemorate All Of His Tweets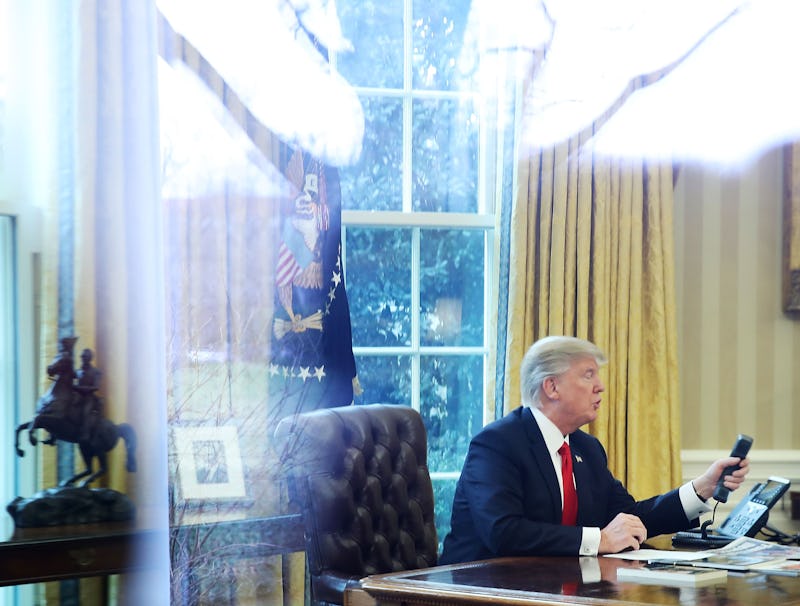 Mark Wilson/Getty Images News/Getty Images
At Trump's West Virginia rally on Tuesday night, supporters were selling more than just MAGA hats: all of Trump's tweets from his first year in office were made into a book, which a woman was selling for $35 each. The book stall, titled "Just The Tweets," was offering the blue leather-bound books as a commemorative offering for his first year in office. And for those who view this as the perfect coffee table accessory, fear not: the woman plans to sell "Just The Tweet" books for each additional year that Trump is in office, too.
Jenna Johnson, the national correspondent for The Washington Post, was one of the first to tweet out a picture of the stall, writing that the woman said, "There's going to be one volume for each year...It's a lot of tweeting."
She's not joking. In Trump's first year of his presidency, he tweeted 2,568 times, per the Trump Twitter Archive. Of course, not all of these tweets were necessarily written by him, though it's not clear whether the books containing Trump's tweets differentiate between the tweets written by him and the tweets written by his social media manager.
In the second year of Trump's presidency, he has already tweeted 1,880 times, which means he's on track to surpass his previous record: if he continues to tweet over 260 times a month, he will have tweeted 3,222 times in his second year.
According to the Just The Tweets official website, the book of Trump's tweets comes in "hardback with a blue linen cloth cover, sewn binding and gold foil lettering."
The summary for the book offering reads as follows,
"As you read Volume I you'll begin to…Discover the immense corruption and bias embedded in our government and main stream media at the highest levels…Realize (if you haven't already), Donald Trump is a marketing and strategic genius as he out markets and out maneuvers the 'Trump Haters' at their own game…Realize President Trump was right about many things for which he was criticized."
As for the owner of the Just The Tweets book collection, Trisha Hope is the founder and owner. In her bio, Hope notes that she became a Republican Texas State Delegate in 2016. Of her support for Trump, Hope writes,
"As an AVID Trump supporter, I spoke out when it appeared some delegates were intent on depriving then candidate Trump, of his earned delegates. Ultimately, Mr. Trump received his delegates, and won the Republican nomination...On election night, I isolated myself from television, media reports, and even my family, so I could pray the rosary. I continued my prayer vigil throughout the night while watching the election results online. I knew God chose Mr. Trump, and I knew he would prevail."
To Click2Houston, Hope explained her reasoning for the title, saying, "The reason it's named that is because it's just the tweets. It's not my commentary, it's not my opinion. It's just his tweets."
Hope added that she got the idea because some of her friends and family weren't on Twitter, and wanted to know what Trump had tweeted each day. The book has reportedly already sold out of its first printing of 500 copies, and Hope intends to offer more in the future. "It's printed as he wrote it, so if there's a typo in his tweet, there's a typo in the book. It's exactly the way he wrote it," she said.
Hope promises to release a series of volumes of Trump's tweets throughout his presidency each spring, planning to release "four volumes for his first term and hopefully, four for his second term for a total of 8 historic collectible volumes."
Trump has not yet acknowledged this commemorative acknowledgement of his Twitter history.