A Running List Of All The So-Bad-They're-Good NYC Details In 'Katy Keene'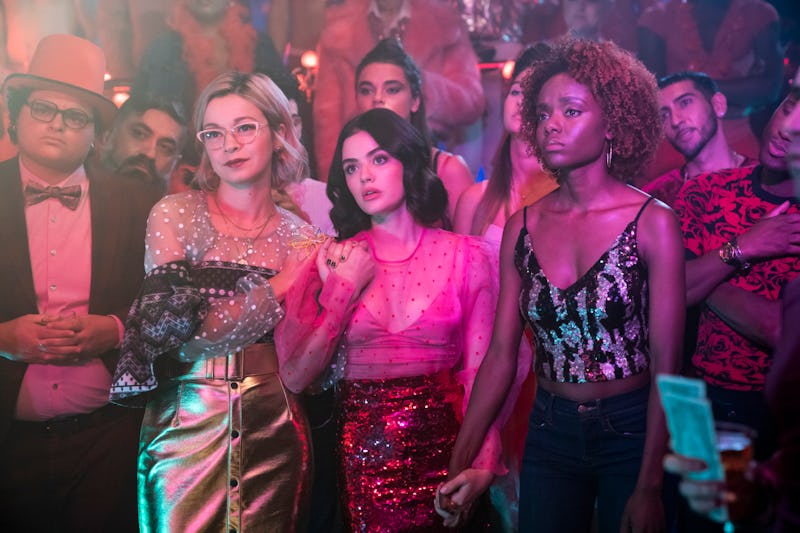 Peter Kramer/The CW
Spoilers ahead through Season 1, Episode 4 of Katy Keene. Roberto Aguirre-Sacasa shows aren't known for being realistic. Just watch five minutes of Chilling Adventures of Sabrina, in which the titular teen witch recently became the queen of hell, or The CW's Riverdale, which once included a mythological villain that turned out to be Betty's evil fake brother in a mask. Buying into all the absurdity is what makes them so fun to watch.
The same is true for Aguirre-Sacasa's new Riverdale offshoot Katy Keene, which stars Lucy Hale as a plucky aspiring fashion designer working at a Bloomingdale's knockoff called Lacy's. The version of New York City she lives in is idealized, over-the-top, and utterly unrealistic in the best and purest way.
This is, of course, intentional. Series creator Michael Grassi told Variety that the series is a "big city fairytale" set in what they refer to as "the New York of the imagination."
"It's a New York where artists can live in Manhattan and pursue their dreams and afford an apartment in Washington Heights; it's a New York where places like [East Village music club] CBGB still exist; and it's also a place where the city is ripe with opportunity, whether that's a career opportunity or a romantic opportunity," he said.
In honor of that "New York of the imagination," here are all of the incredible-but-completely-improbable NYC things that happen in the show.
This article was originally published on