Here Are All The Miss Universe 2017 Gowns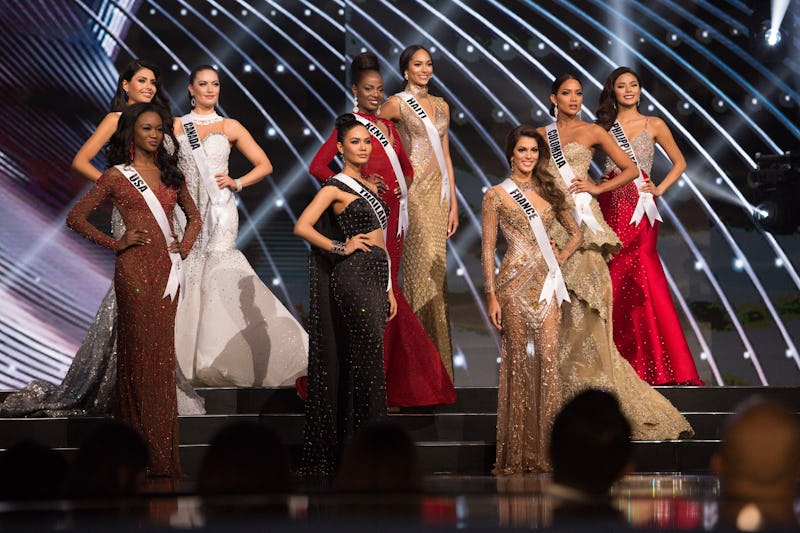 Tom Starkweather/Miss Universe
After weeks of competition, the 65th annual Miss Universe Pageant has finally come to a close. While there were preliminary events where all 86 women competed for the Miss Universe title, the final events aired live with Steve Harvey as the host yet again (even after last year's mishap). Ashley Graham also talked to the women backstage to get a behind-the-scenes look from the contestants after each event.
The live events included an opening preview of all the women in dresses by Sherri Hill while they walked to a performance by Flo Rida, the swimsuit competition, and an evening gown competition (with a performance by Boys II Men) that included the question round.
While the live Miss Universe 2017 pageant only featured the top 13, the top 9, the top 6, and then the top 3, there were 86 countries who competed this year, and all of their dresses were totally unique to each girl and country. The women also competed in a National Costume Show during the preliminary round, but unfortunately that competition was omitted during the live pageant — it would have been so amazing to see each different country-themed costume!
The top three contestants included Miss Haiti, Miss France, and Miss Colombia who all three dazzled in sparkling, champagne-colored gowns. If you weren't able to watch the Miss Universe pageant tonight, you can check out all of the incredible evening gowns below.
Albania
Angola
Argentina
Aruba
Austria
Barbados
Belize
Belgium
Bolivia
Brazil
British Virgin Islands
Canada
Cayman Islands
Chile
China
Colombia
Costa Rica
Croatia
Curacao
Czech Republic
Denmark
Dominican Republic
Ecuador
Finland
France
Georgia
Germany
Great Britain
Guam
Guatemala
Guyana
Haiti
Honduras
Iceland
India
Indonesia
Israel
Italy
Jamaica
Japan
Kenya
Korea
Kosovo
Malaysia
Malta
Mauritius
Mexico
Myanmar
Namibia
Netherlands
Nicaragua
Nigeria
Norway
Panama
Paraguay
Peru
Poland
Portugal
Puerto Rico
Russia
Slovenia
Singapore
Sierra Leone
Slovak Republic
South Africa
Spain
Sri Lanka
Sweden
Switzerland
Tanzania
Thailand
Turkey
Ukraine
Uruguay
USA
US Virgin Islands
Venezuela
Vietnam