Break Out The Hot Cocoa, Because Here's Every New Holiday Movie Coming To TV This Week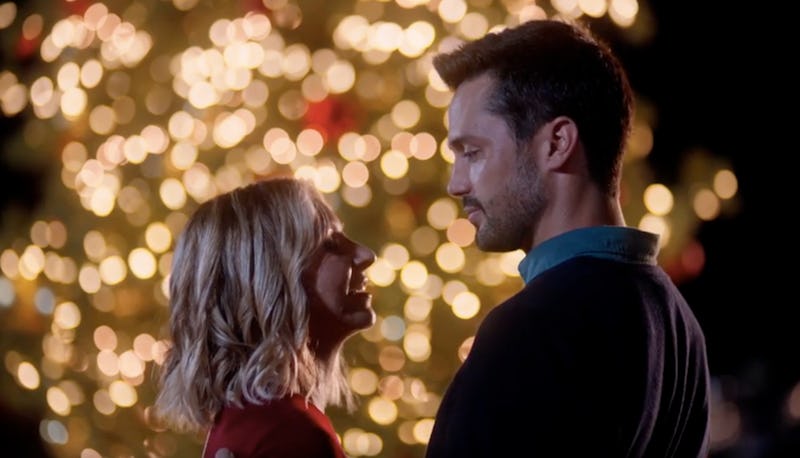 Lifetime
When it comes to Christmas-time entertainment, the cheesier the better. Luckily, TV networks have our backs in continuously providing new holiday movies every week until Christmas. Sure, the stories may be a little far-fetched and the romances are often super predictable. But honestly, isn't that what we came for? There's nothing like pure holiday-film escapism, and there are a handful of new movies coming out over the next week to provide just that.
Every year, there are TV channel staples that always deliver around the holidays. Of course, there's Freeform's ongoing 25 Days of Christmas celebration, which includes an original film No Sleep 'Til Christmas this week. Another network is the Hallmark Channel and its "Countdown to Christmas" lineup, which includes two new films in the next week. And, of course, there's Lifetime, which loves celebrating the holidays with new films. In case fans wanted more One Tree Hill in their lives after The Christmas Contract, Stephen Colletti stars in yet another Lifetime film, Hometown Christmas.
Audiences will also be excited to see more familiar faces like Tia Mowry, Sarah Drew, and Jodie Sweetin star in upcoming holiday movies. So get out your popcorn and slippers, and let's get festive.
1. No Sleep 'Til Christmas — Dec. 10
This romantic-comedy stars real-life couple Odette Annable and Scott Cavalheiro as an unlikely pair brought together by the one thing they have in common: insomnia. Guess there's a silver lining to being sleep deprived around the holidays...
Watch on Freeform
2. Chilling Adventures of Sabrina: A Midwinter's Tale — Dec. 12
Wicked enchantments ensue in Greendale where the holidays are a witch. Sabrina's Christmas special includes séances, evil Santas, and spell casting in a night centered around the Church of Night's solstice celebrations.
Watch on Netflix
3. Christmas Around the Corner — Dec. 14
American Horror Story star Alexandra Breckenridge plays a savvy, NYC venture capitalist who vacates the city for a small Vermont town. After she becomes fond of a local bookstore, she butts heads with the owner when trying to revive the store after a flood ruins it, only to find romance blooming in the process.
Watch on Lifetime
4. Entertaining Christmas — Dec. 15
In this film, Fuller House's Jodie Sweetin plays Claire, a woman trying to prove herself worthy as the successor of her famous mom's lifestyle brand. On a mission to help a young girl welcome her deployed father home for Christmas, Claire's journey isn't exactly what she expected.
Watch on Hallmark Channel
5. Christmas Pen Pals — Dec. 15
Former Grey's Anatomy star Sarah Drew stars in this film as Hannah, a dating app creator who heads home for the holidays, hoping for a new lease on life. After experiencing a breakup and struggling to salvage her business, Hannah's dad convinces her to sign up for the town's "Christmas Cupid," and she becomes smitten with her anonymous and unexpected holiday pen pal.
Watch on Lifetime
6. A Gingerbread Romance — Dec. 16
In this Christmas romance, an architect (Mowry) desperately gets a local baker on board to be her partner in a life-size gingerbread house contest. But what first starts as a contest partnership eventually becomes something more.
Watch on Hallmark Channel
7. Hometown Christmas — Dec. 16
When Louisiana native (Beverley Mitchell) attempts to revive her late mother's Christmas tradition of the town's live nativity, she crosses paths with her ex-high school boyfriend (Colletti). Their journey becomes even more intertwined when they learn their parents are interested in each other.
Watch on Lifetime
So many holiday movies ahead, and (hopefully) relaxing time off to watch them.