All The Times Rei Kawakubo Blew Your Mind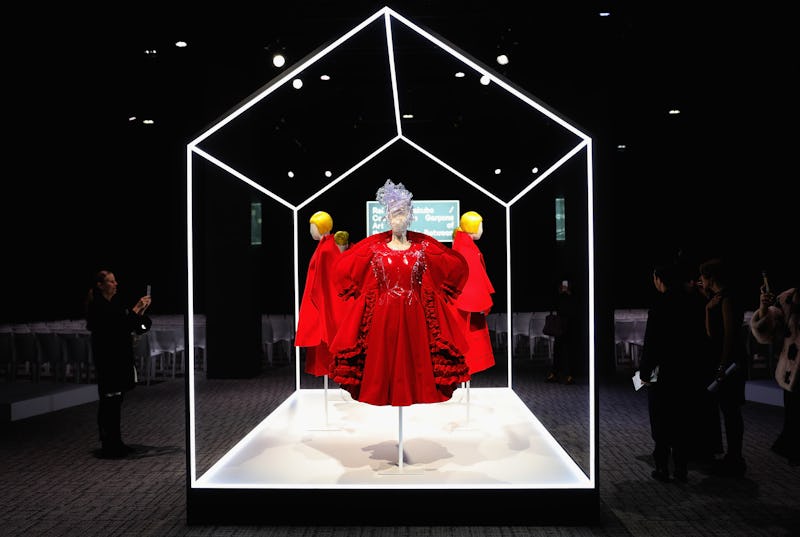 Vittorio Zunino Celotto/Getty Images Entertainment/Getty Images
Often compared with Coco Chanel, Comme des Garçons designer Rei Kawakubo is a force to be reckoned with — and it's no wonder that the Metropolitan Museum of Modern Art will be honoring her decades-spanning career this spring. This year's Met Ball, "Rei Kawakubo/Comme des Garçons: Art of the In-Between," is themed around her work, and the accompanying show will open on May 4. The designer herself will serve as honorary chair, with Anna Wintour, Katy Perry, and Pharrell Williams serving as co-chairs.
Interestingly enough, it's actually the first time since Yves Saint Laurent was showcased back in 1983 that a living designer has been honored by the Met Gala and the accompanying Costume Institute exhibition — but if there's anyone who deserves that special distinction, its Kawakubo and her legendary silhouettes and creative interpretations of the color black.
Kawakubo is often considered as much an artist as she is a fashion designer — her avant garde looks have been described as a kind of wearable modern art, and they've had incalculable influence over the fashion industry. So, let's get to know this year's Met Ball honoree a little more — and take a look at all the times she blew the fashion world's collective mind.
1. When She First Started Designing
Kawakubo started out in advertising, but it was stint as a stylist inspired her to start making clothes — and it was from there that she began her first sportswear line in 1969, according to Bloomberg. It wasn't long before she was selling her designs all over Japan, with hundreds of stores open across the nation.
2. When She Made Her Paris Fashion Week Debut
Still, she was decades into her career in 1981, when she she made a push west with her first show at Paris Fashion Week — where she made major waves. Her first PFW collection was fittingly called "Destroy," and it included looks that would come to define her aesthetic, all worn by models streaked with warpaint.
As Kawakubo herself said to The New Yorker back in 2005, "I never intended to start a revolution ... I only came to Paris with the intention of showing what I thought was strong and beautiful. It just so happened that my notion was different from everybody else's."
3. When She Revolutionized Silhouettes
In 1997, Kawakubo debuted her famous "Dress Meets Body, Body Meets Dress" collection (pictured above on the Merce Cunningham dance company) — which included strategically placed padding on the models to distort their gingham-clad silhouettes into something Quasimodo-esque. Of the collection, Kawakubo said to Vogue, "It's our job to question convention... If we don't take risks, then who will?"
4. With that Ubiquitous Heart Logo
It's a quirky little red heart with eyes, and you've seen it everywhere. The logo itself was created by Polish artist Filip Pagowski, AnOther Magazine reports, and it debuted as part of Kawakubo's PLAY collection, which first launched in 2002. Now, you can even get that little heart on your shoes, thanks to a collaboration with Converse.
5. When She First Started Doing Pop-Up Shops
Throughout the 2000s, Comme des Garçons came to be known for their pop-up shops — AKA under-the-radar "guerilla" stores, as Fashionista called them — thus helping to kick off a major trend that's still popular today.
6. With Her "Broken Bride" Collection
With its dramatically painted white faces and cheery flower crowns, Kawakubo's famous "Broken Bride" collection from 2005 incorporated and subverted ultra-romantic Victorian influences with her trademark use of asymmetry.
7. When She Made Her Paper Doll-Inspired 2D Collection
According to Vogue, in 2012, Kawakubo declared, "Two dimensions are the future" — and sent a whole host of dramatically paper doll-esque ensembles down the runway.
8. When She Took Punk To The 18th Century
"The eighteenth century was a time of change and revolution ... This is how I imagine punks would look like if they had lived in this century," explained Kawakubo in a statement after her 2016 show, reports Dazed. Certainly a stunning re-imagining of two popular inspiration points, no?
9. When She Dressed Daveed Diggs At The 2016 Tonys
Is this, or is this not, the perfect suit to win a Tony in?
10. At Her Latest Runway Show
We've talked about a few of her landmark runway shows, but almost 30 years after her debut, Kawakubo is not slowing down. A New York Times review of her latest collection expounded:
One dress looked as if it were covered in seed pods; two more resembled Fausto Melotti's sculpture (also geese in profile). Another curved over the head, so the face poked out beneath. Like Little Red Riding Hood, if her cape had tried to swallow her instead of the wolf.
Here's hoping Met Gala co-chair Katy Perry pays homage to the iconic designer for taking that Little Red Riding Hood cape out for a spin, right?