Here's Every Woman Heading To The Olympics To Rep Team USA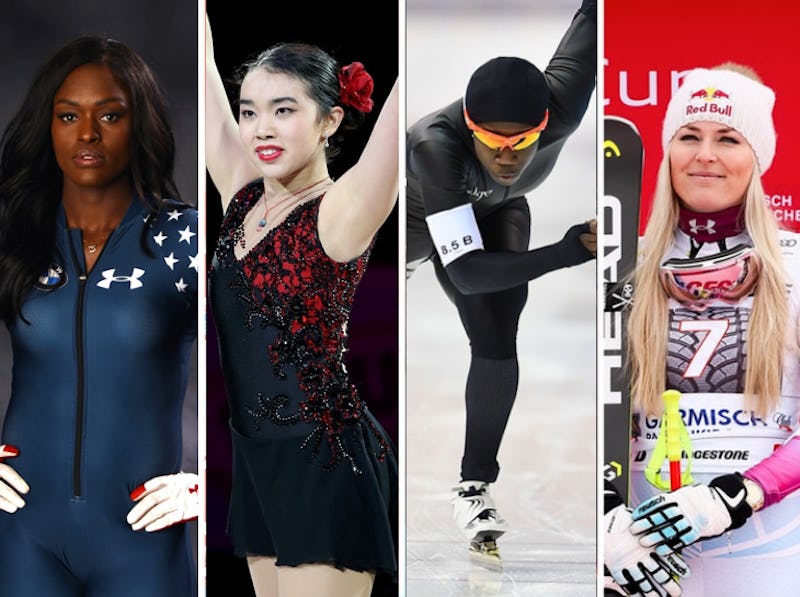 Ezra Shaw, Matthew Stockman, Stacy Revere, Millo Moravski/Agence Zoom /Getty Images Sport/Getty Images
At the PyeonChang-hosted Winter Olympics this year, almost half of the athletes on the United States Olympic team will be women. According to Team USA's website, there will be 108 women competing in Pyeongchang, in addition to 135 men.
Women athletes will be competing in every competition except for the Nordic combined, a combination of cross-country skiing and jumping. They will be competing in everything else, including: alpine skiing, the biathlon, bobsledding, cross-country skiing, curling, figure skating, freestyle skiing, ice hockey, luge, the skeleton, ski jumping, snowboarding, long track speed-skating, and short track speed-skating.
Overall, this year's team is the largest team the United States has ever sent to the winter Olympics. It's also on record to be the most diverse: On deck will be 10 African American athletes, 11, Asian American athletes, and two openly gay athletes. In other words, Team U.S.A. is slowly starting to actually represent actual demographics in the United States.
Several female athletes are expected to capture a lot of attention. Among them are the women's hockey team and big names like Lindsey Vonn, Mikaela Shiffrin, Kelly Clark, and Jamie Anderson, just to name a few.
Headliner or not, all of these women are expected to pack a punch. Here's the complete list.
Women's Hockey
Cayla Barnes
Kacey Bellamy
Hannah Brandt
Dani Cameranesi
Kendall Coyne
Brianna Decker
Meghan Duggan
Kali Flanagan
Nicole Hensley
Megan Keller
Amanda Kessel
Hilary Knight
Jocelyne Lamoureux-Davidson
Monique Lamoureux-Morando
Gigi Marvin
Sidney Morin
Kelly Pannek
Amanda Pelkey
Emily Pfalzer
Alex Rigsby
Maddie Rooney
Haley Skarupa
Lee Stecklein
Alpine Skiing
Stacey Cook
Breezy Johnson
Megan McJames
Alice McKennis
Alice Merryweather
Laurenne Ross
Mikaela Shiffrin
Resi Stiegler
Lindsey Vonn
Jacqueline Wiles
Biathlon
Emily Dreissigacker
Susan Dunklee
Clare Egan
Maddie Phaneuf
Joanne Reid
Bobsled
Aja Evans
Lauren Gibbs
Jamie Greubel Poser
Elana Meyers Taylor
Cross-Country Skiing
Sadie Bjornsen
Rosie Brennan
Sophie Caldwell
Jessie Diggins
Rosie Frankowski
Annie Hart
Kaitlynn Miller
Caitlin Patterson
Kikkan Randall
Ida Sargent
Liz Stephen
Curling
Cory Christensen
Aileen Geving
Becca Hamilton
Tabitha Peterson
Nina Roth
Figure Skating
Karen Chen
Madison Chock
Madison Hubbell
Mirai Nagasu
Alexa Scimeca Knierim
Maia Shibutani
Bradie Tennell
Freestyle Skiing
Maddie Bowman
Ashley Caldwell
Caroline Claire
Annalisa Drew
Tess Johnson
Jaelin Kauf
Devin Logan
Keaton McCargo
Kiley McKinnon
Madison Olsen
Morgan Schild
Brita Sigourney
Darian Stevens
Maggie Voisin
Luge
Summer Britcher
Erin Hamlin
Emily Sweeney
Skeleton
Katie Uhlaender
Kendall Wesenberg
Ski Jumping
Nita Englund
Sarah Hendrickson
Abby Ringquist
Snowboarding
Jamie Anderson
Kelly Clark
Arielle Gold
Faye Gulini
Lindsey Jacobellis
Jessika Jenson
Chloe Kim
Hailey Langland
Rosie Mancari
Julia Marino
Maddie Mastro
Meghan Tierney
Long Track Speedskating
Heather Bergsma
Brittany Bowe
Erin Jackson
Mia Manganello
Carlijn Schoutens
Jerica Tandiman
Short Track Speedskating
Maame Biney
Lana Gehring
Jessica Kooreman
Women have been competing at the Olympic games since 1900, when the games were located in Paris. Now, over 100 years later, they're known to often outperform their male counterparts in terms of earning medals.