An All-Women 'Spider-Man' Spin-Off Is Currently In The Works, So Get Excited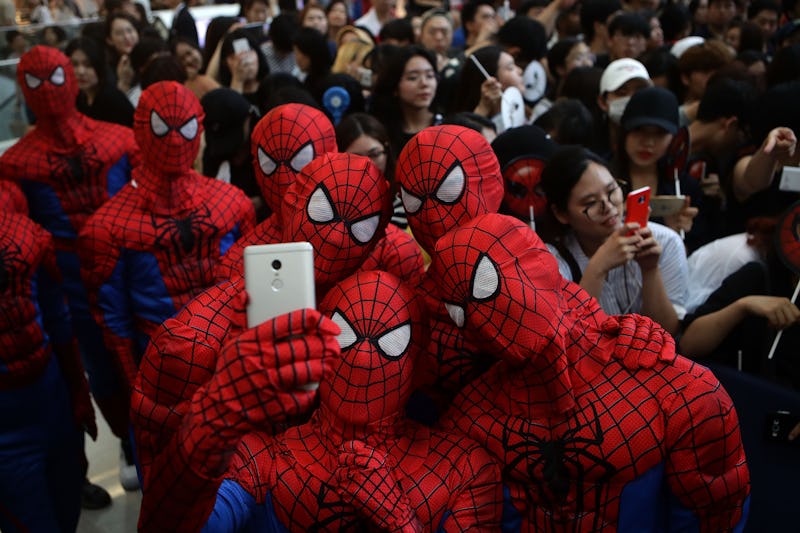 Chung Sung-Jun/Getty Images Entertainment/Getty Images
According to The Hollywood Reporter, an all-women Spider-Man spin-off will be rolling out in the coming years. The announcement comes at a time when several other Spiderman-related projects are in the works, including an upcoming animated film, Spiderman: Into the Spider-Verse, which is coming out next month. The all-women film likely won't be out in theaters for years, unfortunately; the script hasn't even been written yet.
Still, the project is definitely moving forward, albeit in the earliest stages. Director Lauren Montgomery is reportedly in negotiations to captain the project, while screenwriter Bek Smith has been tapped to write the script.
For now, there are very few details about the plot for the all-female Spidey flick. Deadline reports that the movie will follow "three generations of women with Spidey powers," but that hasn't been confirmed by those involved in the project.The Hollywood Reporter notes that it's likely that the project will center around several Spidey characters that have been fan favorites in the past: Madame Web, Spider-Girl, Spider-Woman, Spider-Gwen, and Silk are all likely characters for the film.
However, you shouldn't expect Jennifer Lawrence or Gabrielle Union to step into a Spidey costume any time soon: the all—female Spider-Man film is going to be animated.
Still, the movie couldn't come soon enough. According to a study by BBC America and the Women's Media Center that was released in October, children want to see more women superheroes, both in film and on television. Within the study, 69 percent of boys between the ages of 10 and 19 said they wanted to see more women in sci-fi-related media, and 85 percent of girls in that same age bracket agreed.
The study further found that children and teens tend to pick role models who are the same gender as themselves overwhelmingly.
In the past, this has posed as a slight problem for those young women who watch a lot of superhero films: according to Market Watch, only 26 percent of all DC and Marvel characters so far have been female, and only 12 percent of mainstream superhero comics feature a female protagonist in the lead.
And for those looking towards the business end of the equation, it's worth noting that female superheroes sell. Wonder Woman, featuring an indomitable Gal Gadot in the lead, grossed $821.7 million worldwide upon release, eventually becoming the highest grossing live-action film in history. Ironically, the movie that it had to beat to gain that title was 2002's Spiderman with Tobey Maguire, which grossed $821 million as well.
Perhaps most importantly, though, studies have shown time and time again that female superhero stories serve to inspire confidence within young women. This is especially profound when you consider how much more likely girls are to report feeling "not listened to" than boys, and how much less likely they are to report feeling "confident" or "brave" in comparison to boys.
Whether it's Super Woman, Spider-Woman, or anything in between, the more female superheroes, the better. And yes, animated superheroes count too.