Here's How Many People Aren't Telling Their Partners What They Really Want In Bed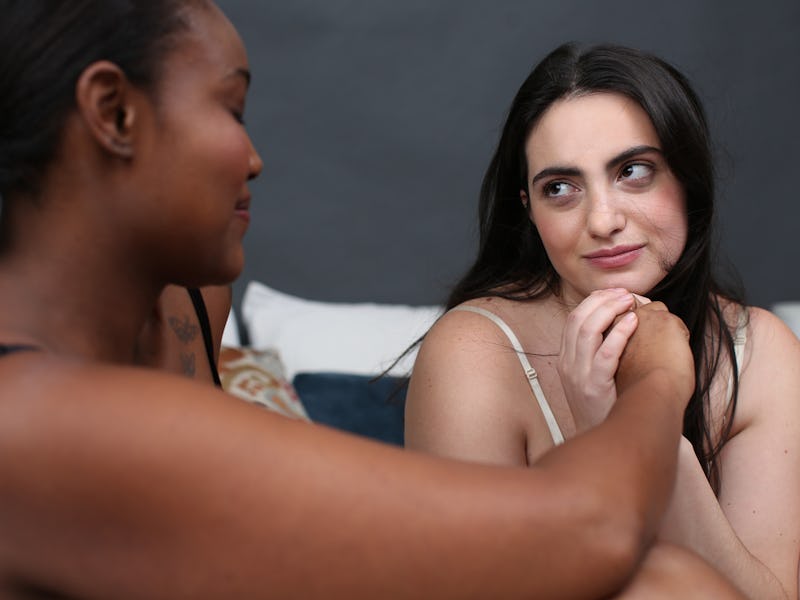 Ashley Batz/Bustle
If you're interested in trying kink for the first time, you're not alone. It can be tricky talking to your partner about your sexual desires if you haven't done it before, but you should, because there's really nothing to be ashamed of. What you should keep in mind is that part of the difficulty is that what seems vanilla to one person might be kinky to another, so explaining what you're into can always feel like going out on a limb.
"Kink is subjective," Vincent, the head of Vermont Alternative Sexuality Education, tells Bustle. "A lot of people try to quantify what kink is and how extreme one act versus another act is. For some people, spanking is extremely hardcore while some people don't find it to be kinky at all."
And if you need more motivation, know that kink is probably way more common than you think. A new survey shows that America is kinky... and looking to get even kinkier. A survey of 2,000 Americans by the sex toy company EdenFantasys found that one in four Americans consider themselves kinky and many are looking to explore new sex acts. It's just that not everybody has told their partner, yet.
If you're looking to branch out with your partner, start by talking about your fantasies and go from there. "When I have dated people who feel that I'm kinkier than they are, we start with their fantasies and build from there," Vincent says. So start by just trying to open up the lines of communication — and see where you go.
And considering that almost half of Americans are kinky, there's a decent chance your partner will be into trying something new too. Here's what EdenFantasys found.