Aly Raisman Says "Monster" Doctor "Brainwashed" Her Into Believing His Sexual Abuse Was Normal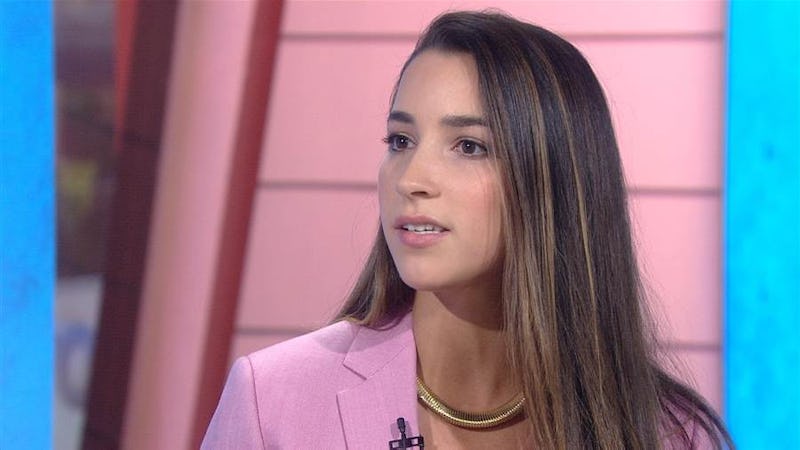 Former Olympic gymnast and six-time medalist Aly Raisman has started speaking publicly about the sexual abuse that she allegedly suffered during her career at USA Gymnastics, and it doesn't look like she's going to stop anytime soon. In an interview on TODAY, Raisman called former team doctor Nassar a "monster" and went into greater detail with her claims that he had molested and manipulated her.
"I just thought he was weird. I want people to know, that I really didn't know what was happening to me. He was a doctor and he told me that his treatment would heal all of my injuries," she said in her interview on Monday. "I was so young. I had never really worked with another doctor or trainer before, and everyone said that he was the best."
Nassar, who is awaiting sentencing after pleading guilty to child pornography charges in July, has not publicly commented on Raisman's allegations of sexual abuse, although in 2016 he denied all allegations of sexual abuse. That was before Raisman's fellow Fierce Five teammate McKayla Maroney claimed that Nassar had sexually abused her, and Nassar has never commented on that allegation. He is scheduled to be sentenced on Nov. 27, when he faces between 22 and 27 years in prison.
Both gymnasts made similar claims about Nassar's behavior. Maroney said that Nassar had started abusing her at age 13, while Raisman claimed that it began at age 15. In both cases, they claimed that he had said that the abuse was actually a "treatment."
"He would give me gifts so I really thought he was my friend, and he always seemed he had my back," Raisman told TODAY. "He was such a master manipulator. And I think that's what's important for people to understand is that these monsters are so good at manipulating you. You're so brainwashed to think, I thought he was so nice."
In her initial interview about the alleged sexual abuse on 60 Minutes, Raisman explained that because it started so young, she didn't realize what was going on. "I was just really innocent," Raisman said on 60 Minutes. "I didn't really know. You know, you don't think that of someone. You know, so I just— I trusted him."
It was only later, she said, that she truly understood the extent to which she was being violated. "I think he's a monster," Raisman told TODAY's Hoda Kotb. "It is so disturbing to me what he did to me and so many other people. This is so much bigger than just me. It's such a horrific thing to happen."
And so far, her and Maroney's allegations are indeed turning into something much bigger than just the two of them. Now that Raisman has blatantly accused USA Gymnastics of not doing enough to protect its athletes, the organization has pledged to do better in the future.
"We are appalled by the conduct of which Larry Nassar is accused, and we are very sorry that any athlete has been harmed during her or his gymnastics career," the organization said in a statement released soon after Raisman went public with her allegations. "We are taking this issue head-on, and we want to work with Aly and all interested athletes to keep athletes safe."
This, Raisman claims, is a change from how the organization handled her complaints in the past. "After I had time to process it, I realized, this is really bad, and I was basically told just to kind of keep it quiet, and they were handling it," she said on TODAY. "And they so they didn't let me help. I want to help. I want to do more."
Going public, then, was her solution to that feeling of helplessness. "If I can help one person, then that's totally what it's all about," she told Kotb on TODAY. "This is just the beginning. I'm just getting started, and I'm not going to stop until I get what I want, which is change."