Aly Raisman Is Suing USA Gymnastics, Saying She Won't "Wait Any Longer"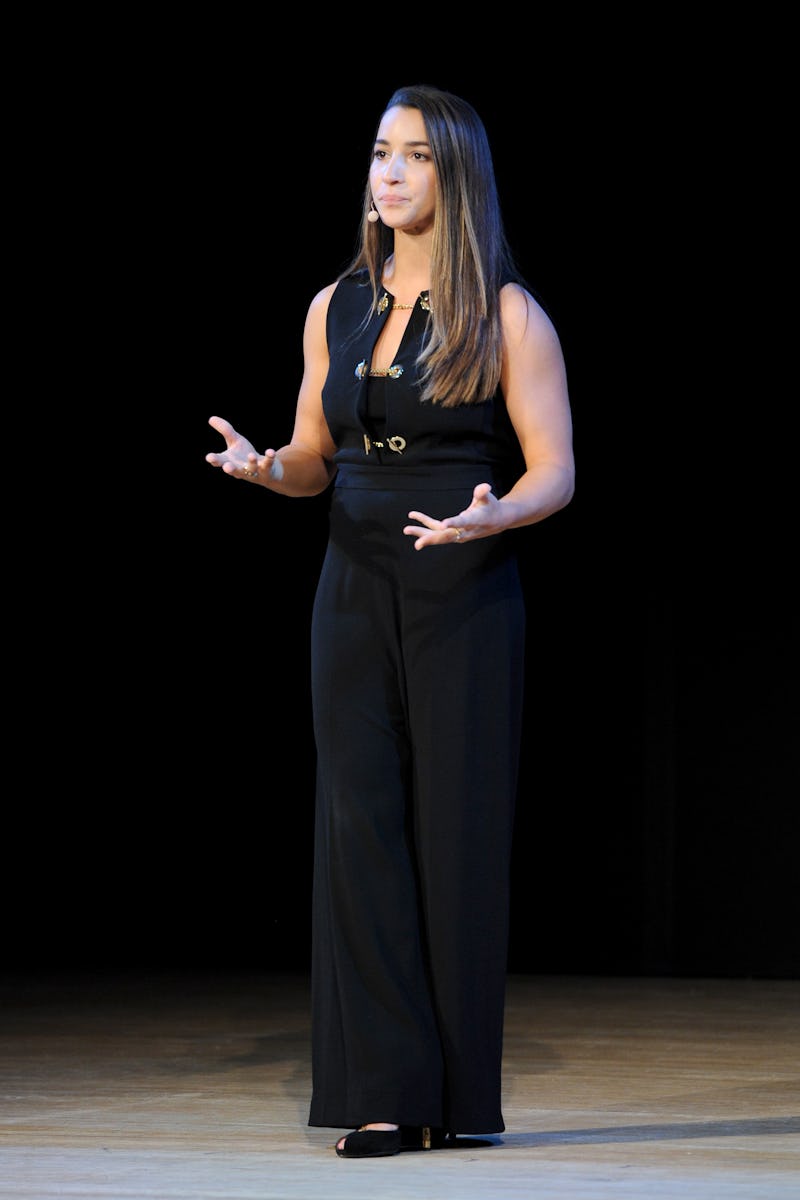 Craig Barritt/Getty Images Entertainment/Getty Images
Last month, two-time Olympic gymnast Aly Raisman delivered a searing statement about the abuse she suffered at the hands of Larry Nassar, a former team physician. Perhaps the most remarkable part of Raisman's testimony was her vow to hold the U.S. Olympic Committee and other authority figures responsible, too: She's described them as allegedly complicit in Nassar's actions. Now, Raisman is channeling that determination into a lawsuit. On Wednesday, Raisman sued the committee for negligence in it handling of the Nassar case.
Raisman filed the lawsuit against the U.S. Olympic Committee (USOC) and USA Gymnastics, which has been designated as the governing body for the sport in the United States by USOC. The suit argues that USOC is "responsible" for USA Gymnastics. Larry Nassar is also listed as a co-defendant. He is currently in prison serving his first of several decades-long sentences.
The court documents allege that USOC and USA Gymnastics did not adequately watch over Nassar or appropriately handle warnings about him. For example, the documents claim, USA Gymnastics waited weeks to notify the FBI of a 2015 tip about Nassar's predation and didn't alert Michigan State University, where the doctor was employed and continued to molest patients until he was publicly accused in late 2016.
The entity has not directly responded to the lawsuit, although it has admitted in the past that it "failed" the girls. In a statement released after Nassar's January sentencing, USA Gymnastics said:
USA Gymnastics is following the proceedings. ... Our hearts are with these incredibly brave women. We are very sorry that any athlete has been hurt by the despicable crimes Larry Nassar committed. USA Gymnastics will keep their words and experiences at the core of everything we do as we remain focused on our highest priority – the safety, health and well-being of our athletes.
"We are committed to creating a culture that empowers and supports our athletes, and we hope everything we do going forward makes this very clear," the body added.
Raisman's lawsuit claims that USA Gymnastics should have been more suspicious of Nassar's behavior after the organization allegedly requested that he stop a habit of incessantly photographing gymnasts.
The suit alleges that USOC was "aware, at the highest levels of its organization, that Defendant Nassar had molested Olympic and National Team level gymnasts." It argues that USOC and USA Gymnastics should have informed athletes and their families about any of Nassar's known misbehavior since they had officially stated their responsibility to protect athletes.
Meanwhile, USOC has hired a third-party law firm to investigate the way it handled complaints about Nassar. But because the committee picked and is paying the firm, it's difficult for some people to believe that the matter will be handled thoroughly and honestly. Raisman is one of the skeptics.
In a statement on Friday, Raisman said, "After all this time, they remain unwilling to conduct a full investigation, and without a solid understanding of how this happened, it is delusional to think sufficient changes can be implemented."
"I refuse to wait any longer for these organizations to do the right thing," she continued. "It is my hope that the legal process will hold them accountable and enable the change that is so desperately needed."
Raisman alleges that Nassar assaulted her for years, beginning when she was 15, under the guise of giving her medical treatment.
Among the more than 150 victims who testified at Nassar's trial, Raisman has been perhaps the most vocal advocate for reform. In a Friday statement, Raisman explained that her "highest priority has been to push for change, so future generations of athletes will be safer." In an interview on Today last month, she said that the supportive response she got from people around the country during the Nassar case, as well as the enthusiastic reception to her victim statement, has encouraged her to work harder.
"I never, ever imagined this kind of support in my wildest dreams," Raisman said. "I can't thank everyone enough for the support, and it only motivates me to do even more."