Alyssa Milano Wants The #MeToo Movement To Go Beyond 2017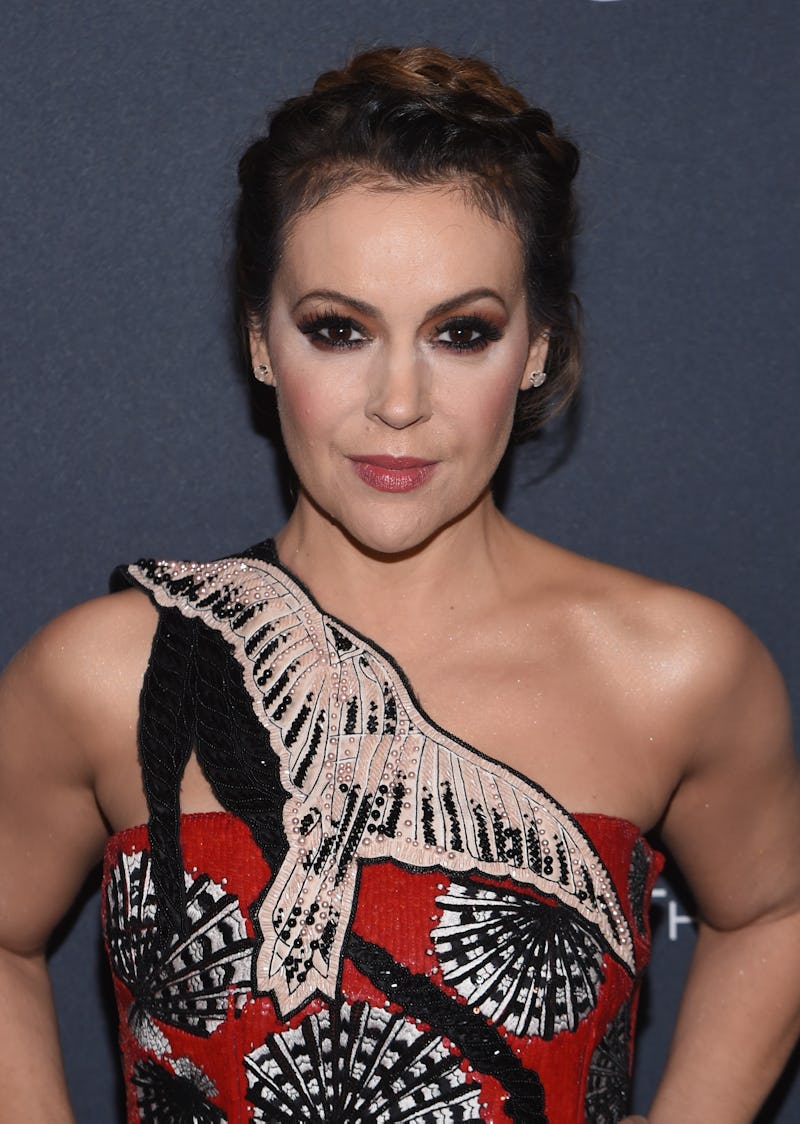 Dimitrios Kambouris/Getty Images Entertainment/Getty Images
Alyssa Milano and #MeToo creator Tarana Burke started a movement in 2017 against sexual harassment. Now that both have been included in Time Magazine's iconic "Person of the Year" as "Silence Breakers," Milano wants #MeToo to bring change to women's lives. Speaking on Today about being a "Person of the Year" and the famous hashtag, which she popularized after sending out a tweet asking other women who had been assaulted or harassed in their lives to write "#MeToo" on social media, the actress explained that she wanted to keep the "momentum" going in the fight to end sexual violence. Milano said on Today:
"As women, we have to support each other and stand together and say, 'That's it. We're done. No more.' It's vital to me that we really set in some actionable things that we can do to continue this momentum."
Though Milano is best known for her parts in Charmed and Who's The Boss, she can be a fierce advocate on social-media. Lately, her tweets defending net neutrality, an Obama-era policy, have even riled up the current, conservative Federal Communications Commission Chairman, Ajit Pai. But, back when she first tweeted "#MeToo" on October 15, she was reacting to the onslaught of sexual harassment allegations directed at producer Harvey Weinstein. In her initial tweet, she asked others who had also been affected by sexual violence to do the same.
Milano told Today she sent out her tweet before going to bed. When she woke up tens-of-thousands had responded using the hashtag, many detailing their own harrowing stories. The movement quickly spread through Milano's normal sphere of influence in entertainment and media, and well beyond to people in many different industries living across the country.
According to Time, Milano learned about the idea after a friend sent her a screenshot of the phrase. However, the concept had been created a decade earlier by Burke, an activist who wanted to create solidarity among survivors of sexual harassment and assault.
Annually, Time names a "Person of the Year" to "recognizing the person or group of people who most influenced the news during the past year, for better or for worse." This years "person" was actually multiple people, dubbed by the magazine as "The Silence Breakers." As part of the theme, Time interviewed "dozens of people" in various industries, "all of whom had summoned extraordinary personal courage to speak out about sexual harassment at their jobs." In addition to other celebrities who were included in the feature—like Ashley Judd, Rose McGowan, Terry Crews and Taylor Swift—Time also spoke to a state senator, a hospital worker, a food-blog editor, a former dishwasher, and many others.
Burke and Milano met for the first time on Wednesday morning to talk about being "Person of the Year" on Today. Both were passionate about using #MeToo as a way to make change in the future. "This is just the start," Burke told the Today show hosts. "I've been saying from the beginning it's not just a moment, it's a movement. Now the work really begins."
Milano echoed the sentiment. She called on companies to develop a code of conduct to protect workers from misconduct, and urged women to continue talking, and "supporting" each other. She also said that she wanted companies to hire more women.
Milano also went on Twitter to start a powerful thread that both celebrated how social media can connect us to each other to fight sexual misconduct, and to share some painful statistics about sexual violence. "Technology and social media have connected us all," Milano wrote. "We can't turn away from each other's pain. We are connected to it. We are connected to each other." She ended the thread by urging women to "unite" with compassion to empower each other to #BreakTheSilence.
The #MeToo hashtag proved just how large and widespread sexual violence is is among all industries and walks of life. Now that women might feel more empowered, knowing that they are not alone, and men are more aware of the systemic problem, Milano urges the country to act. It's great that the people that spoke up are 2017's "Person of the Year", but to make #MeToo "actionable," as Milano calls for, people in every industry must continue to demand changes in the new year and beyond.