Amal Clooney Calls For Evidence Of ISIS Crimes To Be Collected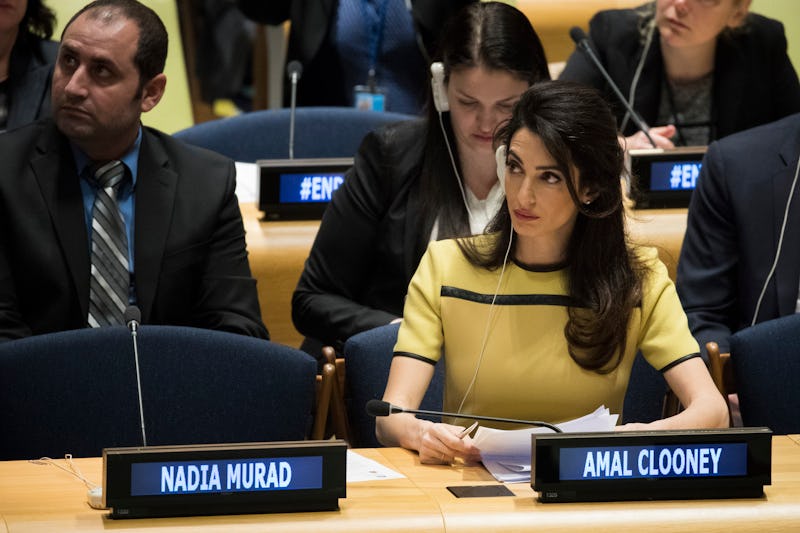 Drew Angerer/Getty Images News/Getty Images
It's been nearly four years since the Islamist terrorist group ISIS began building what it hoped would be its own state across Iraq and Syria in the Middle East, in the process committing a slew of absolutely horrifying crimes against humanity. And now, according to The Guardian, human rights lawyer Amal Clooney wants to document evidence of ISIS's crimes, so to preserve a record of "the worst crimes of our generation."
Throughout the years-long history of the so-called Islamic State (often also known as Daesh, a name the group reportedly abhors), thousands upon thousands of people have reportedly been killed, tortured, and raped in its name. In particular, the group has targeted the Yazidis of northern Iraq, killing thousands.
That's before even considering the victims of their high-profile terrorist attacks, or the Syrians they've killed and displaced, or opposing soldiers (like the Kurdish Peshmerga) who they've felled in combat. In simple terms, ISIS has wrought a bloody path through Iraq and Syria, and even as the territory it controls continues to shrink, the damage and danger is not yet over with. And, as The Guardian detailed, Clooney believes evidence of these crimes must be preserved for the historical record while they still can. She said:
All of this evidence is going to be lost if it's not collected soon. Mass graves are being contaminated as relatives dig for remains of their loved ones. Documents are not being gathered. Witnesses are being dispersed around the world. They are increasingly reluctant to to speak about these cases.
Specifically, Clooney described the crimes committed by ISIS as "medieval types of violence," ones that call for a response from the United Nations as a test of international law:
I believe that the crimes committed by ISIS in Iraq are some of the worst of our generation. Medieval types of violence were being committed in which there were slave markets. This is a test not just for the Iraqi government, but for the United Nations and international law.
Clooney, 39, is a world-renowned human rights lawyer who has specifically addressed the United Nations regarding ISIS violence in the past. That's not the only notable aspect of her career ― she's counted controversial and hotly criticized Wikileaks chief Julian Assange among her clients, and was also involved in Greece's effort to recover the famed Elgin Marbles from Britain.
But it's undeniably her human rights work that's at the forefront, and presently, the immediate impacts and after-effects of the crimes of ISIS are plainly some of the biggest such issues facing the world. As it stands now, about 5 million Syrians have fled their homeland and become refugees thanks to violence and chaos wrought by the Assad government, ISIS, and foreign militaries, and according to Amnesty International, some 3,500 Yazidis have been brutalized by the terrorist group with rape, torture, and assault.