Amanda Holden's BGT Dress Got Twitter Talking For The Most Frustrating Reason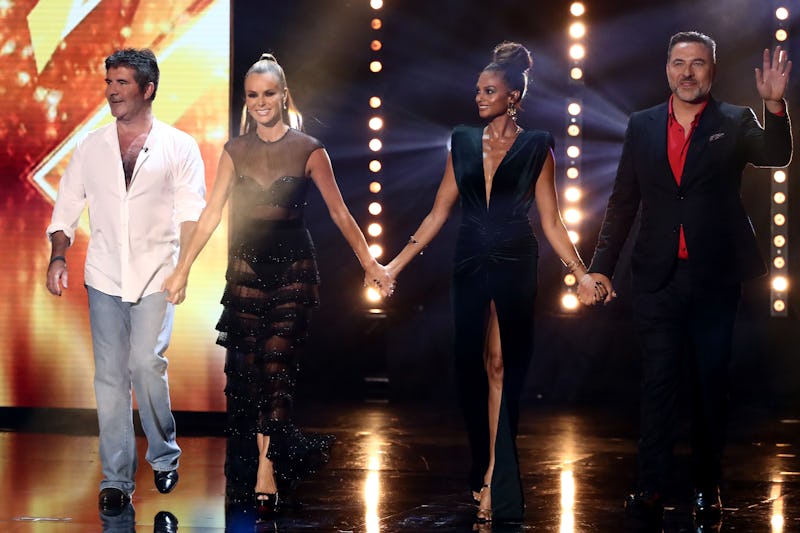 Dymond/Thames/Syco/REX/Shutterstock
Another day, another case of women being shamed for what they're wearing. Honestly, how is this still a thing? This time it's Amanda Holden's Britain's Got Talent dress causing chatter online. On Tuesday night, the 47-year-old stepped onto the BGT stage wearing a sheer black gown by João Rôlo Couture. Although the dress should have garnered attention for its gorgeous tiered design, it instead raised eyebrows by revealing Holden's black bra and knickers.
Why is this such a big deal? Because apparently, the British public can't handle seeing a grown woman's underwear on live TV. Criticising Holden for choosing a "racy" outfit before the 9 p.m. watershed, several people took to Twitter to express their dismay.
"The look tonight Amanda isn't your normal delicate self. Fantastic figure, but hmmm, family show," one woman tweeted, while another said it was "a bit much for a 7.30 show!" Yet another said that Holden's dress was "seriously not appropriate for a family show."
This isn't the first time that Holden's wardrobe has drawn in complaints. Last year, as the Evening Standard reported, Ofcom revealed that a plunging dress she wore on a 2017 episode of BGT was the most complained about thing on TV. Earning a total of 663 complaints, the dress — which was slit down to Holden's navel — beat the "crude" Comic Relief show and a violent episode of Emmerdale. That's right. More people thought that their children would be negatively affected by a woman's body than by violence and swearing.
I have one question: When is the world going to stop judging women for the clothes they wear? Even respected publications are getting in on the act. Earlier this year, The New York Times published an Op-ed in which the writer argued that women over the age of 30 should refrain from wearing yoga pants (or leggings to us Brits) "that threaten to show every dimple and roll."
The writer appeared to have fallen straight into the trap of assuming that a woman's sole function in life is to please those around her with her appearance. That any kind of clothing deemed unflattering by society should be banned from a woman's wardrobe without a second thought.
That being said, the conversation around Holden's dress will surely not be shocking to many women today. The majority of women living in the modern world have been victims of catcalling. (It's become such a problem that France is in the process of passing a law that will see catcallers fined up to €750 on the spot.) Most of us only have to walk out the door of our houses wearing a skirt to receive unwanted glances and hear derogatory comments.
I can only imagine how amplified that is when you're a celebrity; a person watched by the world. You see, it isn't just TV personalities like Holden who are shamed day in, day out. Global superstars admit to feeling the effects of body and fashion-shaming.
In 2017, Lady Gaga performed a kickass Super Bowl halftime show. Wearing a football-inspired look that consisted of teeny tiny hotpants and a padded crop top, people pointed out the flesh that was visible on Gaga's stomach. Even prominent designer Stefano Gabbana admitted to body-shaming the 32-year-old in an Instagram post, later backtracking by saying he "was wrong."
Gaga said she was "proud of [her] body," but should she have had to? Definitely not. Neither should Emma Watson who, after receiving criticism for daring to go braless in a Vanity Fair shoot, was forced to say, in an interview with Reuters, that her outfit choice didn't undermine her work as a feminist. Or Modern Family star Ariel Winter who, despite being only 20 years old, has had to spend considerable time responding to people on Twitter who called her "a whore" for wearing tight dresses and short shorts.
Let's not waste precious time thinking of new and inventive ways to bring women down. Getting up in front of millions is an enormous amount of pressure. No one needs to go home to be met with judgmental comments. Celebrities are real people and it's about time all of us remembered that. Because the principle applies no matter who you are or where you're from: Women's clothing choices are only ever their business.