Amazon Reportedly Patented A Version Of Alexa That Can Tell If You're Sick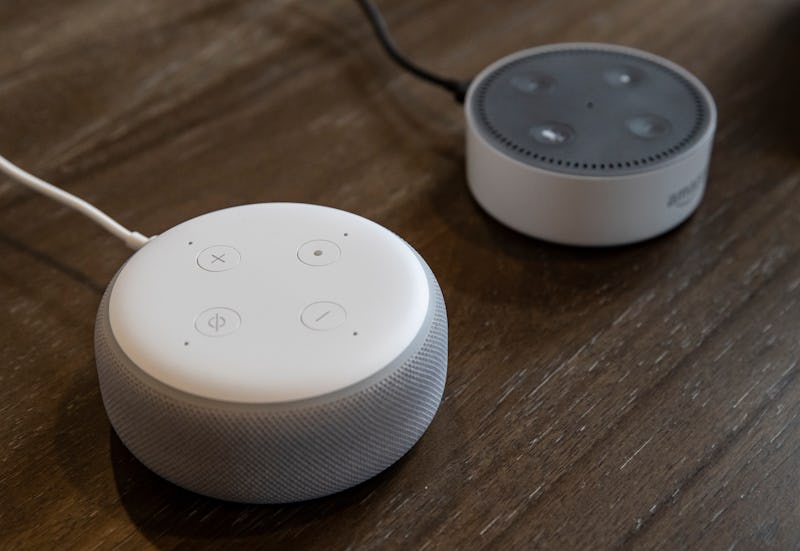 Stephen Brashear/Getty Images News/Getty Images
Imagine a world where you don't have to leave the warm confines of your home to get some relief for a cold — by relying on the help of a virtual assistant when you get sick. It's a future that may not be as far off as you'd think. Amazon has reportedly patented a version of its virtual assistant Alexa that could automatically detect when you're sick, according to The Telegraph, though that doesn't mean that the feature is in development.
The proposed feature would assess a user's speech, among other indicators to help gauge illness or emotion. One example from the patent, The Telegraph notes, is that of a woman sniffling and coughing as she speaks to her Amazon Echo device. Alexa proceeds to suggest a chicken soup recipe, followed by offering to order cough drops via Amazon. It appears that Amazon's system wouldn't need to ask people if they're unwell, as it would be able to infer the fact automatically through its speech assessment. Basically, someone who sounds like they have a sore throat could automatically be suggested products to help soothe a sore throat without having to outwardly ask. Amazon declined to comment on the record for this story.
The patent filing also extends to the tracking of emotions through Alexa, so the virtual assistant could tell through the user's voice if they're feeling bored or tired, and then follow up with suggestions based on those moods, according to CNET. If users are crying, for example, the assistant could potentially understand that the user is experiencing an "emotional abnormality," writes The Telegraph. The filing also includes examples where Amazon could theoretically target different advertisements toward different moods (e.g. an advertisement for a new music album would be played only for tired or bored people).
It's important to note that Amazon may not be working on any of the described features, as tech companies file patents for varying products and ideas all the time. While this is just a patent filing and it's currently unknown whether this new feature is in development or will ever be developed, it's a move that has the potential to be quite financially lucrative for Amazon, considering that health care is a $3 trillion a year industry, according to the Centers for Medicare and Medicaid Services. Additionally, smart speakers are the world's fastest growing consumer tech segment, and one in five American households with Wifi own a smart speaker, according to The Washington Post.
The company is no stranger to the world of wellness. In June, Amazon announced it had purchased PillPack, an online pharmacy that packages and delivers medications to consumers. On top of that, CNBC reported in May that according to an internal company document, Amazon built a team of over a dozen people within its Alexa voice-assistant division dedicated to health and wellness. The team's main focus is to make the virtual assistant more useful in health care.
So could Amazon's Alexa eventually replace your doctor? Not quite, but this patent — which, again, does not mean the product is in development — is an interesting idea that might indicate a trend for the future of virtual assistants and their potential role in your healthcare.