Amazon Just Launched "Storefronts" Featuring Small Businesses — Here's How It Works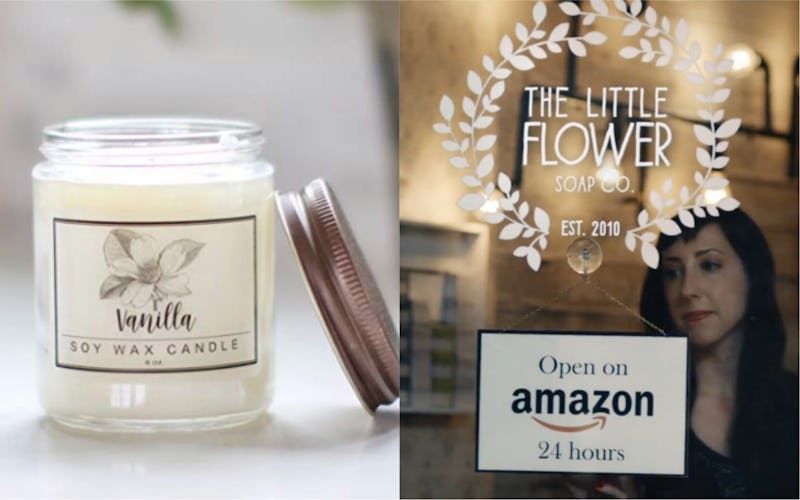 Amazon, Remixed by Bustle
Chances are, you only order from Amazon when you know specifically what you need — like, the Crazy Rich Asians sequel or water filter refills. But Amazon is looking to change that and on Monday launched Amazon Storefronts, a curated collection of goods that is more conductive to browsing and supports the small and medium businesses selling on the site.
But while it's curated, Storefronts isn't just one small collection of products. The new section features over 1 million items (a few examples are featured here) from nearly 20,000 U.S.-based sellers. (Amazon notes that as of 2017 there were more than 300,000 U.S.-based small and medium businesses selling on the site.) Nicholas Denissen, Vice President for Amazon said of the news in a press release,
"We've created a custom, one-stop shopping experience for customers looking for interesting, innovative and high quality products from American businesses from all across the country. Amazon first invited businesses to sell on Amazon nearly two decades ago, and today, small and medium-sized businesses are a vital part of Amazon's large selection and commitment to customers. We're championing their success with this new store and a national advertising campaign featuring a successful Michigan business selling on Amazon to customers across the U.S. and worldwide."
When you visit the Storefronts homepage, you'll see a variety of "curated collections" including "Back to School", "Halloween", "Beauty & Grooming", and "Travel". There's also a Storefront of the Week and the option to look at particular types of businesses such as "women-owned", "artisans", and "family-focused".
The first commercial Amazon released in relation to Storefronts highlights the Little Flower Soap Co., which is based in Michigan. Holly Rutt, the co-founder of the business said in the press release, "Since we started selling on Amazon in October 2016, our sales have nearly doubled. Due to our success, we have been able to hire new team members from our community, including full and part time jobs."
While Storefronts does draw attention to small and medium businesses, as explained by Tech Crunch, it also seems like a way for Amazon to combat criticism over how it works with small businesses and the amount of brand recognition the businesses give up because they're selling through another business' platform. There's also the fact that Amazon is a behemoth that competes with smaller businesses — and wins — when it comes to customers deciding to buy through it to save money, as noted by The Verge.
If you are looking to shop Amazon Storefronts, you might not see it on the main homepage (yet), but you can access it by going to amazon.com/storefronts. While it does lend itself to browsing because of the curated groups of items, once you click through, it still looks like the Amazon you're used to. It'll be interesting to see how Storefronts does and if it ends up sticking around... or if Amazon shoppers just continue using the site to buy the very specific items (electric toothbrush head replacements, anyone?) they forgot about until the last minute.