Amber Heard's Regal Met Gala Halo Was Actually Made From A $2 Household Item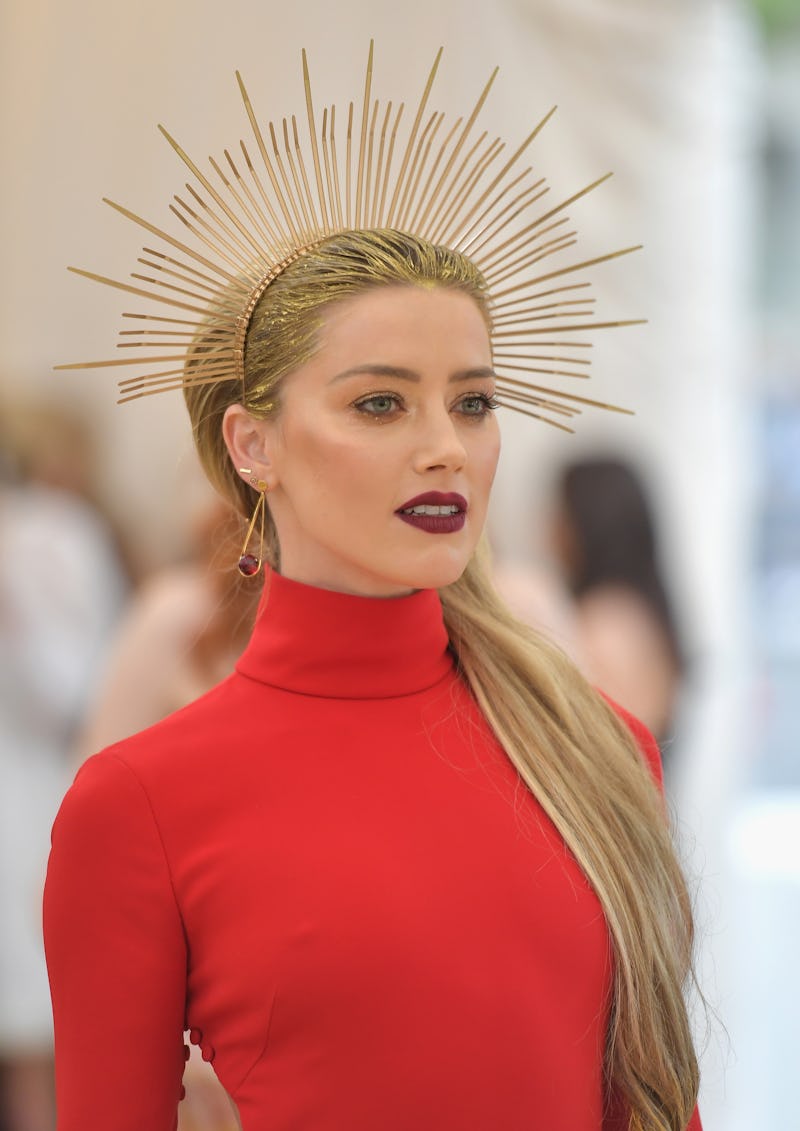 Neilson Barnard/Getty Images Entertainment/Getty Images
The Met Gala is always a lavish affair, but it seemed so much more opulent this year thanks to the chosen theme, which had to do with Christian art. But not all guests shelled out major cash to look grandiose. Amber Heard had a zip tie headband for the 2018 Met Gala, but still looked as heavenly as the rest of the guests.
Entitled "Heavenly Bodies: Fashion and the Catholic Imagination," red carpet walkers took inspiration from opulent church paintings, gilded alters, and heavy velvet and baroque cassocks to make their looks. But just because something looks rich doesn't mean it has to come with a hefty price tag. Heard proved that with her hair accessory, which was a headband that fanned out into light beams, making her look like she wore a halo.
The Justice League actress came perfectly on-theme to the Gala, where everything from her makeup to her gown payed tribute to Christianity. For example, her red Carolina Herrera dress tipped its hat to the many different aspects of the Christian religion, where its long-sleeve and turtleneck silhouette adhered to the church's call for modesty, but then the daringly open back hinted at sin, creating tension between the two opposing ideas. The red color is also an important symbol in the religion, where it's not only the shade of hell and demons, but also the color of blood, which symbolizes martyrs and Christ's death on the cross.
But what really cinched the look was the halo-like headpiece, which made her look like a walking saint up the Met stairs.
But while the headpiece looked like it was made out of solid gold, it was actually made out of zip ties. And even better, it wasn't made by a well known couture designer, but a small indie brand. You have to love artists who help elevate small businesses during such important, well-reported-on events!
The designer who made this piece is Megan Bishop, who runs the label Apatico. Each piece is carefully handmade in Bishop's Seattle studio, and takes inspiration from fetish fashion, dark fantasy, clubkids, goth and punk styles.
The specific piece that Heard is wearing is the "Katrina Halo Crown Headpiece," and it retails for $38. It was originally inspired by classic images of the Virgin Mary in Catholic art, Dia De Los Muertos, angels, and saints, so it was obviously a perfect fit for this year's Met Gala theme. The crown itself is an oversized spiked headband, but what really makes it unique is the materials it's made from. Using hand painted plastic zip ties of alternating sizes, Bishop made the ordinary look extraordinary.
Not only that, but the headband comes in eight different colors, letting you choose between gold, red, bronze, black, and many other colors. The designer had thought of it all.
When the news broke on Twitter, people had varying reactions, from loving that the actress decided to use something DIY-inspired, to wondering why she didn't commit to something more expensive. But as one tweeter pointed out, taking something common and transforming it into something extraordinary is the very definition of art.
Others were so impressed with how luxe it looked that they decided they would DIY their own halo crowns for festivals and parties this summer.
Another person went as far as sharing a YouTube tutorial on how to create the crown yourself at home. All you will need is zip ties, gold spray paint, and a headband.
However, if you're one of those people who lose patience wielding a glue gun, or want to be like Heard and support a talented small business owner, consider getting your crown directly from Apatico.
It's awesome to have attendees like Heard who prove that one doesn't need hundreds of thousands of dollars to be creative or make it on the best dressed list. All you need is vision.