Amber Tamblyn's New York Times Op-Ed Is Powerful Look At Harassment Against Women In Our Culture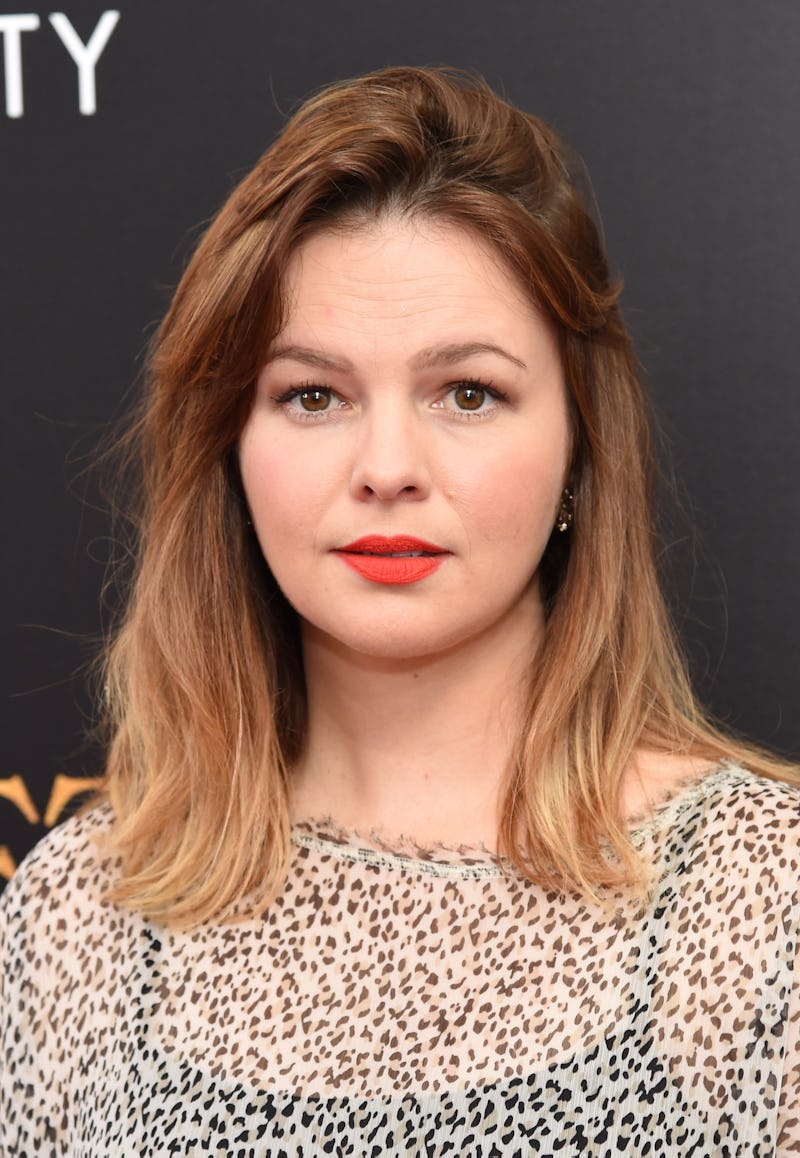 Jamie McCarthy/Getty Images Entertainment/Getty Images
Hollywood is far from a world without rampant allegations of sexual harassment, and Amber Tamblyn's New York Times Op-Ed, published Sept. 16, is a powerful look at how allegations in the entertainment world reflect American culture at large. In the piece, Tamblyn articulates the fear women face when it comes to reporting harassment and assault. She points out that unlike men, women have everything to lose.
"I have been afraid of speaking out or asking things of men in positions of power for years. What I have experienced as an actress working in a business whose business is to objectify women is frightening. It is the deep end of a pool where I cannot swim," she wrote. "It is a famous man telling you that you are a liar for what you have remembered. For what you must have misremembered, unless you have proof."
Tamblyn's article comes after an intense recent Twitter exchange with 70-year-old actor James Woods and an open letter to the actor in Teen Vogue. It began when Woods criticized the age difference between two characters in the upcoming film Call Me By Your Name on Twitter. In the film, Timothee Chalamet's 17-year-old character and Armie Hammer's 24-year-old character are involved romantically, an age different to which Woods appeared to object. In response, Hammer called out Woods' hypocrisy (and to some, implied that Woods' tweet may have been homophobic), by tweeting back: "Didn't you date a 19 year old when you were 60.......?"
Tamblyn became involved when she responded to the Twitter thread with a story of her own, claiming that Woods once tried to pick her up at a restaurant when she was 16 years old. (Woods would have been 52 at the time, if true.) Bustle has reached out to James Woods' agent regarding the allegations and op-ed, but has not yet heard back.
Tamblyn has since corroborated her Woods story with testimonies from friends in anticipation of backlash, hoping to reflect an alleged pattern in Woods' behavior. In the replies to Tamblyn's initial tweet, other women came forward with similar claims about the actor. And yet, Woods tweeted that Tamblyn's claims were "a lie." It was an answer that the actress wasn't going to accept, and the op-ed she penned as a result emphasizes the importance of speaking up in a culture that systematically silences women.
In the NYT article, Tamblyn takes readers through her personal experience working in the entertainment industry, and the hurdles she's faced in reporting harassment. The piece opens with a story from her early career when she was working on an unspecified TV series. When she didn't return the romantic interest of a crew member, he started showing up at her apartment unannounced, rifling through her trailer when she wasn't in it, and exhibiting other intimidating and inappropriate behavior. When she told the male showrunner, she said that he had told her that there are "two sides to every story." Many women are familiar with this response; it represents the standard baseline of disbelief that comes with reporting claims of harassment and sexual assault.
"For women in America who come forward with stories of harassment, abuse, and sexual assault, there are not two sides to every story, however noble that principle might seem. Women do not get to have a side. They get to have an interrogation," she wrote. "Too often, they are questioned mercilessly about whether their side is legitimate. Especially if that side happens to accuse a man of stature, then that woman has to consider the scrutiny and repercussions she'll be subjected to by sharing her side."
This issue isn't exclusive to the film and television industry. In June, the New York Times reported on sexism in Silicon Valley, and in the investigative piece, over a dozen women working in the tech startup world came forward with stories about sexual harassment. The behavior came from men across the field, from co-workers to potential investors. After the story was published, every man named denied any wrongdoing.
There are many fears that could make women hesitate when it comes to reporting harassment (retaliation, being accused of lying, unwanted attention, a lack of presentable proof are a few of the many reasons, according to a recent report by The Maryland Coalition Against Sexual Assault). And if you look at the replies to Tamblyn's original tweet, there are still some users (including women) who don't believe her story. The notion that Tamblyn would make this incident up is absurd — there is absolutely nothing she could gain by doing so (something she also addresses rather pointedly in her piece), yet the persistent narrative that women make claims of harassment for personal gain won't die.
However, Tamblyn encourages women to speak up when possible, even against that inevitable narrative and those fears. "The women I know, myself included, are done, though, playing the credentials game. We are learning that the more we open our mouths, the more we become a choir. And the more we are a choir, the more the tune is forced to change," she wrote.
Amen, sister.
Editor's Note: This article has been updated from its original version for clarity.