America Ferrera Recalls A Game-Changing Conversation With Her Mother In This Exclusive Clip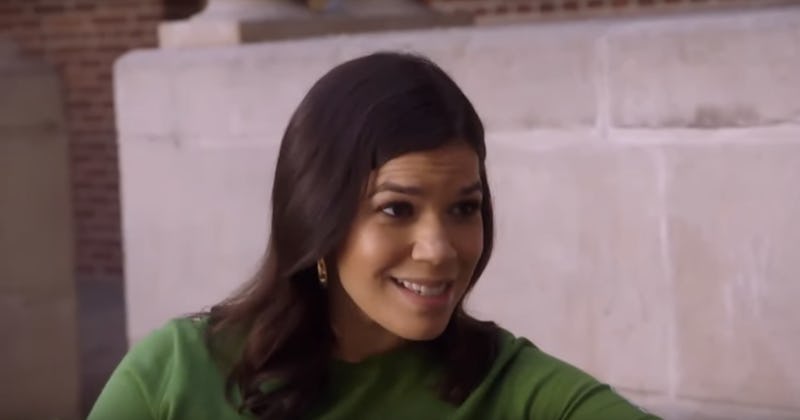 AT&T/DIRECTV
Sometimes, wealth is really about how you look at things, and America Ferrera knows this all too well. The Superstore actor is featured on Tuesday's episode of AT&T and Hello Sunshine's Shine On With Reese, which highlights powerful women and their experiences. In an exclusive clip from the episode shared with Bustle, America Ferrera talked about growing up "poor" and how her mom helped her realize that labels aren't always that simple — perspective is everything.
During her conversation with Reese Witherspoon, Ferrera recounts the time she asked her mother if their family was poor. As seen in the video below, the Ugly Betty actor explains,
"I remember so distinctly a moment when we were coming home from the grocery store. My mom, she just got her check, and I just remember that trip to the grocery store was always about, like, making it last, and making the check stretch as far as she could. Because we knew it would be however many weeks till the next check and till the next trip to the grocery store."
Ferrera goes on to recall the conversation that those grocery store trips sparked between her and her mom:
"I remember driving home and finding the courage to ask her, like, 'Are we poor?' And she said to me, like, 'It just depends who you're asking. If you compare what we have to, say, your cousins, who live in a different zip code and go to private schools, then maybe. But if you ask the women I work with on a daily basis, who make minimum wage for backbreaking work and are struggling, then there's a lot we have. And we're rich in so many other ways.'"
"I was so young, but I remember that was the first conversation about perspective that I'd ever been given. That really trained me to see people," Ferrera says to Witherspoon during their heart-to-heart.
In a 2016 interview for American Airlines' magazine Nexos, Ferrera explained that her mom was in charge of housekeeping at a Hilton location. "She had an executive position where she made a decent salary, but she had a single income and was raising six children," Ferrera told the magazine, according to the Daily Mail.
Ferrera said in a 2007 interview with Marie Claire U.K. that her dad left when she was young, and she hasn't seen him since childhood. "My family never lied about the fact that we didn't have a lot," she told the magazine, according to People. "You just kind of have to play the cards you're dealt."
Since making it big in Hollywood, Ferrera has sought to help others through her involvement with a number of causes. Ferrera is involved with the Time's Up movement, and she's an advocate for voting rights. Ferrera is also editing an essay anthology, American Like Me, which will be out this fall.
Ferrera's conversation with Witherspoon is a reminder that money isn't everything. There are plenty of ways to be "wealthy" and perspective is key. It sounds like Ferrera's mom did everything she could for her family, and she imparted a valuable life lesson on her daughter that's stayed with her for years.
New episodes of the series air on Tuesdays. To watch, search "Hello Sunshine" on DIRECTV NOW, go to channel 1112 on DIRECTV or channel 1530 on U-verse.