Baked By Melissa Has 2 Ice Creams Full Of Mini Cupcakes & The Pics Will Make You Drool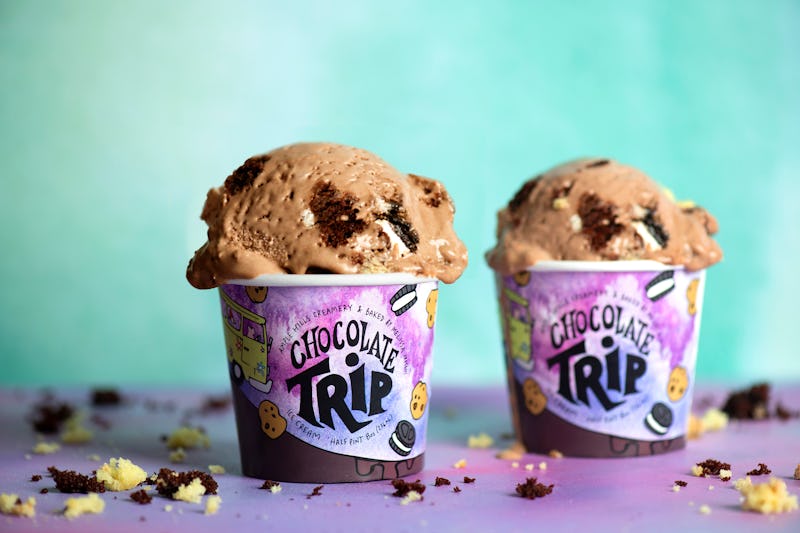 Baked By Melissa/Ample Hills
There are certain culinary combinations that rival history's greatest love stories. Peanut butter and jelly; bread and butter; crackers and cheese. But one has been a staple since childhood: cake and ice cream. A most indulgent marriage or flavors, temperatures, and textures, the cake and ice cream combination has danced in the dreams of children for decades. Of course, the appreciation doesn't end when adulthood begins. A new ice cream flavor by Ample Hills and Baked by Melissa hones in on both of these treats in the most delicious way you could possibly imagine.
In celebration of summer, the popular New York-based retailers have teamed up to release the new Chocolate Trip, a chocolate ice cream loaded with cookie dough and cookies and cream cupcakes, and to rerelease Summer of Love, a "sweet scream" ice cream packed with pieces of tie-dye cupcakes. That's right, tie-dye cupcakes.
The inspiration for Chocolate Trip has been a year in the making, a representative tells Bustle. Last summer marked 50 years since the historic summer of love, which sparked the idea for its namesake tie dye flavor. Historians use the term "Summer of Love" to describe 1967 as a whole; it was during this time the peace-loving, counterculture hippie movement began to gain traction in response to the United States' involvement in the Vietnam War.
While the Summer of Love was based in San Francisco, its influence was felt all over the country — even in NYC 50 years later, through the creation of a rich, chunky, chocolatey commemorative ice cream.
Brian Smith, the co-founder of Ample Hills explains, "Last year we launched Summer of Love to celebrate the 50th Anniversary of the famed Summer of Love in San Francisco. Nothing says Summer of Love more than tie-dyes, and Baked by Melissa's tie-dye cupcakes seemed the perfect fit. We wanted the cupcakes to shine on their own so we kept the ice cream simple, with a sweet cream base. This summer we wanted to add a new flavor, that told the story of the trip west, of our mascots, Walt, Whitty and PB, heading to San Francisco to the Summer of Love... They are on a Chocolate Trip! We paired our milk chocolate ice cream with two chocolate-y cupcakes, cookie dough and cookies and cream."
"We decided to create Chocolate Trip with our friends at Ample Hills because if we were going to have a second flavor it needed to be chocolate, and of course that meant including cookie dough and cookies & cream cupcakes in it as well," adds Melissa Ben-Ishay of Baked by Melissa.
Brooklyn-based Ample Hills Creamery is run by husband-wife duo Brian Smith and Jackie Cuscuna. Since it first opened in 2011, the brand has received countless accolades including the titles of "Best Ice Cream in America" by Food Network, and Number One in NYC by Zagat. Known for its whimsical and inventive flavors, Ample Hills is also a registered dairy plant as it pasteurizes its own ice cream base on site. While Smith and Cuscuna are "...serious about [their] craft," the two assure, "[they] do not make serious ice cream. Our flavors are playful and creative and always fun." Though that was likely already clear after learning of the two newest additions to the menu.
Baked by Melissa is a leader in the world of bite-sized baked goods. Founder/President Melissa Ben-Ishay shaped the company around the belief one should be able to taste more flavors when indulging in the occasional dessert. After being leaving her job as a media planner, Ben-Ishay turned her passion for baking into a business. In the decade since Baked by Melissa was born, it has grown to 14 shops in and around NYC.
Both Chocolate Trip and Summer of Love will be available for a limited time in half-pint sizes starting Monday, June 18. You can pick one up for $6.50 at any Baked by Melissa or Ample Hills location in NYC, or have them delivered by Caviar beginning in July.