Why This Senator Says Brett Kavanaugh's Confirmation Process Should Raise A Red Flag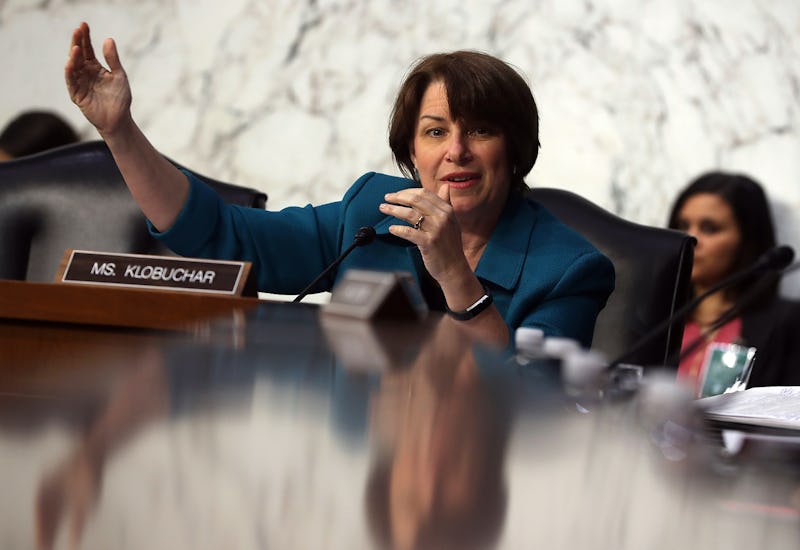 Justin Sullivan/Getty Images News/Getty Images
On Tuesday, the U.S. Senate Judiciary Committee will hold its first confirmation hearing with Donald Trump's second nominee to the U.S. Supreme Court. However, a longtime member of this committee, Senator Amy Klobuchar, called Brett Kavanaugh's confirmation process "not normal" during a television interview on Sunday. The senator blamed the Trump administration and warned there could be important information about Kavanaugh you may never get a chance to learn.
As The Guardian reported, Klobuchar outlined her concerns on NBC's Meet the Press on Sunday. On the show, the senator claimed that the Trump administration is refusing to release thousands of documents related to Kavanugh's professional record, saying that it is withholding these documents per executive privilege. Klobuchar characterized this as abnormal and unsettling, saying "It's not normal, because we are not able to see 100,000 documents because the administration has said we can't see them, exerting their executive power."
According to NBC, the senator also claimed that the documents she has been able to see contain what she described as some "very interesting questions" about Kavanaugh and his views, but chastised the Judiciary Committee for not making these documents public. However, as NBC reported, the committee, led by Republican Senator Chuck Grassley, countered Klobuchar's claim, saying that senators were offered the opportunity to request that certain documents be made public.
Klobuchar's interview followed a revelation made to the Senate Judiciary Committee on Friday regarding the aforementioned 100,000 documents. As The Hill reported, Kavanaugh previously worked as a lawyer for the George W. Bush administration. On Aug. 31, Bush's attorney, Bill Burck, informed the committee that the Trump administration had decided to withhold these documents from committee review, citing presidential privilege. The Hill did note that 267,000 pages of documents related to Kavanaugh's work during the Bush administration are being released to the public, but that the Trump administration had specifically directed Burck not to provide access to the additional 100,000 pages.
Other Democratic senators have also been highly critical of the Trump administration's decision to not release some Kavanaugh-related documents. Senate Minority Leader Chuck Schumer didn't hold back at all in his condemnation of the administration, writing on Twitter on Sept. 1:
We're witnessing a Friday night document massacre. President Trump's decision to step in at the last moment and hide 100k pages of Judge Kavanaugh's records from the American public is not only unprecedented in the history of SCOTUS noms, it has all the makings of a cover up ... Republicans in the Senate and the President of the United States are colluding to keep Judge Kavanaugh's records secret ... What are they trying so desperately to hide?
However, White House Principal Deputy Press Secretary Raj Shah pushed back against Schumer's claim that withholding the documents was unprecedented, responding directly to Schumer on Twitter and writing:
@SenSchumer claim is entirely incorrect. In keeping with past precedent of the Senate Judiciary Committee, it requested access to 'any non-privileged Presidential record that is responsive to the Committee's special access request. That has been satisfied to the tune of over 440,000 pages of Executive branch documents, more than what was produced for the past five #SCOTUS nominees combined ...
Overall, it is quite clear that Senate Democrats, including Senators Schumer and Klobuchar, feel strongly that Kavanaugh's confirmation process has not fallen in line with what is considered standard for Supreme Court nominees, though the administration disputes this. Kavanaugh's nomination hearings will begin on Tuesday and, according to committee chair Grassley, will likely last for a maximum of four days.