Amy Schumer Is Determined To Make A Difference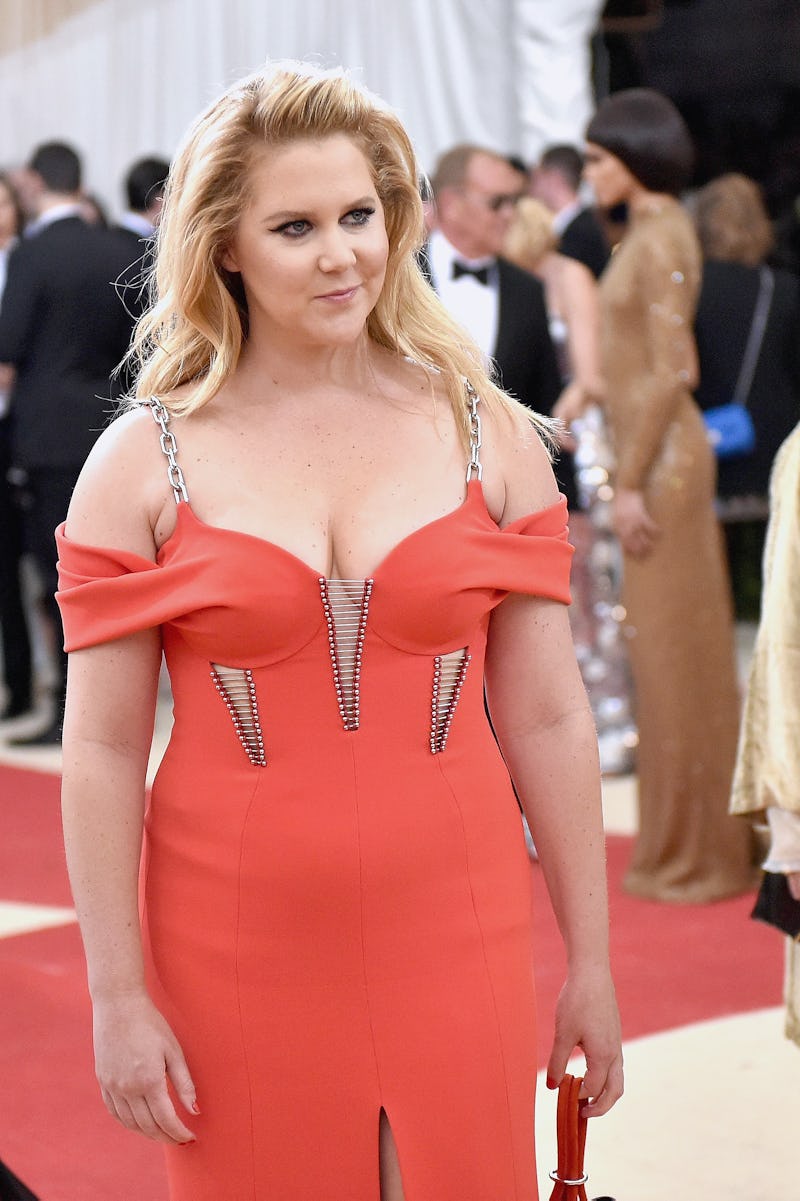 Mike Coppola/Getty Images Entertainment/Getty Images
Amy Schumer has big plans for her career, both in comedy and otherwise. In a recent interview with InStyle, the comedian dug deep and discussed everything from scones to charity work. While the interview largely addressed her past success, it also gave the star a chance to look toward the future. There are many routes she could take as a comedian, director, producer, or advocate, and Schumer made it clear she wants her future work to make a difference.
In the past, Schumer has used her platform to address certain societal issues. Many of the sketches on Inside Amy Schumer are intended to provide critique, addressing topics like the beauty expectations placed on women or ageism in the movie industry. Outside of her comedic work, the actor has used her voice on other political issues. When two women were killed at a movie theater screening of her film Trainwreck, she became a powerful advocate for stricter gun control. These are causes Schumer continues to champion, and her future career choices are certain to be socially and politically minded.
Like many comedians working in this political climate, Schumer seems to feel a certain responsibility to make work that matters. In the interview with InStyle, she explained this sense of purpose. "I just want to make people laugh, but I'm also in a place where I want to make change," she told the magazine. "A joke doesn't have to be something that's going to make people think, but if it can, that's better."
Schumer's latest comedy special doesn't shy away from heavier material and is at times overtly political. In particular, she continues to speak out in favor of stricter gun control. "If you're on the terrorist watch list — not just the no-fly list, but the terrorist watch list — you can easily get a gun," she said in the special, addressing the hypocrisy. "That same guy is like, 'Get out of our country, foreigner! But while you're here, please, enjoy our firearms, legally!"
In the interview with InStyle, Schumer noted that gun control is a cause she hopes to make tangible headway on. Advocating for legislation is one of a few roles that she takes on outside of the film and TV industry. She also runs her own charity called Stylefund. The organization's website describes the charity as a "a fashion initiative aimed at the promotion and cultivation of personal well-being".
Through these causes, Schumer hopes to make a difference. "I'm excited about the Stylefund charity that my costume designer, Leesa Evans, and I started. We get clothing donated from various retailers for women reentering the workforce. It teaches women how to dress for their bodies," Schumer told the publication. "I want to help more. I want to make real change with regards to gun legislation. I feel like I can't stop until things are different, because it's just so wrong and dangerous."
When stars are given such an enormous platform, it's important that they use it to inspire positive change. It's nice to see that Schumer takes that responsibility seriously, and addresses these causes through her comedy and advocacy work. Comedy is at its best when it inspires thoughtful societal critique, and more and more comedians seem to be using both their humor and their fame for change.