Amy Schumer & Jennifer Lawrence's Text Message Exchange Is SUCH A Real Friendship Moment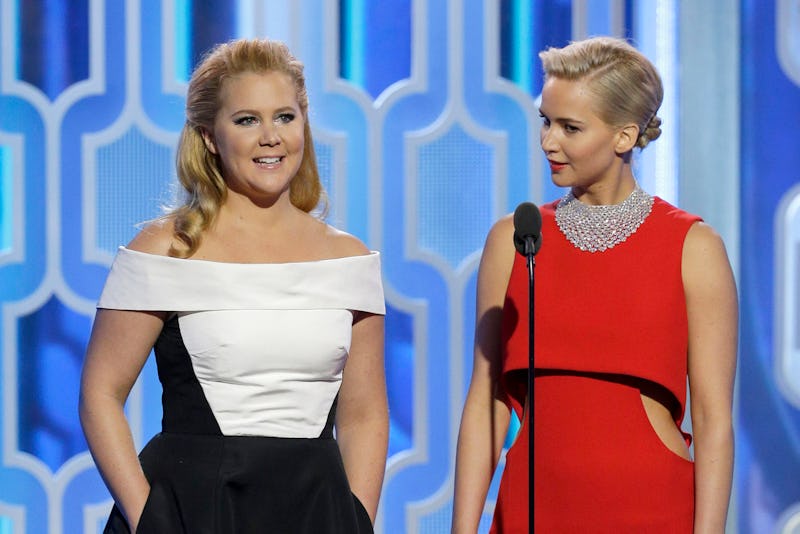 Handout/Getty Images Entertainment/Getty Images
Ever made plans with a friend and then backed out before they were even able to commit? And on top of it, they totally didn't care? Not only is that the epitome of true friendship, it's what this Jennifer Lawrence and Amy Schumer text message exchange is like. While promoting her new film I Feel Pretty, Schumer visited Ellen DeGeneres on Wednesday, April 18 when the host asked her the last time Lawrence texted her. She recalled their hilarious last text encounter and then posted a screenshot to social media on Thursday, April 19 to prove it. The texts will resonate with people who are knowingly bad at making plans and the friends who love them regardless.
The first text from Lawrence was last Friday around 8:30 a.m., which read, "What're you doing tonight? You and Chris wanna get dinner? Or hang?" She was obviously referring to Schumer's husband Chris Fischer which makes these texts even better because it sounds like Lawrence doesn't care about being the third wheel. That's real friendship.
Before Schumer could respond, Lawrence followed up with two consecutive texts: "Also I'm about to go to park" and "Haha I can't get dinner tonight I have plans." Almost two hours later, Schumer finally responded after Lawrence had a mini conversation with herself, writing, "Good talk." There were no hard feelings and Schumer cracked up reliving the texts when explaining them to DeGeneres earlier this week.
Fans have known how tight these two are for quite some time, but getting the proof really makes their relationship that much more relatable. People may be wondering why these two, who are talented in their respective projects and hilarious in real life, haven't collaborated yet. Luckily, they have a movie that they're writing together in works.
The two announced they were joining forces to write a "raunchy comedy" together about three years ago, according to People. When visiting Watch What Happens Live in March, Lawrence gave fans a bit of an update and it seems like the project is really in motion. "We just had a table read two weeks ago. We've completed format, and we need a director and we need a date," she said. Most details about the film are being kept under wraps, other than the fact that Bette Midler wants to play Lawrence's mom (even though there is no mom role). And given their track record, it will probably be so hilarious.
According to Vulture, the secret project was described as "funny," "dirty," and "real," which is so not surprising coming from these two personalities. And there may be a bit of role reversal, which will be refreshing for their fans to see. Audiences have watched Schumer play the "hot mess" in her movie Trainwreck and her standup specials, but as Lawrence told Entertainment Tonight, Lawrence will take on that role in the movie while Schumer is the responsible one. "Amy, in this movie, she has it very together. It's her lifelong dream to be a flight attendant. She works at the airport," Lawrence said in November 2015. "And I'm a mess."
The two have really had each other's backs in real life and their bond will totally come through on screen. Lawrence cried her eyes out during Schumer's wedding, as she told ET in February. Schumer also had Lawrence's back when she endured a tough breakup from director Darren Aronofsky. "The next day I got a bouquet of flowers delivered... and there was a note that says, 'I'm so sorry to hear you're gonna die alone. Love, Amy,'" Lawrence recalled in an interview on WWHL.
If a sliver of this friendship is portrayed on the big screen when their movie arrives, audiences are certainly in for the treat they didn't even know they needed.