Amy Schumer's Post About Equal Pay Makes A Distinction Everyone Should Recognize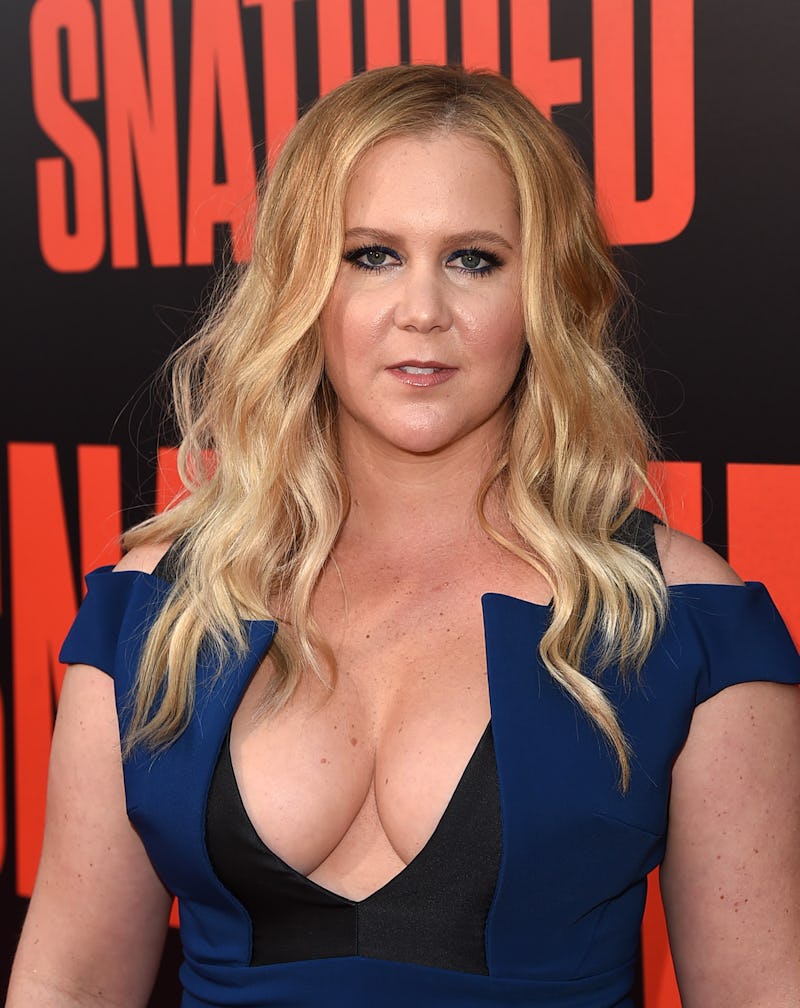 Kevin Winter/Getty Images Entertainment/Getty Images
Sometimes, it's hard to believe that it's 2017 and the wage gap between men and women still hasn't been closed, but for many women in the workforce, it's a reality — those who work in entertainment included. Several female celebrities like Jessica Chastain and Emma Stone have been open about the fight for equal pay, and now, Amy Schumer has spoken out about the topic. She wants to make it clear, though, that she isn't looking for the same pay as her more seasoned colleagues, but Schumer does demand the pay that she deserves.
On Tuesday, Variety published a story about women and minorities looking for equal pay, reporting that a source claimed that Schumer asked for a bigger payday from her Netflix standup special, The Leather Special, after finding out that the streaming service had reportedly paid Chris Rock and Dave Chappelle nearly twice as much as they were offering her for their specials. While the story doesn't say anything about Schumer asking to be paid the same as Rock and Chappelle, some people still assumed it meant she demanded to be paid what they were making.
On Wednesday, Schumer took to Instagram to explain the negotiation herself, and how she feels that equal pay does not mean that, because she's a woman, she should be making just as much as comedians who have been in the business far longer than she has.
She posted this photo, explaining her take in the caption.
She wrote:
Thanks for chiming in on what you feel I deserve to be paid. I believe women deserve equal pay. However I don't believe I deserve equal pay to Chris and Dave. They are legends and 2 of the greatest comics of all time. I would like to say that I have been selling out arenas these last couple years. Something a female comic has never done. That's a big deal to me, especially because I know I do my best every night on stage for the audience and they have a good time. I didn't ask for the same as my friends. I did ask for more than the initial offer. I will continue to work my ass off and be the best performer I can be. The reports of me "demanding" or "insisting" on equal pay to them aren't a [sic] true.
Bustle has reached out to Netflix for comment on the Variety report and Schumer's Instagram post, but did not receive a response at the time of publication.
The entertainment industry is obviously different from many others, but the idea is the same: Someone with more experience generally gets paid more than someone with less. Being that Schumer's big break didn't come until she competed on Last Comic Standing in 2007 — and her massive success didn't come until even later — she's not comparable to comedians like Chappelle and Rock, who have been household names for far longer. It makes sense that she wouldn't want her pay to match theirs, but pay that matches her specific accomplishments.
While some people may think that feminism and fighting for equal pay is about women demanding more than what's fair, that idea simply isn't true. It's about leveling the playing field so that women are treated equally — no better and no worse than men. As Schumer explains, she just wants to be paid what her talent and her resumé proves she's worth, not that she wants higher pay because she found out Rock and Chappelle were paid more.
With Inside Amy Schumer and movies like Trainwreck and Snatched under her belt — and the fact that she's consistently able to sell out comedy shows, as she mentioned in her post — she should be paid what she believes she's worth.
As long as women like Schumer keep standing up for themselves and negotiating the pay they deserve, the wage gap will continue to get closer to closing. It's not about pay that isn't earned — it's about equality.