Amy Schumer Is Launching A Minimalist Clothing Line That Goes Up To Size 20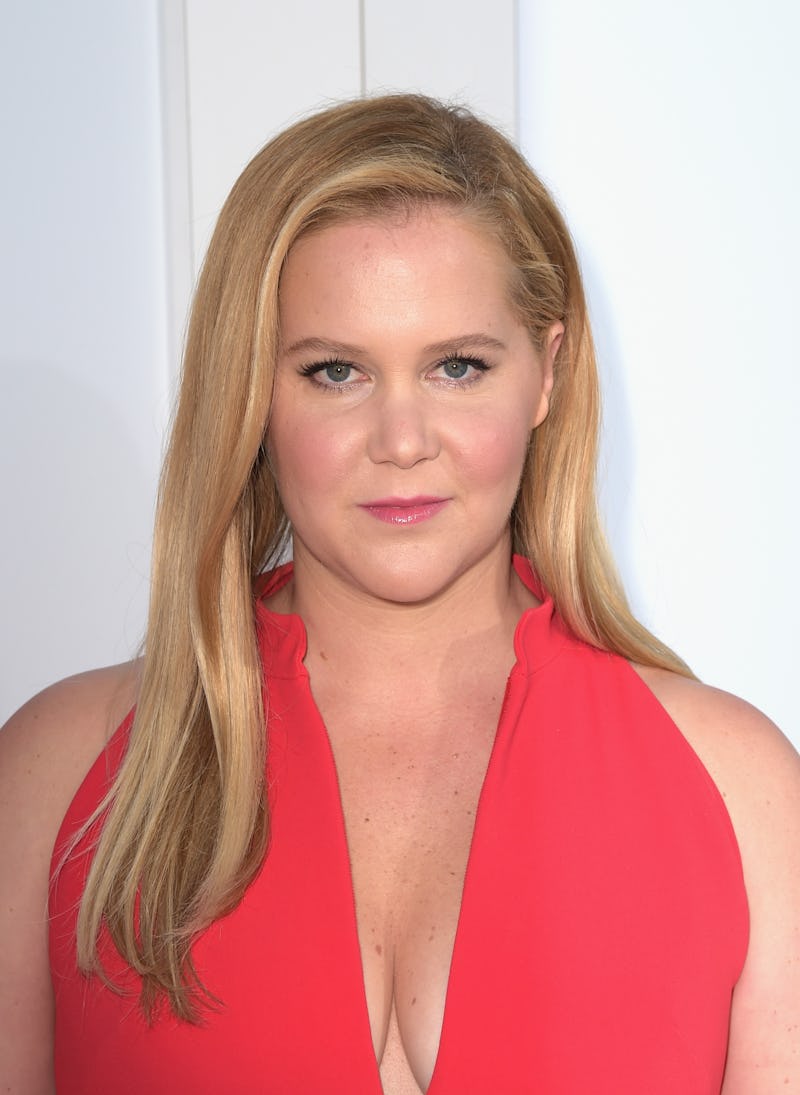 Kevin Winter/Getty Images Entertainment/Getty Images
There is a new celebrity-turned-designer hitting fashion stores soon, where Amy Schumer designed Le Cloud, a new inclusive clothing line meant to feel comfortable as a cloud. Teaming up with stylist Leesa Evans — who is both her business partner and friend, who she first met on the set of her movie, Trainwreck — the two will launch their 23-piece collection on Dec. 13 at Saks Off 5th.
The line is made up of neutral separates that can be mixed and matched to create stylish yet minimalist off-duty looks, that hit a price range between $38 to $248. The pieces come in a color palette of black, navy, dark green, and camel, and the collection has items like pencil skirts, dresses, pants, jumpsuits, outerwear, and tops, letting you create a full wardrobe. The collection also is created out of luxurious but comfortable fabrics like crêpe, French terry, and scuba in order to guarantee that you will look put-together but stay comfy.
But the most important thing about Le Cloud is the size-inclusive aspect of it, where it runs from sizes XS-XL, which equates to sizes 0-20, but the two plan go up to a size 40 after the initial launch. Le Cloud was born out of Schumer's refusal to wear anything that wasn't comfortable, where she believes that she doesn't have to be squeezed and pinched in order to look stylish. "Amy is always asking me 'Does it feel like a cloud?' before she puts anything on," Evans, who has been Schumer's personal stylist since her work on Trainwreck, told InStyle. "I kept trying to find the sweatpants alternative that had both comfort and style and that was appropriate to go to meetings, out with friends, to a movie, all over."
Once they realized that women quite liked Schumer's looks, they decided to bring that aesthetic to fans everywhere, and thus Le Cloud was born.
"My instinct is to be authentic and to empower women of all ages and sizes to do the same. We are making beautiful, comfortable and wearable clothing that is accessible to real women. A Le Cloud customer will feel confident and powerful when wearing these pieces," Schumer told WWD.
For Schumer, she created this line because she realized — with the help of Evans — that when you feel comfortable in an outfit and your own body, you feel like you can reach your full potential. And that's a revelation that she wants to pass on to all women, regardless of their size or shape. "When designing Le Cloud we approached each style with the goal of creating shapes that make women feel good about themselves, so their unique personalities can shine through," Evans shared with WWD. "It's both an emotional and positive connection to clothing that we're trying to create through our brand."
The brand also is dedicated to giving back to the community, where 30 percent of net proceeds from the sales will go to Stylefund, a nonprofit the two started in 2017 that helps women dress with confidence when trying to enter the workforce or start over with their lives.
If you have been looking for a new wardrobe that's both beautiful and feel-good, Le Cloud just might be it.