Anderson Cooper Cursed On Live TV & Twitter Is Rolling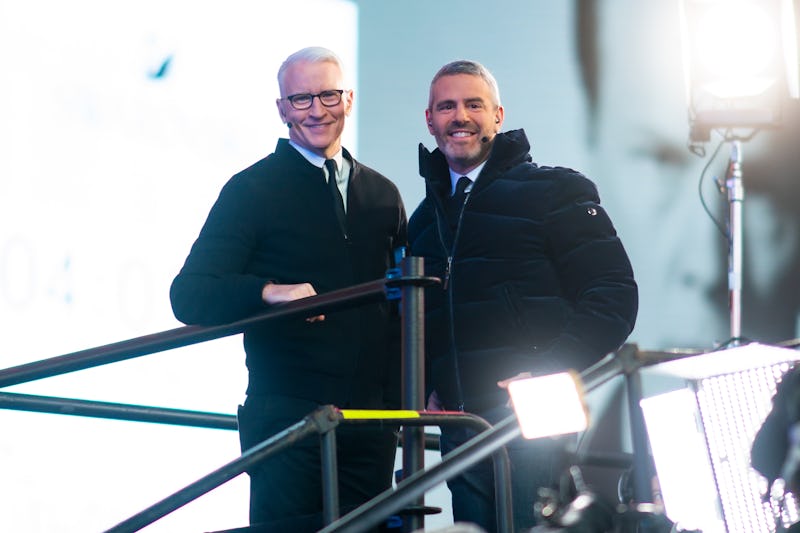 Michael Stewart/WireImage/Getty Images
There were several NYE celebrations audiences could settle in with, but CNN's New Year's Eve, hosted by Anderson Cooper and Andy Cohen, was particularly lit. Early in the program, they began taking shots, which some fans theorized was the reason Cooper swore on-camera during a story about his late mother. The story involved his mother backstage at Watch What Happens Live, where she uttered the word "c*ck." Naturally, the news anchor repeated the phrase on-air, much to the delight of audiences.
Cooper's mother, Gloria Vanderbilt, passed away earlier this year. The aforementioned story, however, involved the then-93-year-old heiress asking her son whether Cohen would ask her whose manhood was the biggest while they were on tour promoting their book. (It's a story that Cooper also recounted on Late Night with Seth Meyers back in 2017.)
But even in his slightly inebriated state, Cooper was hesitant to repeat her mother's story word-for-word on air during Tuesday night's broadcast. Cohen, however, took over. "She turned to Anderson and said, 'He's not going to ask me who has the biggest BEEP of anyone I've ever been with,' right?'" the Bravo personality recounted.
Cooper then corrected his co-anchor, saying, "She turns to me out of the blue and goes, 'He's not going to ask me who has the biggest c*ck in Hollywood, is he?'"
"And you said it!" Cohen responded.
Fans were similarly stunned and delighted to hear the Anderson Cooper 360° anchor recount this scandalous story. "I've never been happier," @Blainev28 tweeted of the good-natured faux pas.
Fans were also laughing over Cooper's dramatic reactions to each alcohol shot, which he and Cohen took progressively throughout the night. At one point, the news anchor began licking his hands and wiping down his hair.
This isn't the first time the CNN hosts have gotten hammered on-air, either — Cohen and Cooper took shots last year, too, much to audiences' delight. And to ring in the 2017 New Year, Don Lemon got his ears pierced in New Orleans, so there is a precedent for these loosey-goosey broadcasts. It is New Year's Eve, after all.
But while Cooper may have imbibed a few too many shots, fans seemed delighted by his storytelling abilities — which involve reproductive organs, apparently.