This Lawyer Says An ICE Agent Pushed Her — But That's Not Why She Wants Justice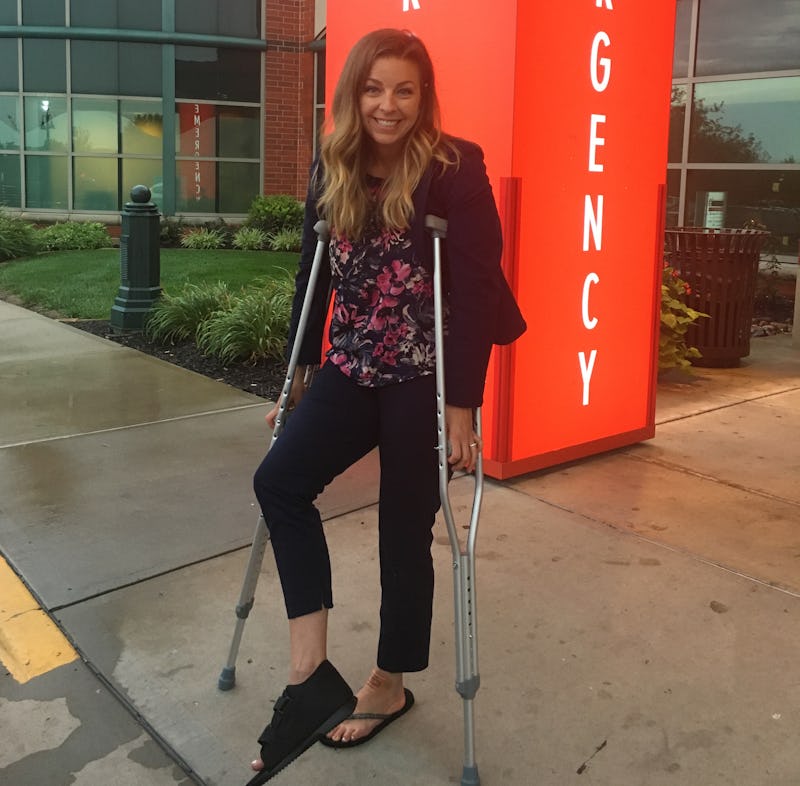 Courtesy of Andrea Martinez
This immigration lawyer knows pain. This week, attorney Andrea Martinez said an ICE agent pushed her to while she was helping a client, and she fractured her foot after she fell to the ground. But she sees suffering every day as she helps undocumented immigrants who are being separated from their loved ones.
Martinez says her foot was fractured on camera in front of reporters and protesters while she was helping a 3-year-old boy reunite with his family before being deported. On the way to an appointment with her orthopedic doctor this morning, Martinez told Bustle she and another lawyer had been accompanying the little boy, Noah, into a Kansas City, Missouri, ICE office building at about 3 a.m. at the time of the incident.
Noah's mother, Kenia Bautista-Mayorga, who is pregnant, had been detained by ICE for about a month, and she was finally getting to reunite with her son and say goodbye to her boyfriend before being deported to her home country of Honduras with Noah.
Martinez says there was some argument and confusion about how the family would be reunited on Tuesday. As the ICE officers were bringing Noah — who was being held by Bautista-Mayorga's boyfriend, Luis Diaz-Inestroza — into the ICE building, there was an altercation between the lawyers and the ICE agents that resulted in Martinez allegedly being pushed and fracturing her metatarsal bone.
A video taken from a distance shows Martinez crashing to the ground after the kerfuffle. There were reporters and singing protesters at the scene at the time. People were shocked, with one man audibly saying "What the —???" in the video.
In an email statement issued to Bustle, ICE Public Affairs Officer Shawn Neudauer says the agency is looking into the incident and that its taking the allegations against the ICE agents "very seriously."
"Until a review of the documentary evidence is completed, ICE can issue no further public comment on the matter," Neudauer writes.
"If this is the action that an ICE agent would take in front of cameras ... how much more egregious are the actions of ICE agents to immigrants when there are no cameras?"
Martinez argues what happened to her foot says a lot about what ICE stands for — but she says this is about more than just what happened to her. "If this is the action that an ICE agent would take in front of cameras against an an attorney, how much more egregious are the actions of ICE agents to immigrants when there are no cameras?" Martinez says. "This story is not, I hope, about me, but about the much bigger immigration issue and the treatment of immigrants."
The reason this incident had an audience at 3 a.m. was because the deportation case Martinez was working on had was already high profile. Noah's family's story had made headlines in publications such as The Kansas City Star because Bautista-Mayorga is about six-months pregnant and is worried her allegedly abusive ex-husband will harm her, Noah, and the baby she's carrying upon her return to Honduras.
The family came to America illegally in February of 2016, and they were officially deported on Tuesday morning after the incident. They were originally taken into custody in Missouri in May, according to The Kansas City Star. Martinez says Bautista-Mayorga and her son's deportation was a priority for ICE because they missed a final order of removal hearing in November of 2016.
The Bautista-Mayorga family's deportation proceedings were drastically affected by recent changes in immigration policy under the Trump Administration. Earlier this month, U.S. Attorney General Jeff Sessions wrote in a ruling that undocumented people could no longer seek asylum because of domestic violence.
Bautista-Mayorgas' lawyers fought for the immigrant and her family to stay in he country, arguing she needed asylum because of the danger her ex-husband posed to her in Honduras. They didn't succeed.
To add insult to injury, in March, an ICE directive "ended the presumption of release of pregnant detainees." Bautista-Mayorga's lawyer told The Kansas City Star that they originally filed for the her to be released on parole, but ICE said they'd be keeping her indefinitely.
The Code of Federal Regulations says undocumented women "who have been medically certified as pregnant" can be released on parole on a case-by-case basis, but the Trump administration has signaled for ICE to harden its stance because it fears that immigrants will disappear after getting out on bond.
While all this was going on, the American Civil Liberties Union brought Bautista-Mayorga's case to the attention of U.S. Sen. Cory Booker, who's sponsored a bill that aims to better the treatment of pregnant women behind bars. He visited Bautista-Mayorga while she was being held by ICE and arranged for her to receive medical attention, but he did not succeed in getting her released.
This was the lead-up to the 3 a.m. foot fracture. Martinez says after she fell, she ended up going into the ICE building where the Bautista-Mayorga and Noah were saying goodbye to Bautista-Mayorga's boyfriend.
Martinez described the scene, saying the family was "crying and hugging, and Luis was kissing Kenia's pregnant belly." Martinez says Diaz-Inestroza is also in deportation proceedings.
The scene was heart-breaking, but not unfamiliar, Martinez says. She tells Bustle she's a woman of faith and believes that the foot fracture happened for a reason. She believes the larger purpose was to help "expose an unjust system."
"This is an issue of family separation that is also happening in the interior of the country, and not just at the border," Martinez says. "We want to emphasis that family separations are happening every day, a hundred-fold, a thousand-fold, inside of the country — even in places like Kansas City, Missouri."