Andrew Lincoln Thinks His 'Love Actually' Character Is A Stalker, Too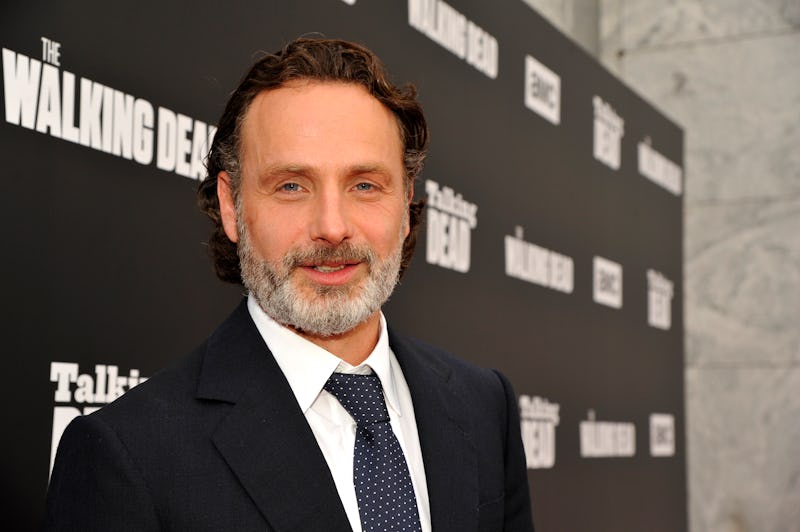 John Sciulli/Getty Images Entertainment/Getty Images
Mark has always been far and away the weirdest chap in Love Actually — and now he is finally confirmed as a total creep. In an interview with Entertainment Weekly, Andrew Lincoln agrees that Mark is a stalker in Love Actually, thus making it an official part of the film's canon. It is truly a sweet relief to know I wasn't the only one who, for years, wondered why Juliet didn't just deck Mark's halls when he made his Christmastime love declaration. Lincoln's confirmation of that our nagging fear that Mark's behavior was more toxic than twee comes as part of his recollections while filming Love Actually 14 years ago.
In the EW interview, Lincoln revealed he always had doubts about Mark: "In one of the most romantic movies of all time, I got to play the only guy who doesn't get the girl. The story is set up like a prism looking at all the different qualities of love. Mine was unrequited. So I got to be this weird stalker guy." You heard that? Lincoln calls Mark a "weird stalker guy" and thus, implicitly agrees this dude's behavior is suspect.
Lincoln continued, "My big scene in the doorway felt so easy. I just had to hold cards and be in love with Keira Knightley. And that was my own handwriting on the cards, thank you for noticing. But I kept saying to Richard [Curtis, the film's writer-director], 'Are you sure I'm not going to come off as a creepy stalker?'" Well, I hate to break it to you, buddy, but...yeah, it came off as creepy.
Apparently, director Richard Curtis did not see it that way during the film's shoot more than a decade ago. Curtis, whose reputation in film is that of creator of beloved rom-coms like Notting Hill and Four Weddings and a Funeral, was of the mind that Mark's actions were firmly in the "romantic" category, according to EW. While it's easy to see where Curtis is coming from, he's luckily gone on record with Entertainment Weekly to reverse his thinking after some reflection: "Retroactively, I'm aware that Andrew's role was on the edge. But I think because Andrew was so openhearted and guileless, we knew we'd get away with it."
You don't have to tell me twice that Lincoln is bae-tastic, but that definitely doesn't erase the creepiness of Mark's actions. Betraying the worst kind of "I'm a guy who's been friendzoned by my crush" behavior, Mark's doorstep declaration has always looked a bit weird.
While Mark and his cue cards have become an oft-parodied Love Actually moment since the film's release, it's definitely nice to know that Lincoln and Curtis have similar opinions to ours about Mark after all this time.