Andrew Lincoln's Comments On His 'Walking Dead' Exit Prove Rick Grimes' Legacy Will Live On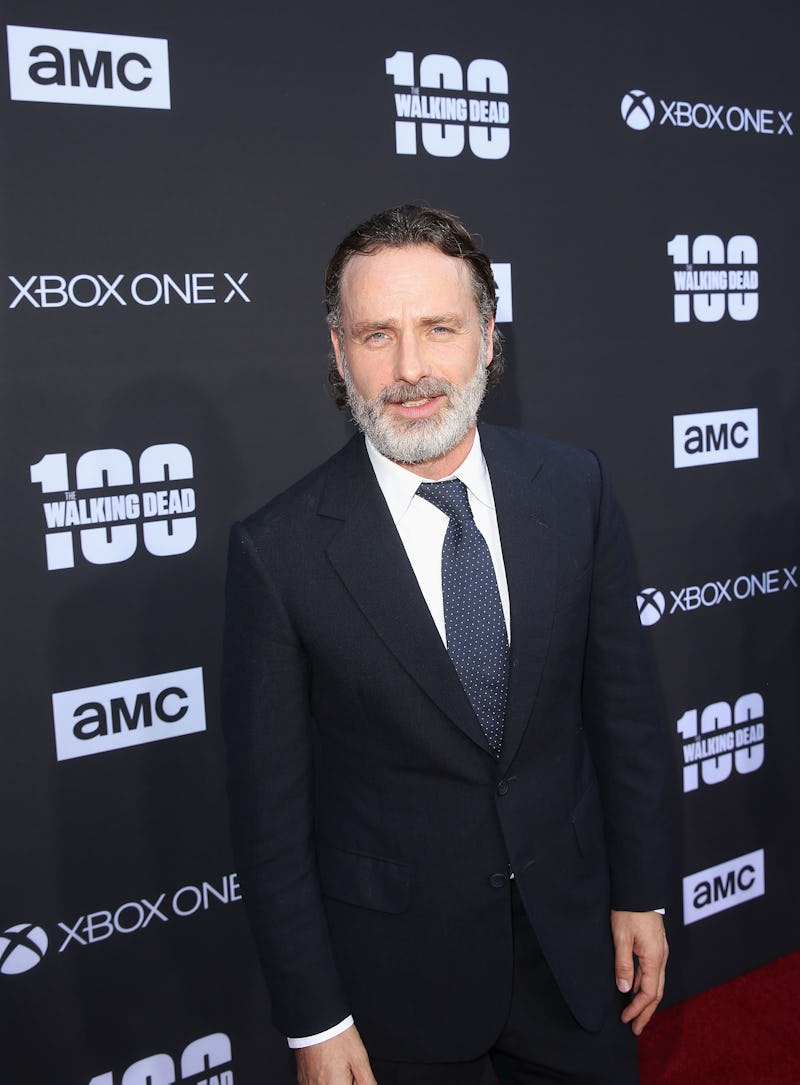 Jesse Grant/Getty Images Entertainment/Getty Images
Loyal The Waling Dead fans first learned leading man Andrew Lincoln would leave The Walking Dead back in May. But the news actually became real when comic book creator and show executive producer Robert Kirkman confirmed Lincoln's exit on Thursday, speaking to the crushing news for the first time. On Friday, July 20, Lincoln himself confirmed his departure from the show at San Diego Comic-Con. Although fans may be heartbroken over the news, his statement proves they can take comfort in the fact that Rick Grimes' legacy will always live on.
Kirkman spilled the beans on Thursday in an IMDb interview, according to The Hollywood Reporter, with a cryptic response to speculation that Season 9, premiering in October, would be Lincoln's last. "It's looking that way," he said. Thus, Lincoln had no choice but to address the news during the show's panel at Comic-Con, admitting that he had gone back and forth in deciding whether to confirm it at the convention (of course, before Kirkman's interview). "This will be my last season, playing the part of Rick Grimes," he said, immediately getting sighs and boos from the crowd. "Now hear me out. Please, please," he said, according to a video of the Walking Dead panel by Variety's Joe Otterson. In the video, Lincoln immediately got sentimental and explained how deeply the role, and the fans, have impacted his life:
"I love this show. It means everything to me. I love the people who make this show. I promise not to cry, I've done enough crying on screen. I'm particularly fond of the people who watch this show. You people. This has been the most extraordinary, amazing, and beautiful experience of my career, and largely, because of you guys and the relationship we have here with you in this room and also rooms across America and the rest of the world. So I want to thank you. And I don't want this to turn into an Oscar acceptance speech, or an obituary. This is not the point of it. As you see in the trailer, we're deeply, deeply proud of the work that we've done this season. I think Angela [Kang] is astonishing and leading with such class... It's enabling us as actors to really breathe and deepen the relationships on screen..."
On Friday, AMC revealed the special Comic-Con Walking Dead Season 9 trailer, which is over five minutes. It starts with Lincoln looking straight to the camera, saying, "It's been a while since we had one of these talks." In the jam-packed trailer, emphasizing the continuous threat of the zombie presence, Rick Grimes is consistently there, driving most of the action. Although Lincoln didn't give specifics about leaving the show, he did continue his heartfelt speech by making it clear how Rick Grimes will continue to live on and how much fans will love Season 9, according another panel video by Otterson:
"I suppose what I wanted to say is that my relationship with Mr. Grimes is far from over. And a sort of large part of me will always be a machete-yielding, zombie-slaying sheriff deputy from London, England. And you know, what a thing, guys. What a thing. I'm really, really, really excited about this season. I think I have two episodes, that for me, are my favorite episodes since the pilot. And I also want to commend all these amazing actors and the rest of the cast, I think they're doing the greatest work I've ever seen."
Although it's unclear why Lincoln will leave the show, Kirkman alluded to it being a personal choice in his interview on Thursday, according to THR. "At the end of the day, it's all about Andrew Lincoln. This is a human being," he said. "This is someone I have known for almost a decade, somebody that I love. He's been sweating in Georgia, away from his family, for so long."
Further, Kirkman promised that Rick Grimes will truly go out in a deeply impactful way. "[Lincoln] wants to do something special on the way out. We have something amazing planned," Kirkman revealed, according to THR. "I wouldn't want to spoil anything, but anybody who has been a fan of his journey, who loves Rick Grimes, who loves the world of The Walking Dead, you're going to want to see what we do."
TWD may never be the same after the loss of its leading hero, but if fans won't forget him, Rick Grimes will surely live on.