Angela Merkel Rolls Her Eyes At Putin In The Most Dominant Foreign Policy Move, Ever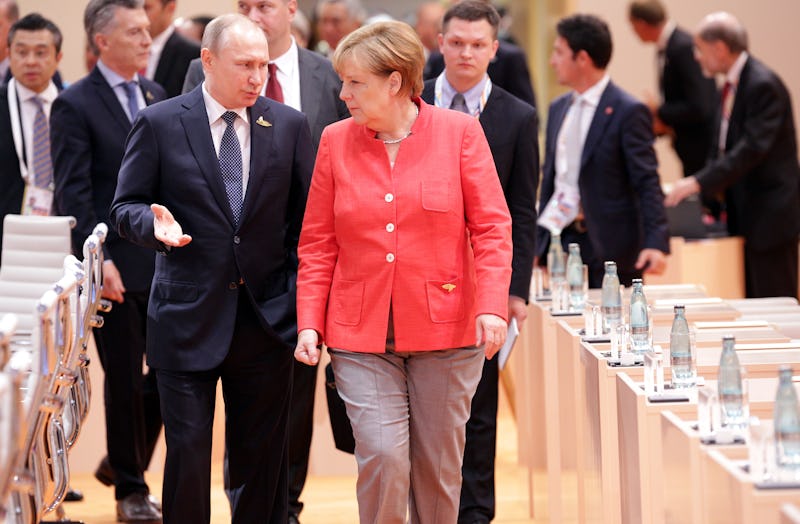 Pool/Getty Images News/Getty Images
While President Donald Trump had everyone wondering whether he would confront Russian President Vladimir Putin at G20 summit meeting in Hamburg, Germany, it was actually Chancellor Angela Merkel's interaction with Putin that sent the internet abuzz Friday. As the duo chatted, cameras captured Merkel rolling her eyes at Putin as he appeared to be explaining something to her.
In video clips of their exchange posted on social media, Merkel is talking to Putin when the Russian leader, who speaks German fluently, appears to disagree with her. As Putin begins talking and gesticulating emphatically, Merkel appears to roll her eyes upward and release a sigh of exasperation.
From video footage of the encounter it's virtually impossible to know what Merkel and Putin were discussing, although some have speculated the two world leaders may have been discussing ballistic missiles à la the one North Korea tested over the Fourth of July holiday. Others accused Putin of "mansplaining" — a term coined to define situations in which a man condescendingly explains something to a woman — to Merkel. Others simply applauded Merkel for her apparent unwillingness to be amicable in the face of supposed patronization.
It's worth noting that Merkel and Putin aren't known to have the best of relationships. In fact, despite having both grown up in communist regimes, Merkel and Putin are said to have a relationship that some describe as complex and grudging.
In 2014, Merkel's aides told Reuters interactions between Putin and their boss involve "a clash of polar opposite world views." They noted that when Merkel first met Putin in 2002, she'd joked she'd passed "the KGB test" by opting to stare him straight in the eyes.
According to reports, that wasn't the only tense moment the two world leaders shared. A profile on Merkel published in The New Yorker revealed Putin had brought his black Lab into a 2007 meeting with Merkel knowing she has been afraid of dogs since being bitten by one in 1995.
"Her fear of dogs couldn't have escaped Putin, who sat back and enjoyed the moment, legs spread wide," George Packer wrote of the incident in The New Yorker. "Later, Merkel interpreted Putin's behavior. 'I understand why he has to do this—to prove he's a man,' she told a group of reporters. 'He's afraid of his own weakness. Russia has nothing, no successful politics or economy. All they have is this.'"
As she settles into her new role as the de facto leader of the Western world — a role once filled by the United States — Merkel is hosting dozens of world leaders at the G20 summit in Hamburg, Germany, on Friday and Saturday. While leaders are there to discuss pressing issues in the global economy, candid and formal interactions on the sidelines of the summit mean awkward moments like Merkel's apparent eye-roll abound.