German Chancellor Angela Merkel Will Reportedly Step Down As Party Head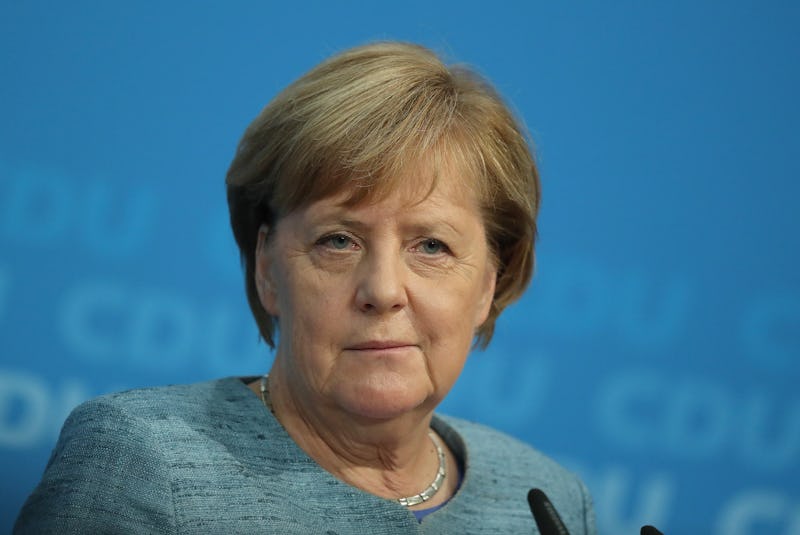 Sean Gallup/Getty Images News/Getty Images
After 18 years at the helm of her center-right Christian Democrat Union (CDU) party, German Chancellor Angela Merkel has reportedly told party leaders that she has no plans to run for re-election as the party's chairwoman later this year. What's more, the CDU has told German media that Merkel won't seek another term as German chancellor when her current stint ends in 2021, according to the Associated Press.
In a meeting with CDU party leaders early Monday, Merkel announced she would not seek another term as German chancellor, CDU sources told CNN affiliate RTL. With her election in 2005, Merkel became Germany's first female chancellor. She has since been reelected to the leadership role three consecutive times and is currently serving the first year of her fourth term.
But while Merkel reportedly plans to finish out her fourth term as chancellor, she'll do so without the title of CDU chairwoman. Merkel announced that she would step down as party leader later this year, opting not to seek reelection to the post of party chair at the CDU's upcoming December convention, according to The Guardian. Merkel has served as CDU chairwoman since 2000.
"I believe it is time to open a new chapter," Merkel said Monday while publicly confirming reports of her decision not to seek reelection, according to a translation supplied by Bloomberg. "First of all, at the next party conference in Hamburg in December, I will not be a candidate for the party leadership. Second, this current tenure is my last tenure as the chancellor of the Federal Republic of Germany."
Merkel went on to say she planned to step away from politics entirely when her current term as chancellor ended, according to Bloomberg.
"In 2021, I will not be a candidate for the chancellorship," Merkel said. "I will not be a candidate to get a seat in the Parliament and, actually, I will not continue in the political arena at all."
Merkel's decision not to seek reelection comes shortly after the CDU and the Social Democratic Party (SPD), another party within Merkel's ruling coalition, lost significant ground in regional elections over the weekend.
A regional election to determine parliament makeup in the German state of Hesse on Sunday saw the CDU win just 27 percent of the vote, according to The Washington Post. While the party still managed to walk away with the most votes overall, it was the poorest results the party had seen in Hesse in at least 50 years, the paper reported. CDU state leader Volker Bouffier called the election results "very humbling."
Merkel's announcement came as something of a surprise as the German leader has previously said she felt the positions of chancellor and party leader were made stronger when held by the same person, according to CNBC.
According to The Guardian, Merkel is reported to favor CDU Secretary General Annegret Kramp-Karrenbauer as her replacement as CDU head. However, German media has also named Health Minister Jens Spahn and former CDU/CSU alliance parliamentary leader Friedrich Merz as potential candidates. Per tradition, the next person elected chair of the CDU would serve as the party's candidate for chancellorship in the 2021 federal election.