Merkel's Facial Expressions During Her Presser With Trump Say It All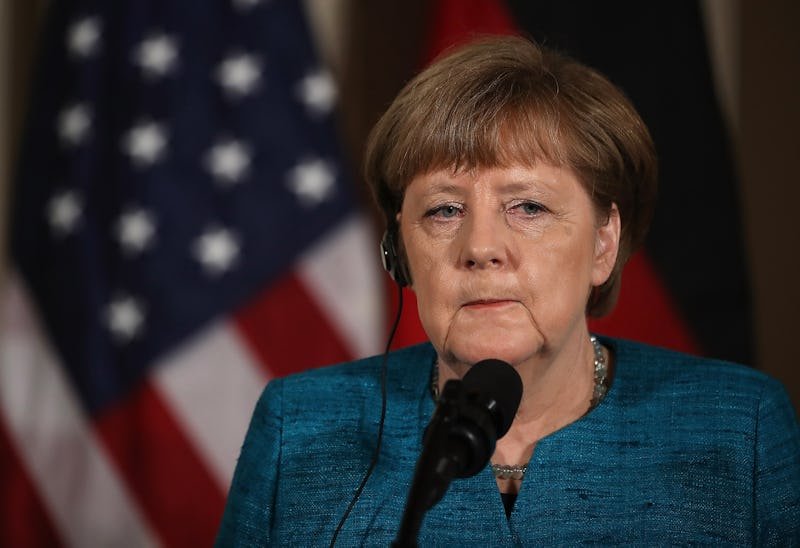 Justin Sullivan/Getty Images News/Getty Images
We are all German Chancellor Angel Merkel. During a press conference Friday with President Donald Trump, Merkel let her face do much of the talking. As Trump spoke about fake news, his popularity, and claims President Obama had wiretapped him, Merkel's facial expressions perfectly communicated what so many of us have long been thinking: Is this guy for real?
Between Trump's wiretapping jokes and apparent refusal to shake Merkel's hand during a photo op, I think it's fair to say that Trump's day with Merkel is shaping up to be nothing short of totally awkward. Yet while an embarrassing moment between the two leaders in the Oval Office quickly got Twitter talking, it was a news conference held later in the day where things got really interesting, namely because some of the things Trump said managed to crack Merkel's poker face.
Following their first in-person meeting at the White House on Friday, President Trump and Merkel held a joint press conference that touched on a wide range of issues. However, along with talk of trade, immigration, and NATO came jokes about wiretapping, accusations of fake news, and claims of popularity from Trump, all of which appeared to elicit looks of utter disbelief from Merkel.
First, Trump accused a reporter from the German Press Agency of reading "fake news" while responding to a question about his penchant for making claims that can't be proven. "I don't know what newspaper you're reading, but I guess that would be another example of, as you say, fake news," Trump said, causing Merkel to quickly look up from her notes and glance over at the president as if to say, "You're really going to go there?"
A bit later when asked about potential divisions within the Republican Party particularly in light of bipartisan criticism of the House GOP's health care plan, Trump claimed to "be very popular, at least this week, within the party." Merkel, who unlike the president may have read this recent report regarding sharp criticism of Trump's budget proposal from Congressional Republicans or even this one on how more than 20 House Republicans may sink the health care plan the president is pushing, looked on in utter bewilderment, perhaps wondering when the White House had been replaced by one giant high school lunch table.
Then, in perhaps the most uncouth move ever, Trump responded to a question regarding his explosive claim to have been wiretapped by former President Barack Obama by implying it gave him common ground with the German chancellor. "As far as wiretapping, I guess, by this past administration, at least we have something in common perhaps," Trump said while extending his hand toward Merkel. Trump's comment appeared to catch Merkel off guard. The German leader looked first at Trump and then at reporters with an expression that seemed to say, "Can you believe this guy?"
While documents leaked by Edward Snowden in 2013 showed the National Security Agency had monitored Merkel's cell phone, multiple high-ranking officials — including Obama, former Director of National Intelligence James Clapper, and leaders of the House and Senate intelligence committees — have all either denied Trump's claim or said there was no evidence to support the allegation.
One of the best things about body language and facial expressions is that they often don't need translation. With one look a person can say it all without actually saying a thing. And the looks Merkel gave while listening to Trump speak at the White House on Friday certainly spoke volumes.