Here's What Anita Hill Wishes We All Learned From Kavanaugh's Confirmation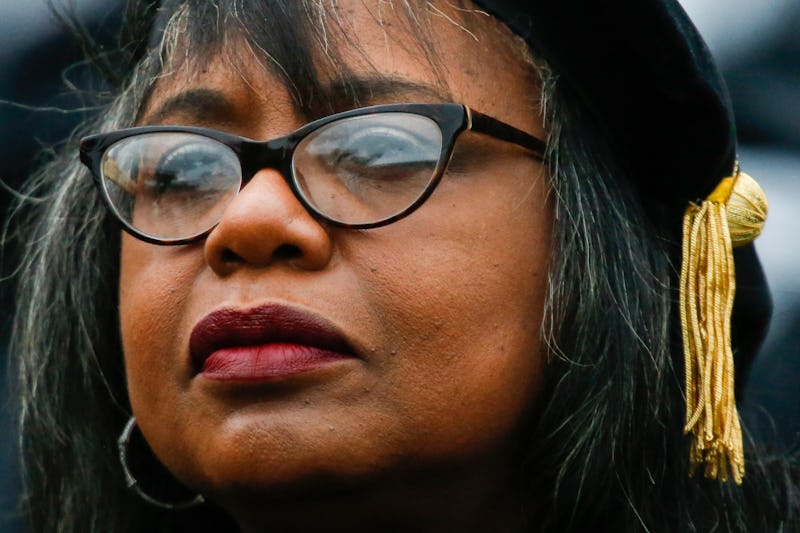 Eduardo Munoz Alvarez/Getty Images News/Getty Images
The Senate voted to confirm Judge Brett M. Kavanaugh to the Supreme Court in a 50-48 vote Saturday. Kavanaugh's confirmation comes on the heels of a heated weeks-long political battle heavily fueled by allegations of sexual assault from professor Christine Blasey Ford, which Kavanaugh has denied. While Kavanaugh's confirmation has drawn a variety of mixed responses from Democrats and Republicans, Anita Hill's response to the Senate's Kavanaugh vote focused on what was lost for the American people at large.
"What happened was not only a disservice to the people who were the principal witnesses, but was a disservice to the American public," Hill said on Wednesday at an event at the University of Pennsylvania, according to The Guardian. "We were all disserved in 1991 — people wanted to understand sexual harassment. In 2018, they wanted to understand sexual assault."
In 1991, more than 25 years before Ford testified before the Senate Judiciary Committee regarding her claim that Kavanaugh sexually assaulted her at a high-school party in 1982, Hill was questioned by that same committee about her claims then-nominee Judge Clarence Thomas had sexually harassed her in the workplace. Thomas, like Kavanaugh, denied Hill's allegations and was ultimately confirmed to a lifetime appointment on the Supreme Court in a 52 to 48 vote.
Hill had stark advice for how Ford's allegation should be handled, and according to her comments at the UPenn event, she did not feel that it was handled well. "Those were all the things that I experienced in 1991 and it was what I experienced in 2018 — that failure to really help the public understand very significant issues and to understand that those issues, and seeking truth in those issues, aligned with the interest of having a Supreme Court that people have confidence in, they have faith in, they believe in the impartiality of and they believe in the integrity of," she said.
According to The Inquirer, Hill added that while the Republican senators didn't use the "blunt-force dog whistles" they questioned her with, "the deception of the pretense of fairness is almost as damning."
Hill's experience and involvement in Supreme Court Justice Thomas' confirmation hearings has made her the only person to have any significant insight into what Ford has gone through, and thus makes her a unique source of commentary on Kavanaugh's Senate hearings. In fact, this isn't the first time Hill has spoken out about Kavaunaugh's nomination to the Supreme Court. Earlier this week she told the audience at Fortune's Most Powerful Women Summit that she "wouldn't confirm" Kavanaugh based on his Senate testimony "because I saw [him exhibit] a demeanor that I think was inappropriate for a judge."
"I saw a demeanor of a statement that was making allegations without any facts to support them. That's the last thing you want from a judge," Hill said Tuesday of Kavanaugh's testimony before the Senate Judiciary Committee. "I saw someone who I thought didn't answer questions clearly... and for me... anyone who lies in a Senate Judiciary Committee hearing should not be on the Supreme Court."
Last month, Hill also authored a column in The New York Times, in which she laid out some guidelines to help the Senate Judiciary Committee "do better" this time around. "To do better, the 2018 Senate Judiciary Committee must demonstrate a clear understanding that sexual violence is a social reality to which elected representatives must respond," she wrote in her Sep. 18 op-ed. "A fair, neutral and well-thought-out course is the only way to approach Dr. Blasey and Judge Kavanaugh's forthcoming testimony. The details of what that process would look like should be guided by experts who have devoted their careers to understanding sexual violence."
At UPenn, Hill said that "Christine Blasey Ford had no support." She added, "We are not just dealing with behavior, we are dealing with systems that protect it, and sometimes encourage it, and sometimes reward it, and that is what you saw."
If you or someone you know has been sexually assaulted, call the National Sexual Assault Telephone Hotline at 800-656-HOPE (4673) or visit online.rainn.org.