Anna Faris & Chris Pratt's Daily Lives Are As Fun As You'd Think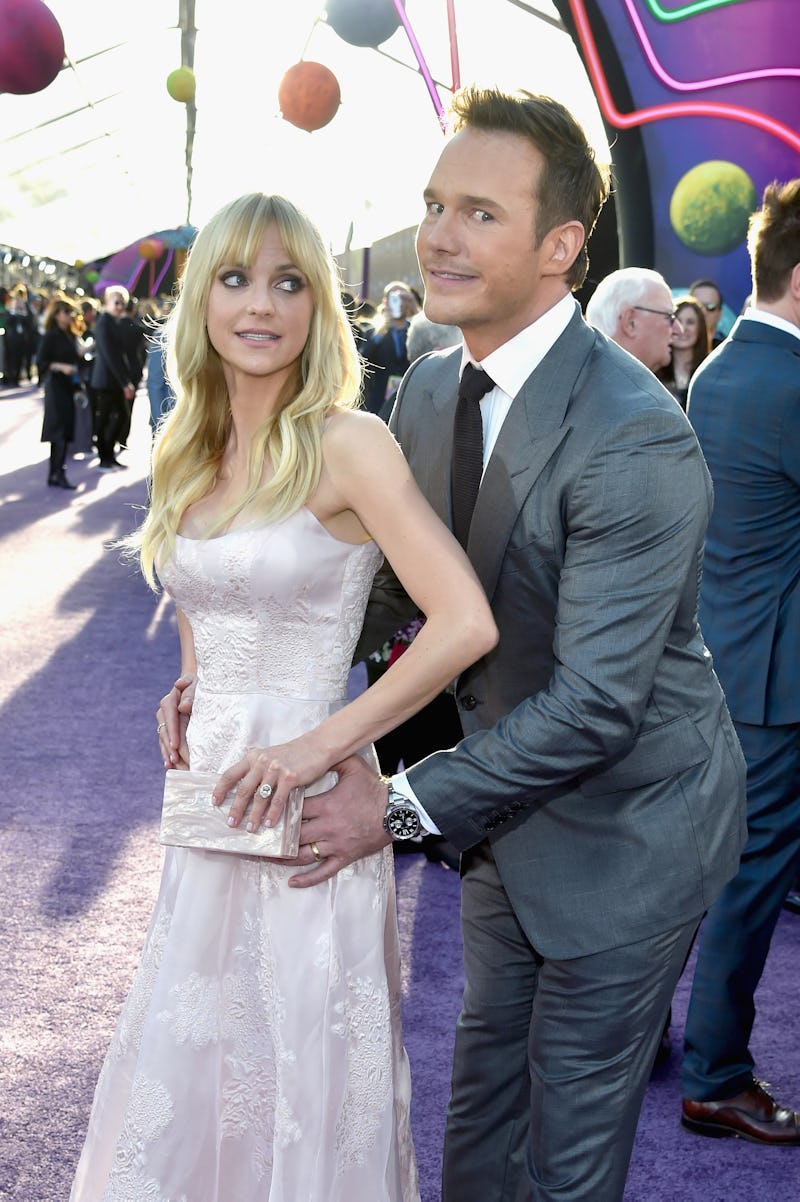 Frazer Harrison/Getty Images Entertainment/Getty Images
I think everyone is agreement that these two make one of the great celebrity couples, and even more so thanks to Anna Faris documenting her daily life with Chris Pratt on Twitter. It all started Wednesday for the Guardians of the Galaxy Vol. 2 premiere, when the Mom star live-tweeted the duo getting ready for the event. Clearly, she loved doing it so much, because on Friday she decided to share their morning routine before Pratt received his star on the Hollywood Walk of Fame. Yes, all of this is as glorious as it sounds.
One might think that a celeb couple like Faris and Pratt lead luxurious lives, but based on her tweets, well, their lives actually appear to be pretty normal. You know, save for them going to movie premieres, Hollywood Walk of Fame star events, and having a glam squad. All that aside, the way The House Bunny actor presents her daily ritual for big events makes their lives seems so chill, but also much funnier — at least compared to my own.
Soon you'll see that Faris' tweets about waking up and getting ready are beyond hilarious. Would you expect anything less? She and Pratt can clearly turn the most common thing into something fun, like the struggle to take a shower. They really are like us — and here are the tweets to prove it.
Showering Is A Chore
Who hasn't done this?
Getting Ready Is Never Done
From one chore to the next.
Breakfast Time
It's like she stole my breakfast recipe.
Attempting The Perfect Selfie
Same, Anna. Same.
Always Wanting To Be Comfy
Old T-shrit > fancy dress.
Getting Ready Together
Such a real couple.
Jack Stealing The Show
Kids will be kids, no matter if their parents are famous or not.
The Drying Of Chris' Hair
She is such a professional.
Keeping A Schedule Is Tough
It happens.
Another Day, Another Shower
There's no escaping it.
Deodorant Is Key
Nobody wants BO — or pit stains.
Too Early For Thongs
Anna, I'm so sorry.
Sneaking Photos Of The Hubs
Perfection.
The "Glam" Life
Coffee and Thomas & Friends? Check and check.
Yoga Time
I don't look that good doing yoga.
Gotta Be On Time
Good thing she has help!
Jack Just Wants To Play
Aren't we all Jack?
Fatherly Moments
Jack is a showstopper.
Thank you, Anna, for allowing your fans into your life. It definitely makes me feel at home. Now, be sure to head on over to Faris' Twitter for more live updates of her totally normal, yet exciting and fabulous life.