Anna Kendrick Kept Her Feud With Ryan Reynolds Alive At The 2018 TCAs In The Best Way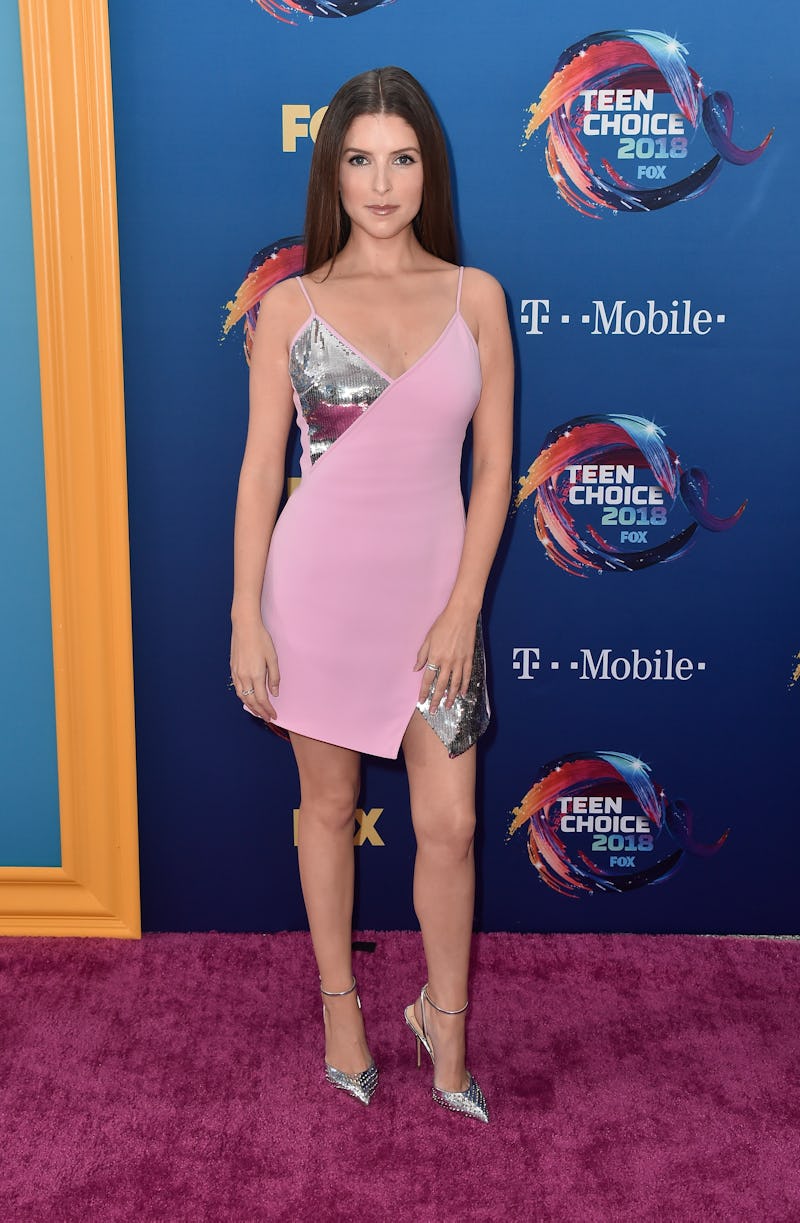 Frazer Harrison/Getty Images Entertainment/Getty Images
Anna Kendrick always knows how to handle the spotlight, so when she went on stage at the 2018 Teen Choice Awards to accept the award for Choice Comedy Movie Actress, it was odd when she seemed distracted. But that was only because she was listening to the announcer say that she also won for Choice Twit, or best Twitter account. While Anna Kendrick accepted her Teen Choice Awards, she had some words for fellow Choice Twit nominee Ryan Reynolds.
She joked, "I know Ryan Reynolds was nominated, so in your face Ryan! I beat you! Stay in your lane!" Of course, she was going to say something funny when she accepted an award for her hilarious Twitter account. Some viewers might have been a little thrown off by her Ryan Reynolds reference, but rest assured — this Twitter beef has some history. The joke was not random.
Here's the thing: Kendrick co-stars in the movie A Simple Favor with Reynolds' wife Blake Lively. On June 20, Lively shared a promotional photo from the film and encouraged her followers to check it out with this joke in her caption: "@annakendrick47 is the hotter, female(r) version of my husband... so, would it reaaaally count as cheating??" It might not "count as cheating," but this is not the only time that Reynolds, Lively, and Kendrick joked about a love triangle.
According to a July 22 article from Entertainment Tonight, Kendrick commented on that Instagram post by saying, "So glad we're finally taking this public… I let Ryan have Deadpool. He can give me this."
In that same article, Entertainment Tonight's Kevin Frazier said to Reynolds, "Anna Kendrick apparently loves your wife and apparently feels like she gave you Deadpool, so she should have your wife." The onscreen superhero was not down with that idea, not even in jest. He said, "I know a lot of guys that would be fine with that but not me, I would like to hang onto her." The Deadpool 2 actor added, "Yeah, please let's not do that… I mean, she'd be well taken care of with Anna though, I think she's got the goods, yeah, but no, access denied."
Maybe the Gossip Girl alum will change her mind in this faux love triangle now that Kendrick has an award-winning Twitter account? Who knows? But it is very likely that this is not the last time that the actors joked about their faux love triangle/social media feud.
As of this moment, Lively and Reynolds haven't responded to Kendrick's Teen Choice Award win on social media, but it does seem like something that would end up happening. The harmless shade is endless in Reynolds and Lively's relationship, so why not mix things up by bringing Kendrick into the mix when it comes to their fake social media feud?
Let's not be fooled, of course. All three of these beloved stars do have movies to promote these days. Kendrick and Lively's A Simple Favor is set to be released in movie theaters on Sept. 14. Reynolds' Deadpool 2 was released on May 18, but a little "extra" promotion never hurts, right? In any case, both of Kendrick's Teen Choice Awards wins were well deserved, whether or not her friends have anything to say about it online. Although, I have a feeling the tweets are already being drafted, don't you?