Anna-Maria McLemore Creates Space For Queer Latina Fairy Tale Protagonists With Her Books & Twitter Feed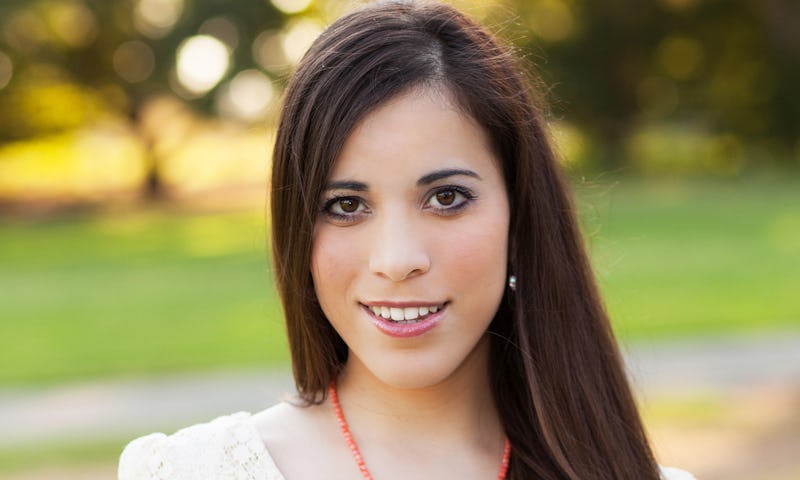 Photo courtesy of Anna-Maria McLemore
Anna-Marie McLemore is a Mexican-American author whose novels center around magical realism. Her work, including her forthcoming novel, Blanca & Roja, centers queer Latina characters in the land of fairy tales, where they're not usually depicted. That's why she's included in this special edition of Bustle's Must Follow, in which we highlight the incredible Latinx voices you need to follow on Instagram and Twitter.
Describe yourself in one line, including how you identify and what you do.
"Latina, she/her, queer, and author of magical realism, most recently Wild Beauty and Blanca & Roja."
What do you hope people take away from following you on social media?
"What books I'm loving, what books I'm looking forward to, what queer Latinx fairy tales I'm writing, and occasional threads about the communities I'm part of."
When did you first feel that you were a voice for the Latinx community?
"Honestly, when I realized that readers were picking up my books because they were about Latinx characters, not in spite of that. Feeling like I could be a voice for the Latinx community only happened when I stopped apologizing for being Latina and writing Latinx characters."
Who's another Latinx person you would recommend to follow on social media?
"Alex Villasante (@magpiewrites on Twitter), is a fellow Latina author, whose debut The Grief Keeper comes out next spring, and which I absolutely cannot wait to read."
Follow Anna-Marie McClemore on Twitter, @LaAnnaMarie.