Anna Paquin Says She Probably Won't Do Another X-Men Movie, But Never Say Never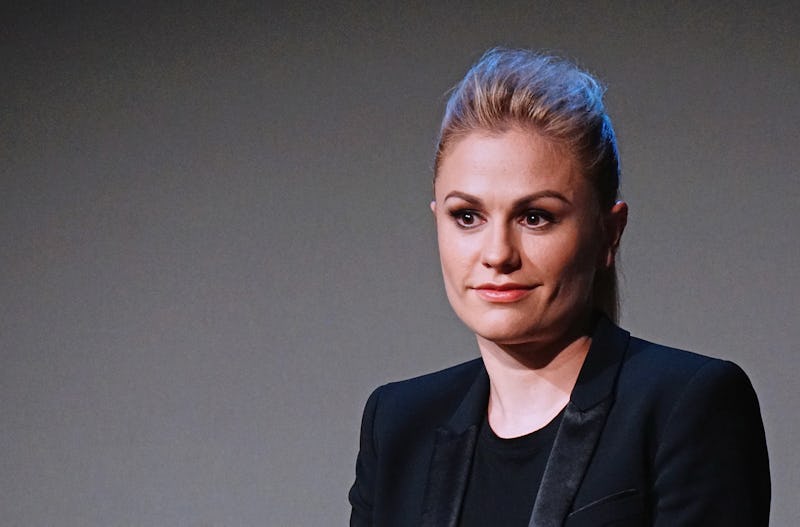 Mike Coppola/Getty Images Entertainment/Getty Images
If you've been holding your breath, hoping to see Rogue make another appearance on the big screen, now might be the right time to let it out, because Anna Paquin probably won't do another X-Men movie. That's according to the actor herself, who sat down for an interview with Variety that was published on Friday, Sep. 7. Paquin told the outlet that she had nothing but fond memories of her time in the franchise, calling those who worked on it alongside her "my film family," but said that ultimately, she wasn't sure how she could return.
To date, the 36-year-old has played Rogue, a mutant with the ability of, essentially, sucking the energy out of anyone she touches, four times — first in 2000's X-Men, then 2003's follow-up, X-Men 2, then X-Men: The Last Stand in 2006, and finally, most recently, X-Men: Days of Future Past in 2014 (though she only appeared in a special edition of the film not shown in theaters). But a lot can change over 18 years, and as Paquin told Variety, she's not sure where she fits in the X-Men universe anymore. Or even if she fits in. When asked by the outlet if she would ever make a return to the series, she told her interviewer:
"If there was a way that it made sense for my character to be in the world, of course. I feel like that's my film family, because I've been making those movies since I was 16. But there's been so many spinoffs and reboots and TV shows, so I'm not sure where Rogue or the other original characters fit into the current plotlines, so it's probably not going to happen."
The original X-Men in 2000 was a game-changer when it came to superhero movies; as Collider noted in a 2016 article, the film was one of the first to prioritize the cinematic human element. It was a massive success, and the franchise had the genre to themselves for a few years as other studios took a while to catch up to the superhero craze. But in the years since, the genre has exploded. The X-Men universe itself has gone under a few makeovers — what with X-Men: First Class and Days of Future Past resetting the franchise in recent years. The same universe has also inspired television shows, like The Gifted, and pseudo-spinoffs like Deadpool. With that in mind, Paquin has a point when she suggests that the field has become so crowded, trying to reinsert those original characters might be tricky.
Besides, Paquin is busy enough without worrying about staring in a superhero blockbuster. After all, her career is hardly dependent on the franchise; Paquin has worked nearly nonstop since bursting onto the scene with an Academy Award-winning performance in The Piano at age 11. And she hasn't limited herself to one form of media, either. She made a name for herself in television the iconic role of Sookie Stackhouse on True Blood, and has three films out this year. One of which — Tell It to the Bees — is set to premiere at this year's Toronto International Film Festival.
Now, just because Paquin is busy doesn't mean she'd never return to the X-Men, as the actor was careful never to rule anything out. In the meantime, if you ever want to revisit Rogue, she's only ever one click of a remote away.