'Anna & The Apocalypse' Star Ella Hunt Is Horror's New Kind Of "Final Girl"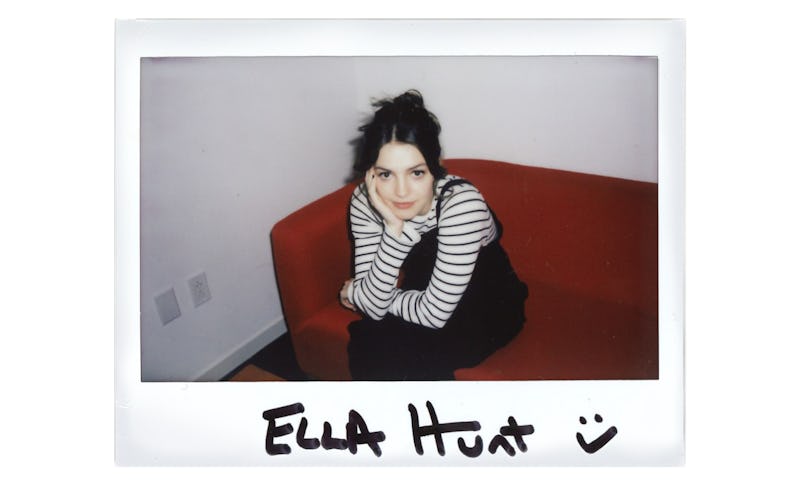 When celebrities hang out at Bustle, we want to give them the chance to leave their mark. Literally. So we hand them a pen, a piece of paper, a few questions, and ask them to get creative. The rest is up to them. This time, Anna and the Apocalypse star Ella Hunt is leaving her mark in the Bustle Booth.
You might not expect a zombie virus to spread holiday cheer too, but Anna and the Apocalypse has all the makings of a Christmas classic. The indie horror-musical, out in theaters Nov. 30, has something for just about everybody: bloody kills, a holiday talent show, a full soundtrack of original music, and a cast of young newcomers headed up by Ella Hunt, who plays the eponymous heroine. And as a teen playing a teen, the actor was concerned with more than just gore and choreography — she was thrilled to be working on a project that actually got her and her peers.
"I'd really been on the lookout for roles that were representing young people honestly, and were doing more than the usual high school movie," says Hunt, now 20.
She found what she was looking for in what some might think an unlikely place, even though Anna follows Shaun of the Dead's lead in using a traditional horror conceit to tell a character-driven story that deals in real emotions. Set the day of her school's holiday talent show, the movie centers on Anna, a young woman who's ready to leave her small town as soon as she can manage it, no matter what her father or the bestie harboring a secret crush might prefer. Zombies spoil the party — as they tend to do — and Anna and her friends end up fighting for their lives at the same time they should be planning their futures.
Hunt says that when she auditioned for the role, casting director Sophie Holland gave her the note to play Anna as genuinely as possible — to make her performance "realer than real" — because irony wasn't what the filmmakers were looking for. Her costars do the same, and the result is a fun, campy movie that nonetheless has an emotional core and doesn't patronize the teens who drive it. "It needed that heart," Hunt says of the relationships in the movie. "We needed to love these characters."
She and her costars bonded on set over Nerf gun fights scored by "some ridiculous techno music," according to the star, and it's a good thing they did. Anna had its world premiere back in the fall of 2017, and has made festival rounds since then. Hunt says that being so close with her castmates (she and Marli Siu, who plays Lisa, lived together on location and are practically neighbors now in London) have made the whirlwind manageable. She speaks of them all with fondness and pride, highlighting one of the qualities she thinks she shares with the young woman she plays.
"She loves her friends. She's much more interested in her friends than boys at that stage," Hunt says. "She's very decisive. She's sassy, and I think that was something I had in me but didn't quite know how to attack into."
There were elements of Anna that the actor clicked with right away, and the musical theater buff was more than ready to take on the musical numbers. But she had to do some work to find her inner zombie-fighter and get comfortable with Anna's weapon-of-convenience: a giant, decorative candy cane with a sharp end. (Think Buffy hunting vampires in a Santa Claus display.) Hunt recalls her first session with the movie's fight choreographer Emma Claire Brightlyn, who started by asking the actor to show her how she punched.
"And I threw one and laughed at myself," the actor remembers. "And threw another and laughed at myself, and through the whole fight choreo session, I was just being completely self-deprecating and silly. And she sent me home and she was like, 'You're going to have to start practicing throwing punches at yourself in the mirror, and you're going to have to start seeing yourself as someone who can wield this weapon and believe in themselves as a survivor." Hunt got there, but confesses that her candy cane's unintentional victims included "many people over the course of the shoot," as well as one camera, thanks to "sheer clumsiness."
Still, playing Anna puts Hunt in the "final girl" sisterhood, though she subverts those old-school tropes that once defined scream queens... starting with her costume. The character wears a school uniform instead of a ripped t-shirt, but not the plaid-skirt, early-Britney kind. Hunt says that the filmmakers wanted Anna's outfit to be "functional" and to keep her warm in the "intense" Scottish cold, hence trousers, a button-down, and a tie. And the role is afforded depth beyond that. The audience only knows Anna over the course of a couple of days, but her distinct personality comes through — and that involves not being superhuman.
"I loved that she wasn't just a hero through and through," Hunt says. "She's scared and courageous in the same sentence. And smart and unsure in the same sentence."
Having worked on an independent film that's had the long rollout of Anna means that Hunt is half still in that world and half moving on. When we meet, she's in the middle of shooting the eighth of 10 episodes of Dickinson, Apple's upcoming drama about the 19th century poet. Hunt plays Sue Gilbert, best friend to Emily Dickinson (Hailee Steinfeld), but she can't say much beyond that — just that her co-star is "electric" and that the top-secret series will be something "fresh."
Meanwhile, this little, ambitious movie that she shot a couple of years ago in the middle of Scotland is growing its fanbase and might even be on its way to becoming a cult classic. Hunt says she'd love it if Anna and the Apocalypse fans started dressing up and hosting midnight screenings, ala Rocky Horror. And she's eager to collaborate with the same creative team again, whether that's on a direct Anna sequel or something completely different. But, she adds, not everyone is ready to see her movie take over the holiday season for years to come.
"My family keep telling me as we get closer and closer to the release," Hunt laughs, "that I'm about to ruin Christmas forever."