The Anne Frank Center Calls Trump A "Human Rights Villain" For Ending DACA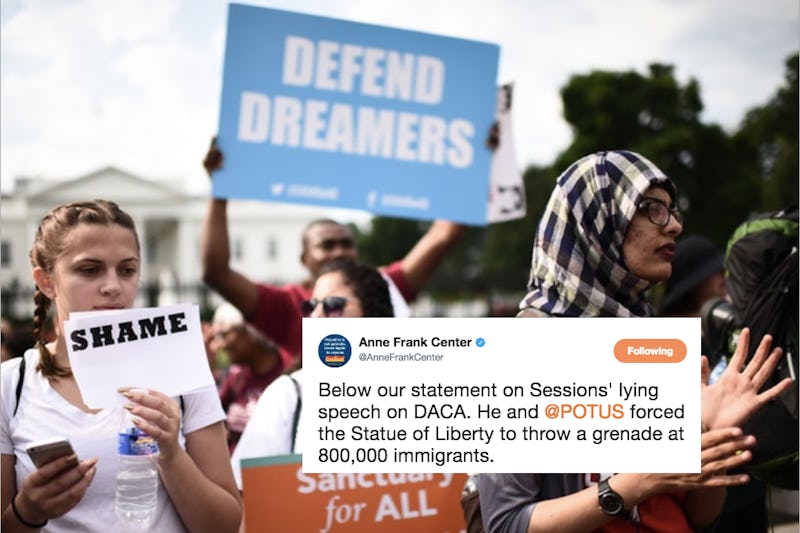 ERIC BARADAT/AFP/Getty Images
Responding to the announcement by Attorney General Jeff Sessions that the Trump Administration would end the Deferred Action on Childhood Arrivals program, an NGO focused on civil and human rights has spoken out against the move that would imperil the futures of nearly 800,000 young, American residents who moved to the country as children without immigration papers. The Anne Frank Center denounced Trump and Sessions' DACA move in a statement on Tuesday, calling it a "grotesque announcement of human cruelty and unconscionable prejudice."
The statement, from the center's executive director, Steve Goldstein condemned the end of Deferred Action on Childhood Arrivals.
This is one of the most tragic days in our nation's history. Today, Donald Trump and Jeff Sessions put a grenade in the hands of the Statue of Liberty [and] forced her to throw it at 800,0000 immigrants.
Goldstein went on to call the speech delivered by Sessions "prevaricating," "a speech filled with lies to hide the child abuse that the Trump administration is imposing as a matter of official U.S. policy." He also noted Sessions' controversial past; he was accused of racist actions during his tenure as a U.S. Attorney in Alabama by Coretta Scott King (something he denies).
He also contested the claim that Sessions made, that the recipients of DACA have taken jobs from American citizens; Goldstein said there is no proof.
The immigrants to whom Sessions refers have taken jobs others would not take, and are helping America work.
However, Goldstein doesn't imagine that the criticism will matter much to the president or attorney general:
Donald Trump and Jeff Sessions will go down in history as among America's all-time civil and human rights villains, and the sick part is, they just don't care.
The Anne Frank Center has been a vocal opponent to many of the administration's policies, and it has made no secret of its disdain for the president's actions. In August, after POTUS publicly backed Republicans Sens. Tom Cotton and David Purdue's RAISE Act — which would favor Green Card applicants who speak English — the Anne Frank Center called the bill an "ethnic purity test that harkens [sic] to the darkest chapters of world history."
The organization has also slammed Trump himself for issuing a belated statement denouncing anti-Semitism as "horrible" following the desecration of dozens of graves at a Jewish cemetery.
The Anne Frank Center's no-holds-barred statement on the administration's DACA decision, however, is perhaps its most furious response yet. It's apt — with some 800,000 lives hanging in the balance, the end of DACA would cause sweeping and near-instantaneous damage to American society, its values, and its economy.