Anne Hathaway's Birthday Message To Julie Andrews Will Make 'Princess Diaries' Fans Weep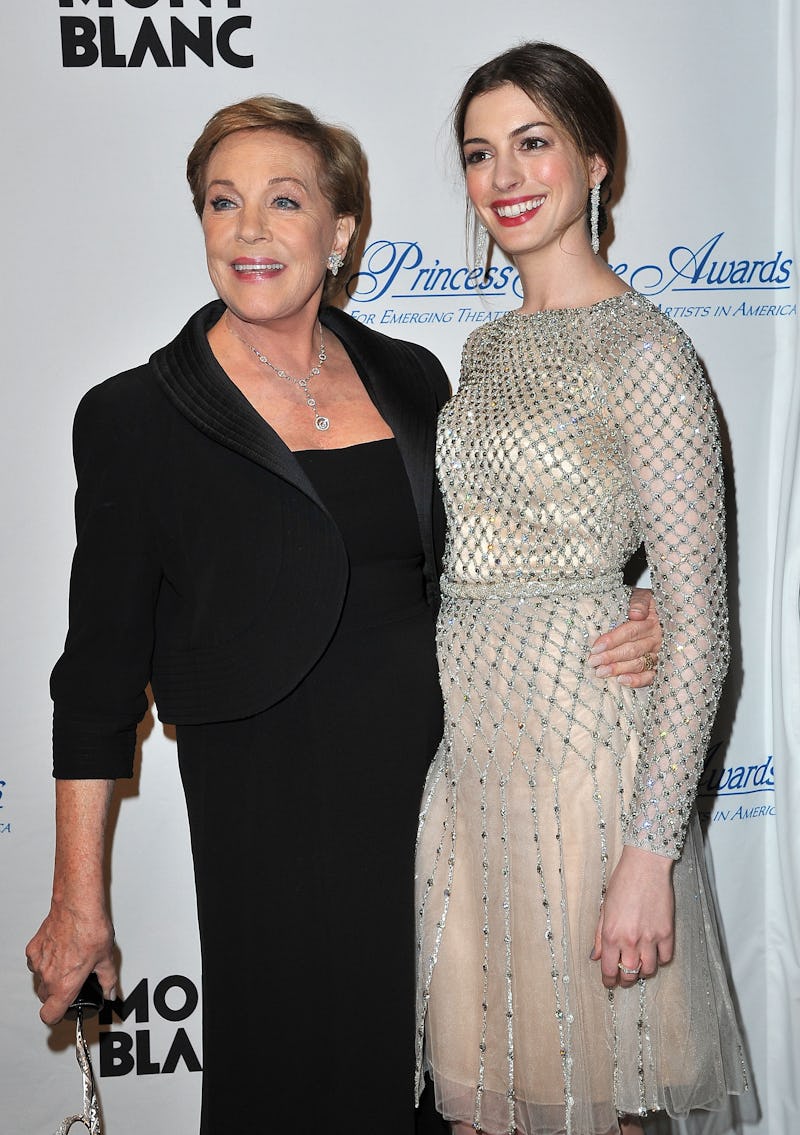 Pascal Le Segretain/Getty Images Entertainment/Getty Images
If you're a fan of The Princess Diaries, then brace yourself. Anne Hathaway wished Julie Andrews happy birthday on Monday with the sweetest and classiest Instagram. Not only are her words beyond touching, but the actor who brought Mia Thermopolis to life in the Disney film delivered the most graceful birthday message ever to the legendary Andrews. Her post is so elegant that Queen Clarisse Renaldi (Andrews' character in the 2001 movie) would absolutely give her a standing ovation.
Hathaway began her birthday message as follows:
"The importance of grace; The knowledge that power is nothing with respect; Why one must have patience, positivity, perspective, manners, kindness, and humility. Always, To everyone, (No exceptions)."
She then concluded it with these beautiful words:
The joy in treating people as a gift rather than a burden; How far choosing gratitude can get you...If I know anything about any of this, It's because I was lucky enough to have learned from the very best at the very beginning. Happy Birthday Julie, Queen Eternal. All my love, Annie"
Do you have chills? Now that is how you wish someone a happy 83rd birthday. Yes, can you believe Andrews is 83? It only seems like yesterday she was playing Mia's grandmother in The Princess Diaries and teaching her granddaughter how to walk like a princess, how to give the correct royal wave, and how to never, ever chase after a chicken.
In both the first and second Princess Diaries movies, the Queen had her work cut out for her when it came to giving Mia lessons on how to be regal and sophisticated, all while staying true to herself. Like she told Mia in the first film, "When walking in a crowd one is under scrutiny all the time, so we don't shlump like this." It took Mia while, but she eventually got the walk down pat and most everything else her grandmother taught her.
Clarisse would definitely be proud of Hathaway's birthday post. Her message sounds like something Clarisse would say herself. Andrews just seems like such a remarkable human being who also oozes elegance. It's really no surprise Hathaway learned so much from her, including about "patience, positivity, perspective, manners, kindness, and humility."
Like her onscreen granddaughter, Andrews also thinks a lot of Hathaway. She once told D23,
"I instantly knew that this was a very beautiful young lady but who also had talent. Her instincts are phenomenal and she's lovely. She's grown up through her roles so beautifully. She's such a natural, and I used to look at her and think, 'My god, you really do have it.'"
Just like Clarisse, it sounds like Andrews was full of wisdom. One can only imagine all the of other advice the Sound of Music star gave Hathaway when they filmed together. Based on Hathaway's birthday Instagram for Andrews, she clearly walked away with all kinds important life lessons, and ones that she still holds close to her heart. Their relationship is truly something to be cherished.