Another Jewish Cemetery Was Vandalized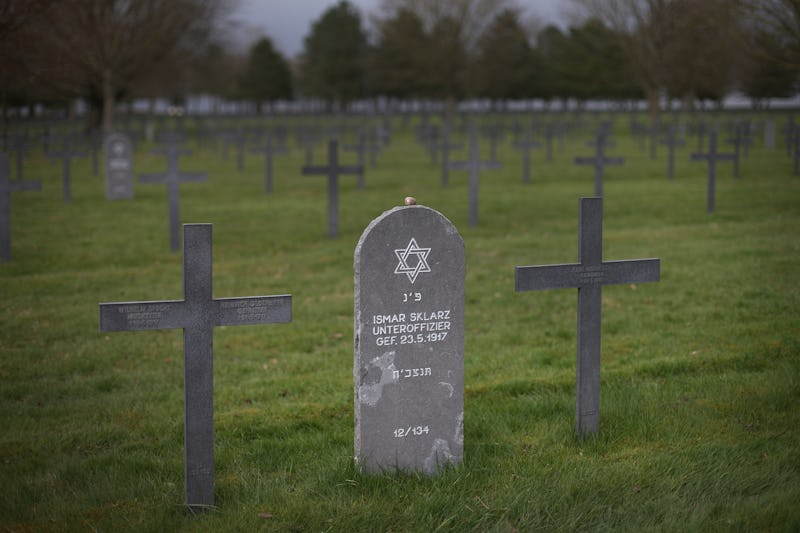 Peter Macdiarmid/Getty Images News/Getty Images
The North Cedar Hill Cemetery was the latest target in a wave of anti-Semitism that has resulted in the desecration of Jewish graves across the country. Dozens of Jewish headstones were damaged at the Philadelphia cemetery, Although the exact number of damaged headstones has not yet been confirmed, The Atlantic reported that it might be close to 100.
Aaron Mallin, the first person to alert authorities to the vandalism was on his way to visit his father's grave when he noticed the destruction. "It's just very disheartening that such a thing would take place," Mallin, told ABC affiliate station WPVI. "I'm hoping it was maybe just some drunk kids. But the fact that there's so many, it leads one to think it could have been targeted."
Another high profile anti-Semitic incident occurred just last week in St. Louis, when more than 200 Jewish headstones were vandalized. Prominent Muslim advocates Linda Sarsour and Tarek El-Messidi led a fundraising campaign to replace or repair the grave sites, in a show of "solidarity with the Jewish-American community to condemn this horrific act of desecration against the Chesed Shel Emeth Cemetery," according to the campaign's website.
The initial goal of $20,000 was surpassed in less than 3 hours, and the fundraising total currently stands at $130,000. Some of the proceeds will now go toward repairing the Philadelphia cemetery — the fundraiser's description specifically states that "any remaining funds will be allocated to help ... repair any other vandalized Jewish centers." El-Messidi, who actually lives in Philadelphia, tweeted Sunday to confirm that some of the funds will be redirected to rebuilding North Cedar Hill's vandalized graves.
This will undoubtedly cast a new shadow on Donald Trump's administration, which has struggled to deal with pressure from Jewish community regarding the apparent recent uptick in anti-Semitic violence. Trump was criticized for his handling of the St. Louis incident, which detractors claim was neither swift or forceful enough in its condemnation. Trump said in a statement, "The anti-Semitic threats targeting our Jewish community at community centers are horrible and are painful and a very sad reminder of the work that still must be done to root out hate and prejudice and evil."
"The question isn't why hasn't he spoken out more vociferously, the question is why hasn't he spoken out period? And why has he evaded two questions in his last two press conferences on this question?" Representative Nadler said last week during an interview on CNN's New Day.
However, there may be little that Trump could say or do to alleviate the situation. According to a new analysis by the Southern Poverty Law Center, alt-right groups have become empowered in recent years to display anti-Semitism in increasingly visible online communities, particularly those supportive of Trump. The conflation of Trump with anti-Semitic views may be a nearly unstoppable association at this point, no matter what he does to mitigate that view.