Another Noose Was Found Outside A Museum In D.C.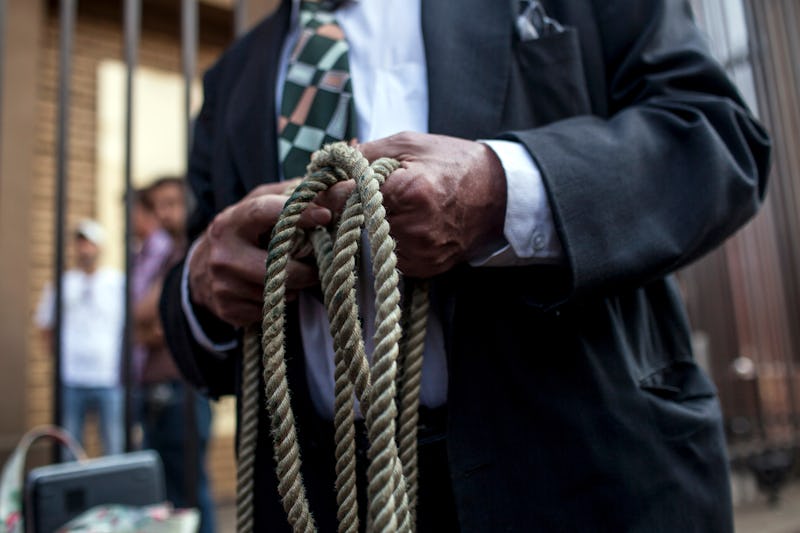 Charlie Shoemaker/Getty Images News/Getty Images
U.S. Park Police said a noose was found outside the National Gallery of Art on Saturday in Washington, D.C. The discovery marks the third time a noose — a known symbol of violence, racism, and hate — has been found at the National Mall in the nation's capital within the last month.
According to U.S. Park Police spokeswoman Sgt. Anna Rose, the noose was found around 3 p.m. local time hanging on a lamppost near Third Street and Pennsylvania Avenue NW, near the National Gallery of Art's east building. Authorities are currently investigating how the noose may have gotten there.
In May, two nooses were found hanging less than a week apart near other museums in the National Mall. On May 26, a security guard discovered a noose hanging from a tree at the Hirshhorn Museum and Sculpture Garden. Five days later tourists visiting the National Museum of African American History and Culture found another noose lying on the floor of an exhibit about segregation.
Disturbingly, these are not the only nooses to have been found in the Washington area in the last few months. According to CNN, a noose was reported to have been found June 3 at a construction site in southeastern Washington, D.C. A police report regarding the incident reportedly said officers "discovered a rope, tied in a noose, displayed by the front door" of a house still under construction.
In early May, bananas scribbled with the phrase "AKA free" — believed to be a reference to the predominately African-American sorority Alpha Kappa Alpha — were hung with nooses around the American University campus in Washington. In a statement released at the time of the incident, University President Neil Kerwin condemned the action and emphasized it "does not reflect what American University truly is."
In April, a noose was found in the Phi Kappa Tau fraternity house at the University of Maryland, which sits just outside Washington, D.C. Less than a month later, Bowie State University senior Richard Collins III was stabbed to death while waiting at a bus stop on the University of Maryland campus by a white Maryland student in what is believed to have been a racially motivated hate crime.
Earlier this month Washington Mayor Muriel Bowser announced she had directed authorities to investigate the incidents and activate the city's hate crimes protocol.
"We are an inclusive city, and we do not tolerate signs of hate, ignorance and fear," Bowser said in a statement released June 3. "Our diversity is what makes us stronger, and we will not relent in promoting and defending DC Values. We do not take these incidents lightly, and we will not accept that signs of hate are signs of our time."