'Baby Driver's Trailer Is All About Ansel Elgort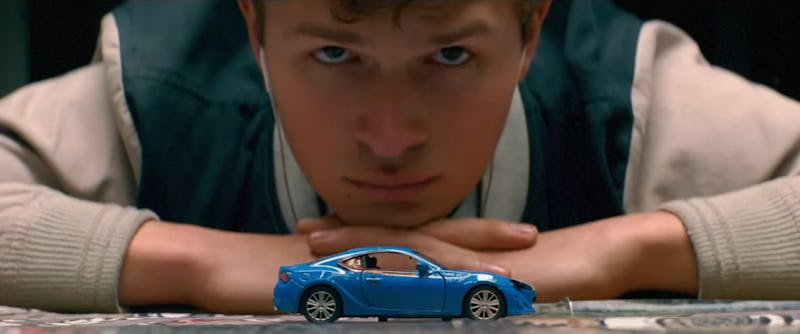 Ansel Elgort is not your average chauffeur in the trailer for Edgar Wright's new crime thriller, Baby Driver. Wright, who's known for his work on Shaun of the Dead and Scott Pilgrim vs. the World, wrote and directed the highly-anticipated film, and it made waves when he debuted it at SXSW in Austin on Saturday. The movie, which hits theaters on August 11, gives off some major Fast and Furious vibes, and puts Elgort in the hot seat as a talented getaway driver named Baby, whose life is put on the line after he's warped into working for a major crime boss (Kevin Spacey). Soon enough, he falls in love with a young waitress named Deborah (Lily James) and attempts to leave his life as a criminal behind him, though his boss has a few other plans. It's a killer plot, and the trailer is a must-see.
As shown by the trailer, Baby Driver seems to be a facetious take on your average crime movie, and it also happens to be musically driven. It's set to a soundtrack in Baby's head, since a major part of his storyline is his tinnitus that was caused by a major accident. He copes with it by drowning out the ringing in his ears with loud music, and the result is a pitch-perfect soundtrack, as demonstrated by the trailer.
Wright recently spoke to Entertainment Weekly about the film's high energy soundtrack, explaining how he "always wanted to do an action movie that was powered by music." He added, "It's something that's very much a part of my previous films and I thought of this idea of how to take that a stage further by having a character who listens to music the entire time. So, you have this young getaway driver who has to soundtrack his entire existence, particularly the bank robberies and fast getaways that come afterwards."
Sounds pretty cool. Elgort seemed to have a great time filming the movie, speaking about his life on set during a Q&A with the cast at SXSW. "It was constantly crazy, it was constantly fun. Jamie Foxx is a character, Kevin Spacey is a character, Jon Hamm. They may be a group of serious actors but they are jokesters," he said, according to THR.
Baby Driver is shaping up to be a highlight of the summer — and not just because of its star-studded cast, but because of its wild concept. Here's to counting down the days until the film hits theaters.