Anthony Bourdain Quotes That Speak To His Brilliant & Adventurous Spirit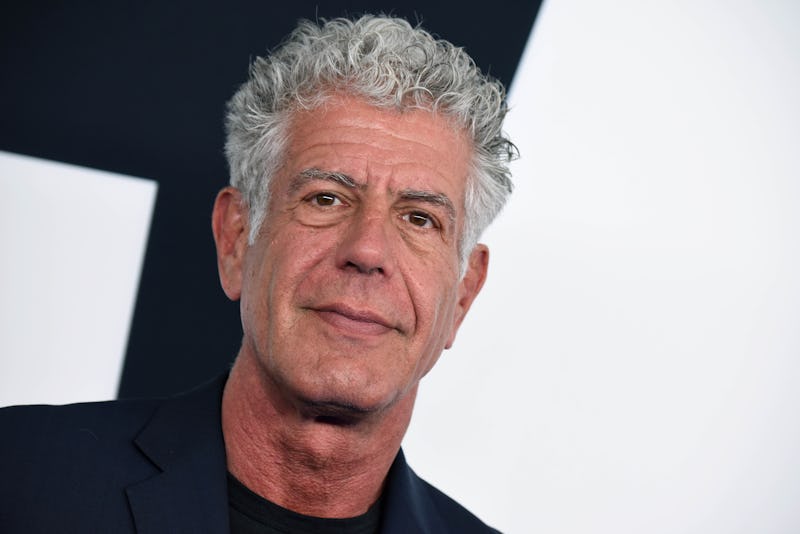 Stephen Lovekin/Variety/REX/Shutterstock
World-famous chef and television personality Anthony Bourdain died by suicide on Friday, CNN reports. Known for exploring world cuisine with a determined commitment to adventure, he'll be remembered for opening the minds of viewers to new places and cultures. His wit and insight were legendary — so there's no better way to honor the spirit we've lost than to remember some of Anthony Bourdain's best quotes.
CNN confirmed Bourdain's death on Friday morning. The 61-year-old had been in France working on his show Parts Unknown. "It is with extraordinary sadness we can confirm the death of our friend and colleague, Anthony Bourdain," said the network in a statement. "His love of great adventure, new friends, fine food and drink and the remarkable stories of the world made him a unique storyteller. His talents never ceased to amaze us and we will miss him very much. Our thoughts and prayers are with his daughter and family at this incredibly difficult time."
Bourdain had been working on Parts Unknown since 2013. Prior to that, he'd fronted other hugely successful shows like No Reservations, The Layover, and A Cook's Tour. He authored several books — mostly on the topic of food, but also some fiction — including Kitchen Confidential: Adventures in the Culinary Underbelly.
"I think everyone wanted to be Anthony Bourdain," CNN anchor John Berman tweeted on Friday. "I did. We all did." But enough about Bourdain from the mouths of others. Here are some of the many brilliant things he had to say.
On Just Talking To People
In an interview with NPR in 2016, Bourdain made it clear that the work he does isn't journalism. The questions that reporters ask make people "tighten up," he said. "If you sit down with people and just say, 'Hey what makes you happy? What do you like to eat?' They'll tell you extraordinary things, many of which have nothing to do with food."
On The Body
Bourdain has been widely quoted as having once said, "Your body is not a temple, it's an amusement park. Enjoy the ride." Then, in a 2014 episode of Parts Unknown that focused on Thailand, he modified his stance a bit. "I once wrote" that, he said, "But that was before I had a daughter and a respectable job at CNN."
On Places That Defy Description
"It's an irritating reality that many places and events defy description," Bourdain wrote in his 2006 book The Nasty Bits: Collected Varietal Cuts, Usable Trim, Scraps, and Bones. "Angkor Wat and Machu Picchu, for instance, seem to demand silence, like a love affair you can never talk about. For a while after, you fumble for words, trying vainly to assemble a private narrative, an explanation, a comfortable way to frame where you've been and what's happened. In the end, you're just happy you were there — with your eyes open — and lived to see it."
On The Perfect Meal
"Meals make the society, hold the fabric together in lots of ways that were charming and interesting and intoxicating to me," Bourdain said in a 2001 interview with BookPage.com. "The perfect meal, or the best meals, occur in a context that frequently has very little to do with the food itself."
On Cooking Vs. Eating
"Cooking professionally is a dominant act, at all times about control," Bourdain wrote in his 2006 book The Nasty Bits. "Eating well, on the other hand, is about submission. It's about giving up all vestiges of control, about entrusting your fate entirely to someone else. It's about turning off the mean, manipulative, calculating, and shrewd person inside you, and slipping heedlessly into a new experience as if it were a warm bath. It's about shutting down the radar and letting good things happen. Let it happen to you."
On The Journey
"The journey is part of the experience," Bourdain said on his show A Cook's Tour, "an expression of the seriousness of one's intent. One doesn't take the A train to Mecca."
On Cooking Vs. Writing
"I think I've always looked at everybody I met through the prism of the kitchen," Bourdain said in The New Yorker's 2017 profile of him, when comparing cooks to writers. "'O.K., you wrote a good book, but can you handle a brunch shift?'" He added that "writing is ephemeral," whereas a real accomplishment is: "Three hundred eggs Benedict. Not one returned. It's mechanical precision. Endurance. Character. That's real."
On Moralism
A last gem from The Nasty Bits: "Early moralists who believed that taking too much pleasure at the table led inexorably to bad character — or worse, to sex — were (in the best-case scenario, anyway) absolutely right."
On Living Fully
"Without experimentation, a willingness to ask questions and try new things," Bourdain wrote in his 2010 book Medium Raw: A Bloody Valentine to the World of Food and the People Who Cook, "we shall surely become static, repetitive, and moribund."
If you or someone you know are experiencing suicidal thoughts, call 911 or call the National Suicide Prevention Hotline at 1-800-273-8255. You can also text the Crisis Text Line at 741-741. For international resources, here is a good place to begin.