Anthony Bourdain Was Posthumously Nominated For An Emmy & It's So Bittersweet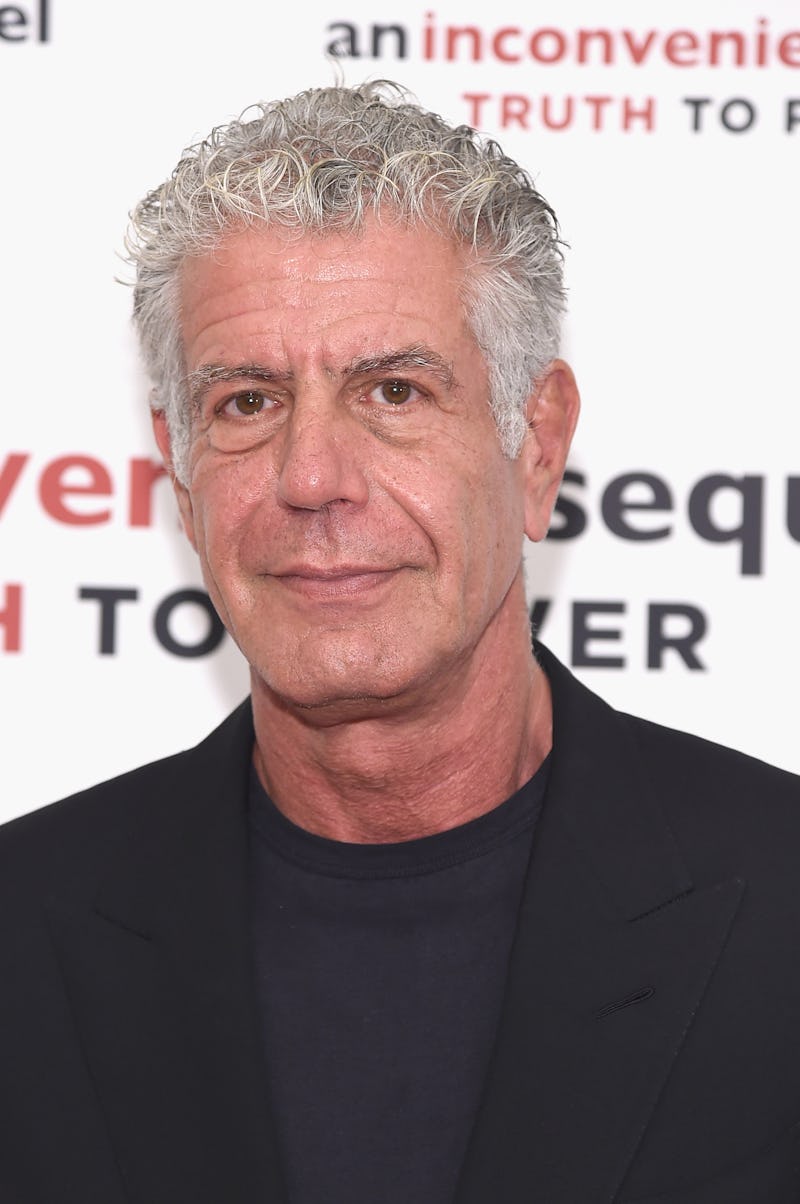 Jamie McCarthy/Getty Images Entertainment/Getty Images
On June 8 chef, author and travel TV host Anthony Bourdain passed away while making his show Parts Unknown in France. The show was filming its 12 season when Bourdain died unexpectedly, due to what officials ruled as suicide, at age 61. For fans of Bourdain, the news came as a heartbreaking shock, and many people are still grieving the beloved figure's loss. Yet there was reason to celebrate when, on July 12, Anthony Bourdain was posthumously nominated for 2018 Emmy Awards that recognized Parts Unknown as one of the year's best informational series or specials.
Not only did Parts Unknown receive a nomination for the show overall, but it received six nods in total. According to Vulture, Parts Unknown was nominated for the categories: Outstanding Cinematography for a Nonfiction Program, Outstanding Picture Editing for a Nonfiction Program, Outstanding Informational Series or Special, Outstanding Sound Editing for a Nonfiction Program, Outstanding Sound Mixing for a Nonfiction Program, and Outstanding Writing for a Nonfiction Program. According to the Emmys site, Bourdain personally earned nods for Outstanding Writing (for his work as a writer of the episode "Southern Italy") and Outstanding Informational Series (for his role as an executive producer).
For Bourdain's fans, these nominations are bittersweet since Parts Unknown was incredibly important to so many people. Bourdain himself has received 20 Emmy nominations in total, winning four of them in the past for Parts Unknown. For fans of the show, a posthumous nomination serves as both well-deserved recognition and a painful reminder of the fact that Bourdain won't attend the 70th Annual Emmy Awards on Sept. 17, 2018. Fans of the late personality have taken to Twitter to share their strong feelings following the nominations announcement.
After Bourdain's death in June, fans of his came out in droves to mourn the death of such a lively figure. Not only did Bourdain produce, write, and host Parts Unknown, but he'd also helmed other popular travel shows No Reservations and The Layover. No Reservations aired from 2005-2012 on the Travel Channel, and Bourdain had received five Emmy nominations for writing, producing, and hosting that show as well. While No Reservations likely introduced many people to the charismatic chef, it didn't seem to matter which show Bourdain hosted because his fans would probably watch him do anything. They did watch him eat a developing bird embryo, called balut, after all.
The season finale of Parts Unknown's 11th season aired on June 24, and it's still uncertain whether Season 12, which Bourdain was filming at the time of his death, will eventually air. The good news is that fans were granted extended access to the CNN docu-series on Netflix, since the streaming site announced that they would continue the show's availability for "months to come" following Bourdain's death.
Given that Bourdain's death happened so recently, the news of his Emmy nominations are certainly painful, but also a joyous occasion. Here's hoping Parts Unknown takes home a prize or two at the Emmys; the other shows nominated for the Emmy for Outstanding Informational Series or Special include Leah Remini: Scientology And The Aftermath, My Next Guest Needs No Introduction With David Letterman, StarTalk With Neil deGrasse Tyson, and Vice.
While each of the shows nominated in the same category as Parts Unknown likely deserves their recognition, Bourdain's fans will likely be greatly disappointed if the CNN show doesn't win. Even without an Emmy, though, it's clear that Parts Unknown impacted countless people's lives in helping them understand new cultures and feel more connected with their fellow humans all around the world. That's a pretty great legacy on its own.